NPH Might Redefine Variety With 'Best Time Ever'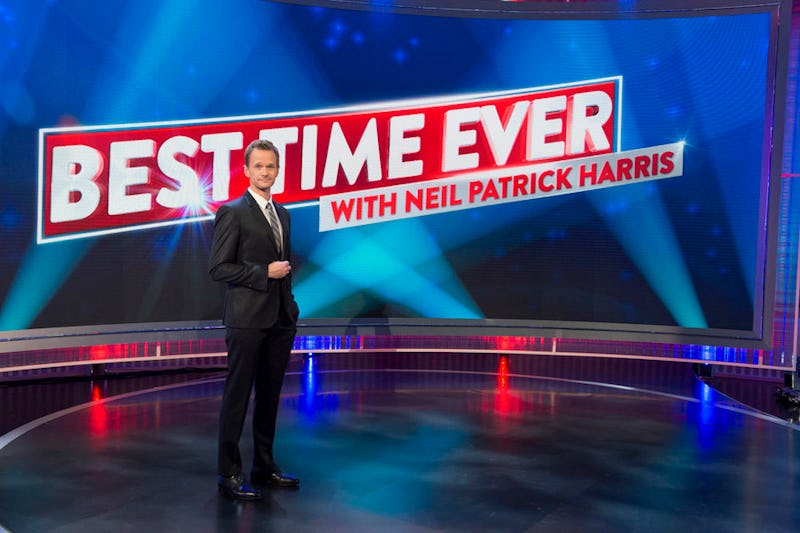 Neil Patrick Harris' new show premieres Tuesday night on NBC and, while I get the feeling I'm going to enjoy myself, I have no idea what to expect. What is Best Time Ever With Neil Patrick Harris, exactly? Other than Saturday Night Live, we American millennials aren't used to variety shows. It's been decades since Ed Sullivan and Carol Burnett graced the airwaves with their brand of entertainment.
The best way I can describe Best Night Ever is that it will be like a late night talk show, but not that late and without the talking. First of all, there won't be interviews. Second of all, former Pussycat Doll and fellow musical theatre performer Nicole Scherzinger will be NPH's sidekick. Third of all, the show is live! NPH has plenty of stage experience, so this shouldn't be an issue but it always makes for fun television. The live nature of the show is also why we don't know much about the show — it simply hasn't happened yet.
According to an interview with Entertainment Weekly, there will be something mysterious called the "End of the Show Show" that we won't want to miss but know nothing about. One installment may involve Blue Man Group? Who's to say. Harris said in the interview that "the End-of-the-Show Show, by design, is supposed to be some live theatrical one-off that's super creative and potentially difficult to execute, so I'm anxious to ramp up the fear factor of it all within reason." He also assured readers and audiences that his variety show wouldn't necessarily resemble classic variety programming either — it's "variety" in the sense that there's a lot of stuff, but it's more geared towards how we take in culture and content in gifs, tweets, and microcosms.
In fact, I'm going to blow your mind a little bit — the show is a British adaptation. The show is based on Ant and Dec's Saturday Night Takeaway. That show, which has been running in the UK since 2002, includes games, sketches, pre-taped bits, and musical performances. The "Little Ant and Dec" bit will be repeated on Best Time Ever. American audiences will recognize the hosting duo Ant and Dec (Anthony McPartlin and Declan Donnelly) from their cameo in Love Actually in which they interview Billy Mack:
It's well known that Neil Patrick Harris loves hosting things, doing magic, and being a part of song and dance numbers. I would be surprised if magic and musicals never made an appearance. According to Variety (the magazine) there will be some hidden camera pranks as well. Basically, this show is going to have a little bit of everything, and will hopefully be a whole lot of fun.
Images: Virginia Sherwood/NBC; Giphy; Universal Pictures (screengrab)