Should You Be Holiday Shopping Already?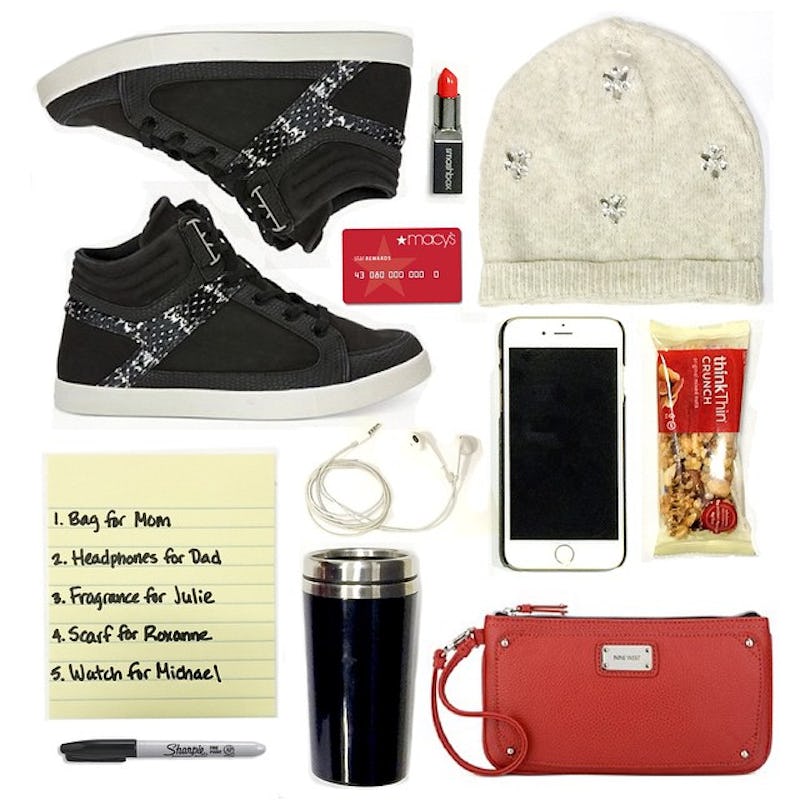 Summer is barely over, but there's already a chill in the air (in some parts of the world), and it's a reminder that fall is coming. Apparently, some people are already looking towards winter. According to USA Today, millions of people have started holiday shopping. Because it's never too early to start stocking up on gifts, folks.
CreditCards.com conducted a survey of more than 1,000 Americans, and one in seven said they had already started their holiday shopping. Seriously? It's barely September. If you factor those stats into the American population, that means more than 30 million people have already started checking items off their lists. So who exactly is doing this ultra-early shopping? It's mainly older people, which kind of makes sense. Who else's grandma asks them what they want for Christmas months in advance? *Raises Hands*
According to the study, 22 percent of millennials want to start their shopping earlier this year as well. Kind of not that surprising, considering our generation gets a reputation for being a little lazy. When last-minute online shopping is so easy to do, we tend to wait.
Turns out shopping in advance can help you save major money and makes the holidays overall less stressful. Here are some of my favorite tips for saving money on gifts in the coming months.
Holiday shop during holiday weekends
Yes, you probably missed the Labor Day sales at this point. But Black Friday isn't the only shopping holiday in the coming months. Columbus Day is coming up on Oct. 12, and Veterans Day follows on Nov. 11. Retailers love using holiday weekends to promote sales, so keep an eye out for discounts in commercials and online. If you're a veteran, you can take advantage of extra Veterans Day deals to get a jump-start on your shopping.
Pick the time you shop strategically
Lifehacker put together an incredibly detailed report of exactly when to online shop to get the best deals. Peruse it now to plan your holiday shopping strategy months in advance. The best days to online shop? Tuesdays and Thursdays. Avoid Sundays if you can, and hold out until November, which is the month with the largest average discounts.
Set up a separate email for your store offers
Everyone knows emails from stores can be a great way to save when you're online shopping. Seriously, if you ever consider buying something full-price from Loft, wait a week. I guarantee they'll have a 40 percent off sale soon. However, those offers can clog up your inbox. If you're a savvy online shopper, consider signing up for a second email account to hold all your offers in one place.
Download apps with sale alerts
Although large retailers will do their best to alert you that they're having a sale, smaller retailers and boutiques often have a harder time contacting customers. Considering downloading an app that tracks your favorite retailers and alerts you when they're having a sale. For New Yorkers, ShopDrop is a great place to start, because it includes large and small stores. Also, consider following smaller boutiques on social media like Facebook, Twitter and Instagram. Stores with small marketing budgets rely heavily on social media to communicate with customers.
Fill an online cart & abandon it
This is a little insider trick my mom taught me that comes in surprisingly handy (her favorite store to use it is Target). You know how filling a cart with products you love online can be kind of fun, even if you don't intend to buy them? According to Business Insider, retailers take notice, because those products add up to $4 trillion a year in lost sales. If they send an email with special offers on those products to the customer, it has a much higher click-through rate than typical newsletters. If you're not in a rush, fill a few carts with presents you're planning to buy, abandon them and wait for the coupons to come rolling in.
Take advantage of holiday-specific perks
Gift-wrapping is one of the most tedious tasks surrounding the holiday season, so take advantage of retailers who will do it for you. My favorite Midwest department store, Von Maur, always impresses me with their perfectly wrapped gifts, and the service is free. Lucky Shops compiled a list of stores that offer either online or in-store gift wrapping. Some charge you, but others are F-R-E-E.
It still feels ridiculously early to be talking about holiday shopping, but with these tips, you'll be finished in no time.
Image: @macys/Instagram; Stockpic/Pixabay