Mat Franco Is Bringing Even More Magic To TV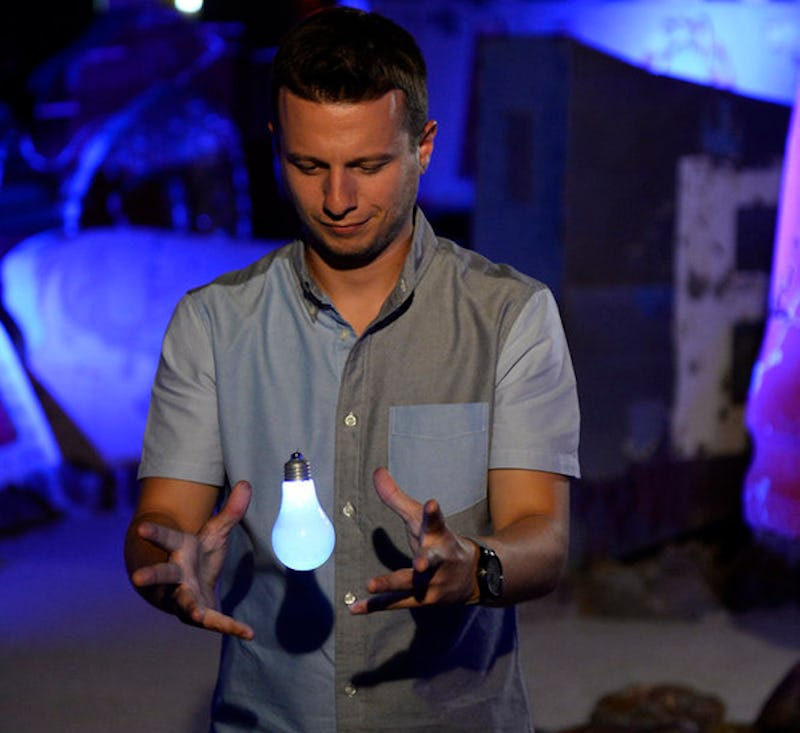 I never thought I'd say this, but I think we're in the middle of a little bit of a magic Renaissance — at least when it comes to magicians taking over TV. There's already Michael Carbonaro, who has his magic-slash-prank-show The Carbonaro Effect on truTV. Neil Patrick Harris, a noted magic enthusiast, is sure to do some sleight-of-hand on his new variety series, Best Time Ever. And now, NBC will air a one-time special, Mat Franco's Got Magic , on Sept.17. For the show, Franco will drive from his hometown in Rhode Island to the ritzy Las Vegas, performing illusions and running into celebrities along the way. For the uninitiated, just one question remains: Who is Mat Franco?
Franco is obviously a magician — and not the only one who is going to appear on the special, either. Some of his celebrity guests include the aforementioned NPH, and veteran prognosticators Penn & Teller, fresh off their Broadway run. See? I'm telling you that magic is taking over pop culture. So, what sets Franco apart from these other magic men? Here's what you need to know about the latest magician taking his talent to television.
He Won America's Got Talent
If you've heard of Franco, either you subscribe to some kind of magician newsletter, or you've seen him on Season 9 of America's Got Talent. He beat out a singer who took on Sia's "Chandelier" and an acrobatic troupe that did a number to Fall Out Boy, so you know his magic must've been tight.
He Has A Nightly Act In Vegas
Franco has been performing a headlining gig called Mat Franco: Magic Reinvented Nightly at The LINQ Hotel & Casino in Las Vegas. At the LINQ, the entertainment competition is big — literally. Franco has to make sure he's not upstaged by the LINQ's High Roller, which currently holds the record for being the world's tallest ferris wheel.
He's Kind Of A Prodigy
Franco knew he wanted to be a magician at a young age. "When he was just 12, Franco studied with magician Jeff McBride, who runs the McBride Magic & Mystery School in Las Vegas," the Providence Journal reports. "McBride said he was one of his youngest students, with sleight-of-hand skills well beyond his years." By the time he was 15, Franco was preforming on a Vegas stage in a show called Stars of Tomorrow. Is it just me, or are you totally jealous of the people who were already doing what they wanted to do when they were tweens and teens?
He's Not So Scary
Franco isn't so into ponderous voices and spooky music. "Most magic that we see, even on TV, has this dark and mysterious nature," he told the Las Vegas Sun. "That happens to just not really align to my personality. I bring to it a light, fun, interactive, approachable comedic sort of style. It's something different." I don't know about you, but I like the idea of friendly magic — it's not so in-your-face like David Blaine or Criss Angel.
He's Still A Fanboy
Franco is still effusive with praise for his magician heroes, including Jeff McBride, Lance Burton, Penn & Teller, and David Copperfield. "I am standing on the shoulders of many of the great performers that came before me, that paved the way for magic to flourish," he told the Digital Journal. "I can recite all of the dialogue in the magic shows I grew up watching. Just the way people can recite their favorite movies from beginning to end, I am not a movie buff, but when it comes to those magic shows, those were my jam."
His Grandma Is His No. 1 Fan
I mean, one hopes that everyone has a grandmother in their corner, but Franco's grandma is just the cutest. "His mother was always working and he couldn't show her everything," his grandma told NBC 10. "[But I] was there and I had all the time in the world. I'd spend hours watching his tricks." Awwww. Later, when asked about his fast-rising career, she said, "When he was 13, before high school and college, he would say, 'Grandma, I wish I was in New York right now.' But he went to high school and college. He did everything right." I'm sure she'll be tuning in to see Franco mesmerize viewers again on Mat Franco's Got Magic.
Images: Bryan Steffy/NBC; Giphy