Sam Smith's "Hotline Bling" Cover Is Everything
I am not straight up saying that Sam Smith is a doctor of melodic medicine, but I'm also not not saying that, either. Sure, he may be lacking about 12 years of schooling for that title, but the dude's range is greater than my 4G connection. And, Smith's cover of Drake's "Hotline Bling" is a testament to that. Because, guys, it is so good. I should also probably mention the other half of the superhero cover duo that is Disclosure, because, if they ever made a bad song with Smith, I haven't heard it.
According to Entertainment Weekly, the whole purpose behind covering the tune was that Smith and Disclosure were in BBC Radio 1's Live Lounge before the release of the band's album, Caracal. So, naturally, while album promotion is all well and good, covers that slay our souls are even better. And, let me tell you, this one is a killer. But, this isn't the first, and if there's a god above, definitely not the last time Smith has done a cover to knock my mid-calve fuzzy striped socks off. So, because we could all use a little more music in our lives, let us recount all of the covers that Smith has done that prove he can sing the phonebook.
But first, check out the "Hotline Bling" cover below. Skip to the 8:55 mark to listen.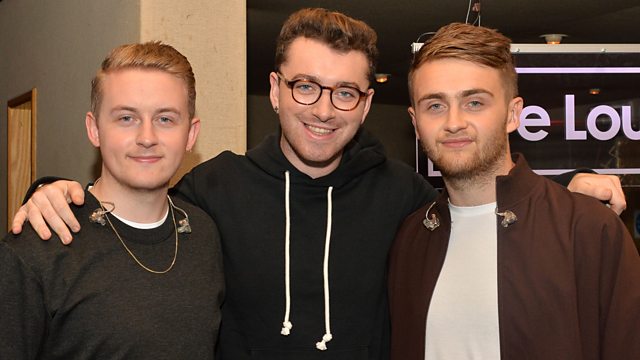 1. "Fast Car"
Everything old is new (and wonderful) again.
2. "Drunk In Love"
He is in the shower. THE SHOWER. I can barely shampoo my hair in the shower.
3. "How Will I Know"
*Hands up in praise*
4. "Berlin"
Damn.
5. "Have Yourself A Merry Little Christmas"
It's snowing in my heart, for sure.
6. "When I Was Your Man"
I love Bruno Mars' version, but Smith brings his own special, soulful vibe.
7. "Tears Dry On Their Own/Ain't No Mountain High Enough"
WHO GAVE YOU THE RIGHT?! *Takes deep breath* *Clutches heart* *Collapses*
Imagine this dude at karaoke? Ugh, a girl can dream. Keep on giving us the goods, Smith. Music was made for your vocal cords.