Strangers Crowdfund Wedding For Groom With Cancer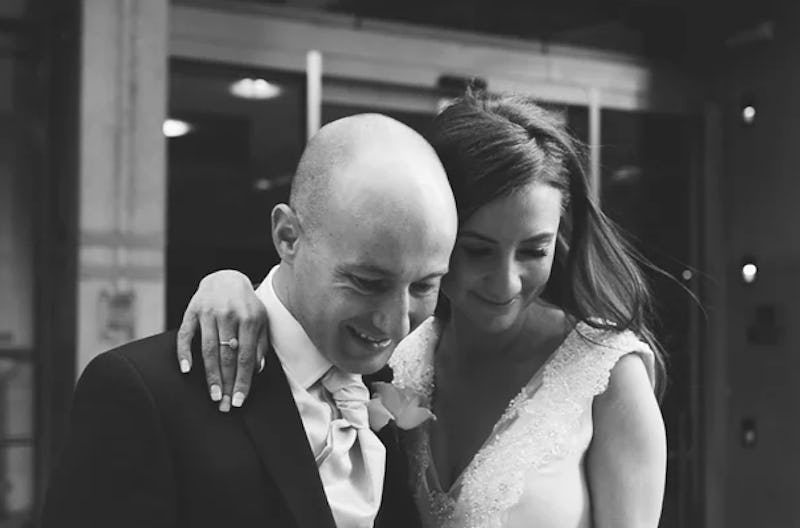 Get ready to be inspired by people, specifically the strangers crowdfunding a terminally ill groom's wedding. The groom in question, Steven Monks, was diagnosed with stage three bowel and liver cancer shortly after becoming engaged to his then girlfriend (now wife, because we already know this story has a somewhat happy ending) Laura. Steven and Laura had planned a three year engagement to give them time to save for their dream wedding and to buy a house, but as fate would have it, the 35-year-old groom was told his cancer case was terminal, even though he had started treatment and even had his bowel removed.
The English couple decided to marry immediately, but they still hadn't had enough time to save enough money. Fortunately, their dreams weren't thwarted by terrible timing, and a nurse alerted them to a UK charity called Gift Of A Wedding, which specializes in, well, gifted weddings. The charity asks people to donate wedding-y things, like a cake, dresses and hair and makeup, because as we know, all wedding related things are drastically more expensive than non-wedding related things. Gift of a Wedding recognizes the expense, and "provides free weddings to people with a terminal illness, regardless of age, race, religion, gender or sexual orientation. "
Steven and Laura registered to Gift Of A Wedding, and once the charity posted about their situation to Facebook, they were inundated with donations. Before the couple knew it, they had been gifted a full and elaborate wedding, all from complete strangers. It really puts your faith back in humanity (at least a little bit), right? Steven and Laura were married at the The Place Hotel in Manchester over the weekend, so here are some highlights from their wedding video to celebrate:
1. Steven Preparing
2. Laura Preparing
3. Laura Arriving At The Altar
4. The Newlyweds
5. Their First Dance
Watch the whole beautiful wedding video below (make sure you have tissues!):
Images: Vimeo (6)