Netflix & The Emmys Make A Great Pair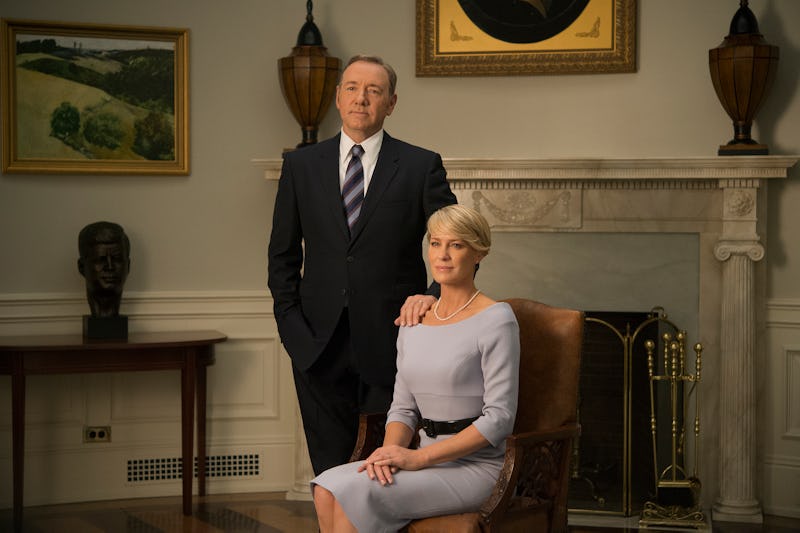 In July of 2013, history was made when Netflix received 14 Primetime Emmy nominations, becoming the first content provider that wasn't an on-air network to be recognized by the Academy of Television Arts & Sciences. The concession that an online-only streaming service could still be considered "TV" was groundbreaking at the time, and helped shepherd in the idea that the art form is a fluid, constantly-evolving one. In the two years since then, Netflix has continued to amass Emmy nominations for shows like House Of Cards and Orange Is The New Black — but how many Emmy wins does Netflix have, exactly? And, how do Netflix's numbers compare to its competition?
In the past three years, Netflix has earned 79 Emmy nominations and won 13 of them so far (more wins to come this Sunday night... hopefully). That's a pretty respectable number, especially for a service still in its infancy as an original content provider. But, Netflix's most direct competition undeniably comes from HBO. The two content providers are comparable in a lot of ways: They both started as services most famous for movies before transitioning into buzzy, award-worthy original programming. Obviously it's unfair to compare total noms/wins since HBO has been in the game longer — but how do their numbers compare over the last three Emmys ceremonies?
In 2013, Netflix was nominated for 14 Emmys in its fledging year and won three, while HBO was nominated for 108 and won 27 of them... although it was already an established brand, so that's important to bear in mind. The following year, Netflix increased its presence at the Emmys, garnering 31 nominations and winning seven, while HBO's went down, earning 99 nominations and winning 19. And, this year? Netflix increased yet again to 34 nominations and already won three of them at last weekend's Creative Arts Emmy ceremony. But, HBO had a banner year, racking up 126 nominations, and already won a staggering 29 of them in technical categories last weekend. That's a grand total of 333 nominations and 75 wins for HBO over the past three years compared to Netflix's 79 noms and 13 wins.
But, Netflix is trending upwards every year. Maybe when it's been around as long as HBO has, it will be breaking records left and right as well. Here are seven shows that prove Netflix is on its way to being a major Emmys heavyweight.
Grace And Frankie
Total Nominations: 1
Total Wins: Unknown as of yet
Lily Tomlin, as one half of this comedy's titular duo (along with Jane Fonda), found her way into a crowded Lead Actress field this year, which is pretty impressive.
Bloodline
Total Nominations: 2
Total Wins: Unknown as of yet
This southern gothic family drama stars Friday Night Lights alum Kyle Chandler, who made his way into a category that includes such perennial Emmy nominees as Jon Hamm, Jeff Daniels, and Kevin Spacey — of Netflix's own House Of Cards, of course. His co-star Ben Mendelsohn represents the best chance of this show taking home Emmy gold in the Outstanding Supporting Actor in a Drama, thanks to his captivating performance as unpredictable Danny Rayburn.
Derek
Total Nominations: 2
Total Wins: 0 so far
As we all know from Orange Is The New Black, Netflix likes to switch its shows' categories around. Although Ricky Gervais competed (and lost to The Big Bang Theory's Jim Parsons) in the Outstanding Actor in a Comedy category last year, this year he's facing off against the likes of David Oyelowo and Richard Jenkins in the Outstanding Actor in a Limited Series or Movie — since his comedy wrapped its run this year with a one-hour "Special."
Arrested Development
Total Nominations: 3
Total Wins: 0 so far
Netflix's resurrection of the beloved cult comedy earned it some of its first Emmy nominations back in 2013, including an Outstanding Actor nod for star Jason Bateman. Having previously been nominated in the category back in 2005, Bateman quite possibly holds the record for the longest gap between nominations for the same role in Emmy history.
Unbreakable Kimmy Schmidt
Total Nominations: 7
Total Wins: Unknown as of yet
Netflix is probably happy it picked up this zany comedy when NBC passed on it, since it had a strong first season, picking up seven nominations — including four for its talented cast (Tituss Burgess, Jane Krakowski, Jon Hamm, Tina Fey), although sadly not one for its leading lady, Ellie Kemper.
Orange Is The New Black
Total Nominations: 16
Total Wins: 3 so far
Although Orange Is The New Black just aired its third season this past summer, those episodes fell outside the window of Emmy consideration — so its nominations this year are actually for the show's second season, which aired over a year ago. Confusing? So is OITNB's habit of ping-ponging around the Emmy's genre classifications, starting as a Comedy in its first season and then being forced to compete as a Drama this year because of Emmy rule changes.
House Of Cards
Total Nominations: 32
Total Wins: 6 so far
Netflix's earliest success story is still its strongest Emmy contender. The David Fincher-created, Kevin Spacey-starring political thriller earned nine nominations in its freshman season and won three of them (including a trophy for Fincher for directing the pilot episode). The show did even better in its second season, garnering 13 nominations — although it only ended up winning one (for Sound Mixing). And, even though HoC's total nominations only came to 11 this year, it already won two of them at last weekend's Creative Arts Emmys: One for Music Composition and one for Guest Actor Reg E. Cathey. House of Cards and Kevin Spacey might have a hard time unseating Mad Men and Jon Hamm at the main event this weekend, but Robin Wright and Michael Kelly have decent odds of winning the show a third 2015 trophy.
Will Netflix increase its total Emmy wins this Sunday? Tune in to the 67th Annual Primetime Emmy Awards at 8 PM ET on FOX to find out.
Images: David Giesbrecht, Melissa Moseley, Saeed Adyani, Ray Burmiston, Sam Urdank, Eric Liebowitz, Jessica Miglio/Netflix