Why Taraji P. Henson Needs Some Emmy Love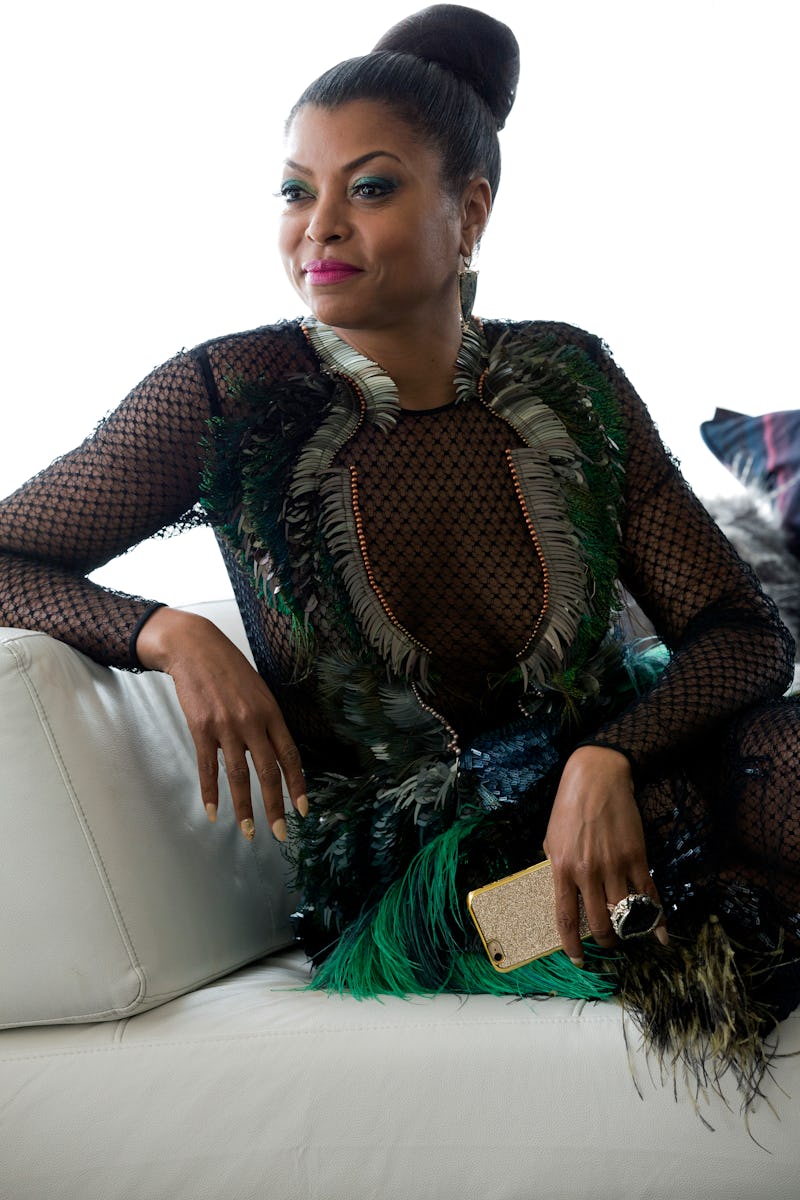 Unless you've been living in a land free of television and WiFi for the past nine months, then chances are you have become well acquainted with FOX's breakout star Taraji P. Henson, who plays Cookie Lyon on Empire . I say "breakout star" not because Henson is new to this business we call show. In fact, she's a longtime veteran of the industry and has nabbed numerous small screen gigs throughout the years on shows such as Person of Interest and Boston Legal. However, none of these roles come close to the enormous splash the actress has made in her fierce and unforgettable portrayal of the Lyon family matriarch, which is why I think Henson deserves to win an Emmy for Lead Actress in a Drama Series this year.
In just one season — nay, in just one episode — this woman turned Cookie into one of the most memorable and unique characters on TV. Between her epic comebacks, that no nonsense attitude, and absolutely killer wardrobe, Cookie has proven to be larger than life and a sheer force to be reckoned with. The way I see it, this is now her world and we're all just happily along for the ride. How many other characters can we say have made such a worldwide impact? Because all it takes is just one scene and you'll be hooked on Cookie for life.
Of course, that's not to say that all of the other women in the Lead Actress in a Drama category don't also deserve some Emmy love. In fact, I'm very pleased to see so much worthy talent compete against each other. Viola Davis and Tatiana Maslany, in particular, are due for some much-needed recognition as well. So what is it about Henson that makes her stand out among the rest? After all, it's not as though the rest of these ladies haven't produced award-worthy performances. However, given that a win for either Henson or Davis would make television history (no black woman has ever taken home an Emmy in this category), it's hard to not want to see one of these extraordinary actresses come out on top.
As far as what's prompting me to root for Henson over Davis has nothing to do with their talent. Both portrayals have been executed flawlessly. However, when you place these two characters side by side, Cookie is the one who's had the most profound impact on fans. Empire has developed a massive following already and it'd be naive to think that Cookie hasn't played a major role in that fact. Yes, the songs and the other characters add to the show's ever-growing appeal, but Cookie is the one who immediately reels you in and gets you hooked right off the bat. And that couldn't be done without Henson's alluring presence. After all, it takes a phenomenal actress to instantly turn one sentence into an iconic catchphrase.
And let's not forget that in a huge Emmy upset, Empire was completely snubbed in the Outstanding Drama Series category. I mean, how does that even happen? So having Henson nab a win would, at the very least, help make up for such an inconceivable oversight. (Though I still intend to hold a grudge until the end of time because SERIOUSLY?!) But above all else, Henson deserves the recognition for her efforts. So come on, Emmys. Give this lady her due.
Images: Chuck Hodes/FOX; Giphy (2)