Who Should Star In NBC's 'Hart To Hart' Reboot?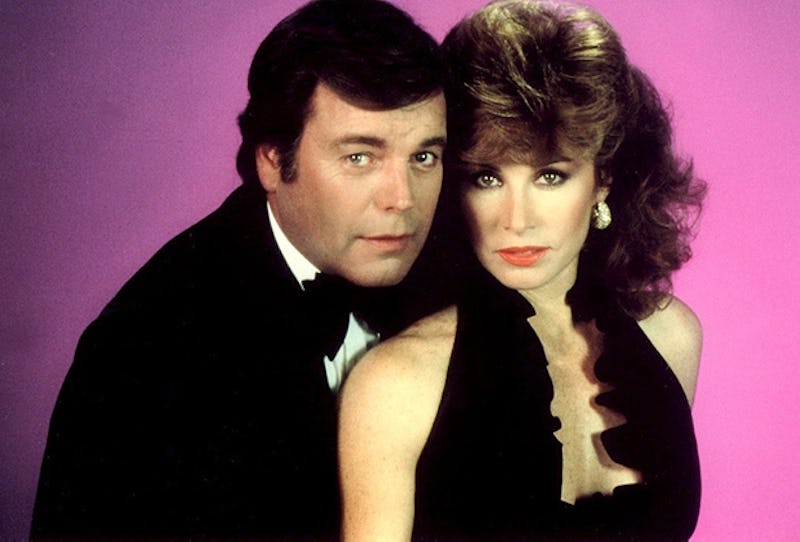 Just two weeks ago, GLADD issued its annual Network Responsibility Index, which was generally filled with good news. For the first time ever, a broadcast network had been given the highest rating "Excellent" (FOX, due largely to the success of Empire), and the percentage of screen time devoted to LGBT characters was generally up across the board. NBC was one of the few networks that trended downwards last year, but things could be looking up with the recent news that the network is rebooting Hart To Hart with a gay couple in the leading roles.
Hart To Hart, which originally premiered in 1979, starred Robert Wagner and Stefanie Powers as a jet-setting couple Jonathan and Jennifer Hart, who travelled the world and solved crimes in style. The show ran on ABC for five seasons, and was followed by eight made-for-TV movies. The new series, written by Christopher Fife (who has previously worked on Private Practice and Revenge) will be, "a modern and sexy retelling of the classic series that focuses on 'by the book' attorney Jonathan Hart and free-spirited investigator Dan Hartman, who must balance the two sides of their life: action-packed crime-solving in the midst of newly found domesticity."
So who will play Jonathan Hart and Dan Hartman? Here are nine dream pairings I came up with, from most to least plausible.
1. Neil Patrick Harris & David Burtka
Neil Patrick Harris has been everywhere lately, and he's one of the most likable personalities in Hollywood, but between mixed reactions to his Oscar hosting gig, mixed reactions to his attempt to revive the variety show, and his omnipresent Heineken commercials, there's a bit of NPH-fatigue wearing in. What better way for him to revitalize his brand than to try something new? Trading in his comedy shtick for an hour-long action drama would make for a welcome change of pace — and he could bring along his real-life husband, David Burtka. (They previously both appeared in American Horror Story: Freak Show, although they never shared a scene.)
2. Alan Cumming & Victor Garber
If NBC wanted to target a slightly older demographic, they would hire these two supremely talented (and out and proud!) actors. With Cumming's The Good Wife likely to end after the current Season 7, and Garber's Legends Of Tomorrow only airing a relatively brief 15-episode season, there may be time in both their schedules to tackle a new project.
3. Charlie Hunnam & Miguel Ángel Silvestre
Since the FX biker drama signed off last year, Sons Of Anarchy star Hunnam hasn't signed on to any new television projects. Could a plum starring role lure Hunnam — who previously starred as gay teen Nathan on the UK's original Queer As Folk — back to the small screen... especially now that it seems like Pacific Rim 2 isn't happening? Pairing him up with Spanish actor Silvestre, best known for his role as closeted soap opera star Lito on Netflix's Sense8, would be a dream come true.
4. Norman Reedus & Wesley Snipes
Viewers of AMC's The Walking Dead were disappointed when rumors of fan-favorite character Daryl Dixon being gay never panned out. The TV gods should make it up to us by casting Reedus as one half of Hart And Hart. And who better to pair the famous zombie-hunter up with than one of the most famous vampire-hunters?
5. Nathan Fillion & Patrick Dempsey
As Richard Castle, Fillion is already familiar with solving crimes on a weekly basis on a primetime broadcast drama. If Castle were to run out of steam in the near future, shifting the handsome actor over to Hart And Hart would be a seamless transition. And pairing him up with another handsome 40-something broadcast procedural leading man would be a no-brainer... especially one who's recently out of work. Paging Dr. McDreamy!
6. Mads Mikkelsen & Hugh Dancy
Then again, we could just cast Mikkelsen and Dancy and get the Hannibal continuation we're all so eager for. After surviving their fall of the cliff in the Season 3 finale, Hannibal Lecter and Will Graham changed their names to Jonathan Hart and Dan Hartman in order to hide from the F.B.I., and traveled the world busting up spy rings... and eating their conquered enemies for dinner, of course.
7. Ryan Gosling & Justin Timberlake
"Hey, girl. You want me to star in a reboot of a popular '80s drama as one half of a crime-solving gay couple? Sounds awesome. Why don't we call up my old buddy J.T. to co-star with me? It'll be a Mickey Mouse Club reunion... with spies. Everyone will lose their sh*t." Yes. Yes, we would.
8. Matthew McConaughey & Woody Harrelson
These two already had the best bromance on television while solving crimes together in Season 1 of True Detective. It should be a simple matter to just remove the "bro" part of that equation, and BOOM. Instant ratings success.
9. Ben Affleck & Matt Damon
Hey. A guy can dream, right?
Images: Sony Pictures Television