Everything Changes In 'Grey's Anatomy' Season 12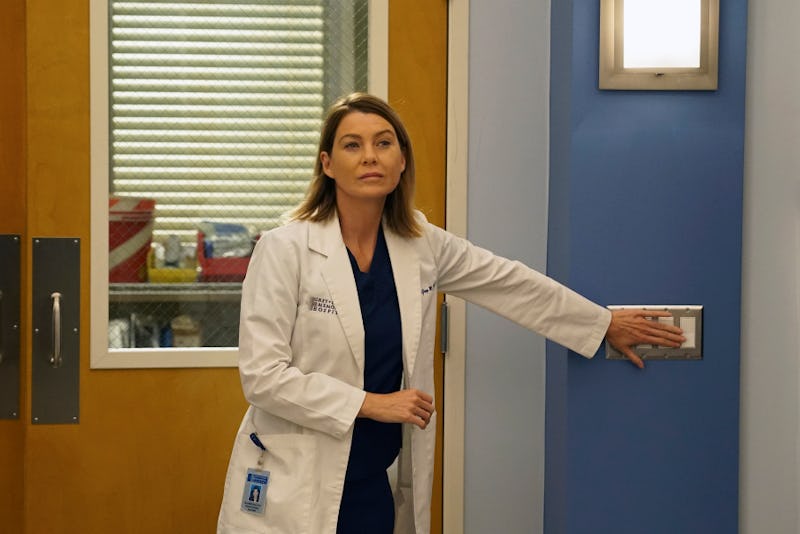 In only four short years, ABC's Grey's Anatomy will surpass ER as the longest-running American primetime medical soap in history. (Which would also place it as the seventh longest-running scripted American primetime show of any kind.) While Shonda Rhimes fans wait patiently to see if their favorite McMedical Drama will cross that threshold, the prolific producer and her stellar cast are gearing up for their twelfth year on the air. (Phew!) And as the promo for Grey's Anatomy Season 12 recently released by ABC promises, this is the year in which "everything has changed."
In a mere 20 seconds, viewers are treated to surprising sights like Jo sledgehammering a hole in Meredith's wall, Maggie punching a woman in the face... and Bailey in a bright blue pantsuit! What is happening in Seattle? While fans still recover from the game-changing death of Dr. Derek "McDreamy" Shepherd last season, it appears that — as they say in the biz — the show must go on. Even without Patrick Dempsey, Grey's Anatomy somehow still seems to largely be, well, Grey's Anatomy. Only four of the original cast members may remain (Ellen Pompeo, Justin Chambers, Chandra Wilson, James Pickens, Jr.) but the humor and the heart appear to be intact.
That being said, some things will definitely be different when the Season 12 premiere rolls around next week. Here are six things fans can expect from the new season.
1. New Doctors
And the revolving door of Grey Sloan Memorial Hospital keeps on turning... Although the cast of Grey's may have lost one series regular in Patrick Dempsey, they've added two new ones to their ranks: Jason George, who was promoted from his recurring role as Bailey's husband Ben Warren; and Martin Henderson, who will debut around midseason in an undisclosed role. (Although he won't be playing Ben Keeton, his role from the one-season Shonda Rhimes medical show Off The Map, as was previously rumored.)
Chasing Amy star Joey Lauren Adams is joining the cast in a recurring role as the candidate for Chief of Surgery who Debbie Allen's Catherine Avery pits against Dr. Bailey (pictured above). We'll also likely be spending a lot more time with the new interns played by Joe Adler, and Joe Dinicol, and Giacomo Gianniotti, all of whom were introduced in the last two episodes of Season 11.
2. New Living Arrangements
Part of moving on from her husband's tragic death involves Meredith selling their expansive "Dream Home" and moving back into her mother's old house. This means she — and her three young children — will be living under one roof alongside her sister-in-law Amelia Shepherd and her half-sister Maggie Pierce. It's a classic comedic set-up straight out of Chekhov.
3. New Locations
Since no one is living there anymore, the set of Derek and Meredith's "Dream Home" was completely torn down. (*sniff sniff*) Its space on the studio lot was used to instead build a brand new part of the hospital we've never seen before: the cadaver lab, where interns practice their techniques on real human bodies.
4. New Relationships
Calzona fans hoping their favorite couple will be getting back together soon will likely be disappointed by the news that Callie and Arizona will each be getting new love interests this year. And, although both of these new romantic partners will be women, the show will continue to explore Callie's bisexuality, according to Rhimes. Also in the romance department, the producer has said that finding new love won't be Meredith's focus in Season 12 — cutting off all cries of "Too soon!" at the pass.
5. New Tone
Rhimes has also promised that Season 12 will be "lighter" in tone than last year, recovering from the horrific loss of McDreamy with a surprisingly bubbly and optimistic tone. The poster for the season reflects this shift; its tagline of "Let the sun shine" is a direct reference to Cristina's departing speech to her "person" at the end of Season 10: "He is very dreamy. But he is not the sun. You are."
6. No Izzie
Grey's fans are bitterly divided into two opposing camps: those who never want to see Izzie Stevens again, and those who want nothing more than for her to return. Shonda Rhimes finally put an end to years of on-again off-again rumors at this year's Television Critics Association, when she said unequivocally, "No. I'm done with that story. I've turned that idea over in my mind a thousand times and thought about how it would go. And I don't think so."
The Izzie-less Season 12 premiere, titled "Sledgehammer," airs on ABC next Thursday, Sept. 24 at 8 PM ET.
Images: Richard Cartwright (3), Mitchell Haaseth (2)/ABC