McDreamy Who? Why Meredith Doesn't Need Derek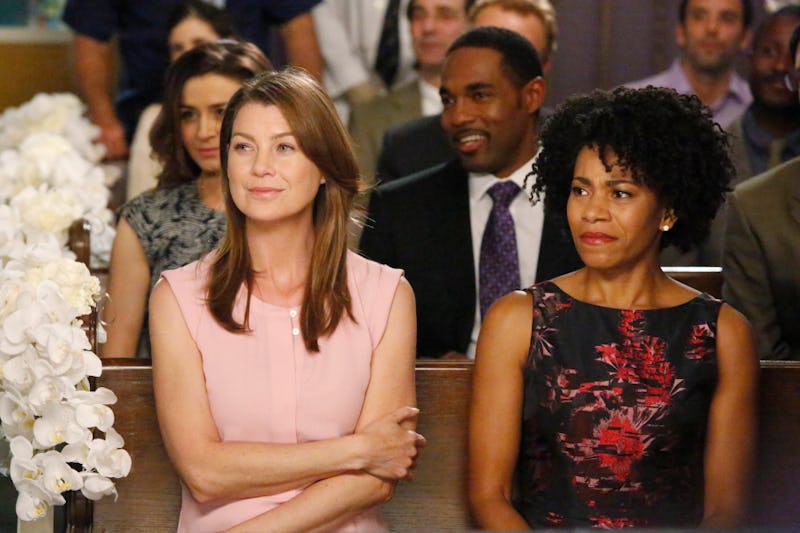 Grey's Anatomy's Meredith Grey doesn't need McDreamy, or any man, for that matter — and, thankfully, it looks like Meredith Grey herself, Ellen Pompeo, agrees. In a recent Entertainment Weekly interview that discussed fan reactions to Patrick Dempsey leaving the show, Pompeo said, "All of a sudden, ­Patrick [Dempsey] leaves, and it's like, Oh my God, ­...The show couldn't possibly go on ­without the man! ... Why can't I just be the lead of the show the way Annalise [How to Get Away with Murder] and Olivia [Scandal] can? Why can't I be on that poster by myself?"
While I know we all miss Derek, give this quote a moment to really digest, here — because Pompeo is 100 percent, totally correct. When Dr. Derek Shepherd was killed off on Grey's Anatomy last season I, like most fans, was devastated. Every breathless, overly romantic moment from the previous 11 seasons seemed for naught: Meredith's heart-wrenching "Pick me, choose me, love me" speech; their perfectly imperfect Post-It note wedding; the Season 1 finale shocker that Derek was married. I couldn't get past my disbelief of a Grey's Anatomy without its male lead. I mean, it's McDreamy! They have children, for goodness' sake — how could Shonda Rhimes kill him off like that?!
But it happened, and now Meredith has to heal. Dr. Shepard is indeed gone, and make no mistake — he is never returning, according to Rhimes. The focus of Meredith's storyline should continue to shift from her grief to her post-McDreamy life as a widow, single parent, and a kickass surgeon. Hopefully, the new season of Grey's Anatomy will reflect this change in tone, because Meredith is a strong, independent woman — and she will be just fine.
There are a few reasons for this. When Grey's Anatomy premiered over 10 years ago, television programming looked very different from today: there weren't nearly as many primetime shows with single female leads as there are now. It was a time before resident HBIC Olivia Pope graced our screens, or Amy Schumer called out gender stereotypes on a weekly basis. So while it would've been disappointing, it would've make sense that given the cultural climate of the time, Grey's Anatomy would feature its character's romantic entanglements prominently and treat her professional achievements as secondary.
But, it's been years since then, and the show has completely evolved. Meredith is a strong character, completely capable of carrying the series on her own — and with the clout Rhimes now has, it is time for Meredith to flourish as a single woman. Besides, even while working within the then-prescribed expectations for female characters, Meredith has always had a independence streak that set her apart and proved she could stand on her own two feet.
When the series began, Meredith was just a girl sitting in a bar celebrating the exciting next phase of her life. She had graduated medical school, she was starting her residency at a prestigious hospital, and she was simply looking for a no-strings attached, one night stand. What she got instead was a complicated romantic relationship that rivals Romeo and Juliet — but the key is, she wasn't searching for love. Working and learning were — and continue to be — her priorities, while McDreamy was simply an added perk.
Even as the romantic relationship between Derek and Meredith grew, our heroine consistently kept her friends as the priority in her life. For instance, whenever Yang needed her, Meredith was there. Through good times and bad, Meredith and Yang's friendship remained the guiding light of Meredith's life. Some could even argue that Meredith and Yang are the true love story of Grey's Anatomy. Regardless, Meredith isn't the type to disappear when she gets a new boyfriend — that's the a sign of a confident woman.
This past season was almost a trial run for a McDreamy-less Grey's Anatomy. When Derek left for Washington D.C. to pursue his research, Meredith stayed behind and focused on her own career. She didn't chase him. Her priority were her children and the Grey Sloan Memorial Hospital. Meredith showed that she would never put aside her own dreams and aspirations for a man, and I believe that this won't change after Derek's death.
Season 11's time jump allowed for Meredith to get past the initial phrases of grief and recenter the show on the rebuilding of her life. She initially ran away (such an Ellis Grey thing to do) but the birth of her third child closed the door on her fear and opened the possibilities for a bright future. The writers of Grey's Anatomy have been given an opportunity to reset the series and take the character of Meredith in a completely new direction.
One thing that could happen? Meredith starting to date again. After Derek, what kind of man would she get involved with? A new suave Chief of Surgery could sweep Meredith off her feet, or perhaps the people in the dark corners of the Internet rooting for a Karev-Grey hookup could finally be satisfied. Either way, I can't imagine viewers reacting well to a single-and-ready-to-mingle Meredith Grey. We have all emotionally invested too much into Meredith and Derek for her to jump into another relationship off the bat.
That's why I pray that Meredith remains single. Not only because I still have attachment to Derek, but a single Meredith has far richer storytelling potential. Rhimes said in the EW interview that a lot of this season will be spent exploring Meredith's relationships with her half-sister Maggie and sister-in-law Amelia, and that's something that never would have happened if Derek was alive. Richard could retire and have Meredith take on a larger role at the hospital. Maybe she can eventually become Chief of Surgery, even. Meredith could learn to balance single parenting and professional success. That would be a fitting conclusion to the series: Meredith excelling in ways her mother never could.
Meredith Grey has always been capable of being on her own. So even if the writers do decide to create a new love interest for Ms. Grey (Martin Henderson, perhaps?), it wouldn't matter. Grey's Anatomy is about Meredith's journey. Men and romantic interests are a part of her life, but they are not the priority. She doesn't need McDreamy. Grey's Anatomy doesn't need McDreamy. I have faith that the show's writers will do this storyline justice, because TV needs more strong single women — and Meredith seems like the perfect candidate.
Images: ABC; Giphy (4)