Jade & Tanner Could Have Honeymooned In Mexico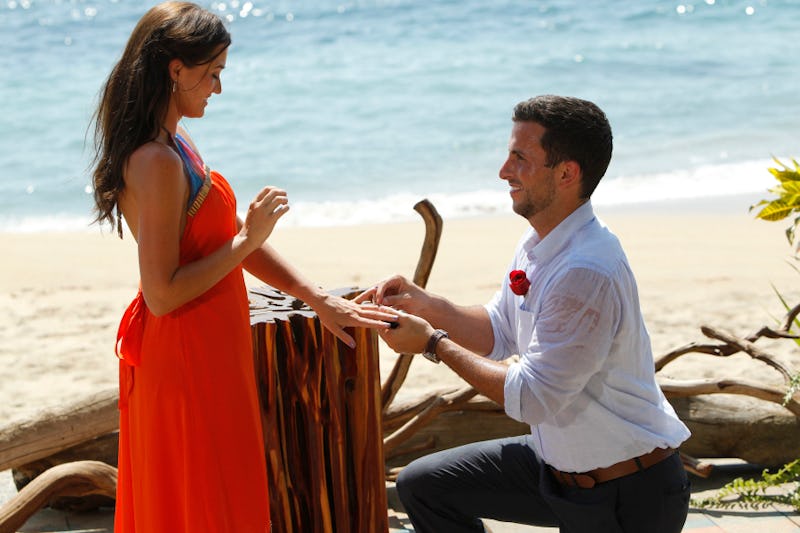 So, now that we have all come down from the emotional roller coaster that was the season finale of Bachelor In Paradise, we can now begin to sift through the rubble of booze-soaked heartbreak to find our shiny beacons of hope, Jade and Tanner who got engaged on Bachelor in Paradise's final show. On their recent appearance on After Paradise with Carly and Kirk (RIP Karly/Cirk), Janner gushed about sneaking around the show's strict rules about visiting each other after filming wrapped and insisted that they are not planning on having a long engagement. These two are ready to start their lives together ASAP. At the end of the show, Chris Harrison gifted them with some adorable Janner-monogrammed bathrobes and a surprise week-long vacation to Mexico. (You know, as if they hadn't just been there all summer.) The question I have is, is their free trip to Mexico a honeymoon?
I wouldn't really put it past anyone in Bachelor Nation to have a secret, surprise wedding. I mean, remember when Cassandra left the show with Justin and then by the time it finished airing she was dating Jonathan? Yeah, I don't trust anyone in this cast. Not that a Janner wedding would be a bad thing, I would just be sad if we didn't get to see it. Alas, here are a couple of signs seem to confirm that their Mexican vacation may have been a honeymoon.
It's Free
I definitely think this may be a good honeymoon option for these two simply because it's free. Without splurging on a honeymoon themselves, they can focus their funds on moving in together.
It's Where They Met
Everyone loves a poetic life moment. Returning to the place where your love story began on your honeymoon is pretty much the pinnacle of poetry. Also, one look at their social media accounts confirms that these two are all about the adorable romantic moments.
They Are Eager To Get Married
These two are itching to get hitched as soon as possible. They have made it abundantly clear that they are not into the long engagement game. If they are being handed a free trip back to Mexico, why wouldn't they just make it their honeymoon, so they could focus on getting married immediately?
Of course, these two may be a little sick of Mexico at this point. They were just there, there are rumors that they may get married there, and now they may have a honeymoon there? I love Mexico as much as the next person, but that's a lot. I guess we will have to keep our eyes open for these two crazy kids to announce some solid plans.
Images: Rick Rowell/ABC (2); Giphy