When Are Janner From 'BiP' Moving In Together?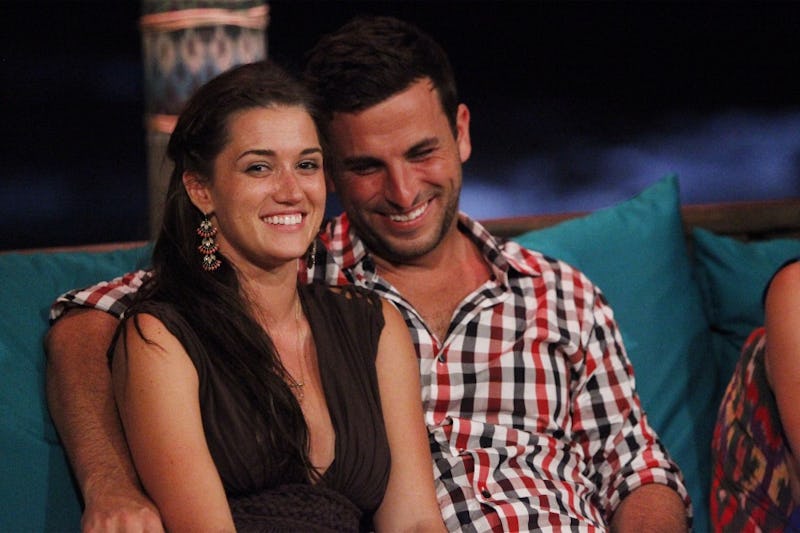 Things appear to be really going swimmingly for everyone's favorite Bachelor In Paradise couple, Jade and Tanner. Affectionately deemed "Janner" by Bachelor Nation, the couple became engaged in the cutest of manners on the finale episode after a season of heart eyes and #CoupleGoals. Now that the cameras are gone, these two look like they are still ready and raring to start the rest of their lives together as soon as possible. The only snag that seems to be hindering them from truly becoming the world's greatest love story ever told is the fact that they reside in separate cities at the moment. With Jade in Nashville and Tanner in Kansas City, they have to make it work long distance. So, when will Jade and Tanner move in together?
They say absence makes the heart grow fonder and so far Janner are doing well to prove that old cliche right. Their social media accounts tell a story of adorable date nights and a love that would make the galaxy jealous, so I am pretty sure there will be a move in their very near future. I am dying to see them live their adorable life in their very own love nest. That's not weird, right? Let's go with no.
Fortunately we have our answer, guys! Jade will be the one to move, and she couldn't be more excited.
I don't blame her. The pair's already spent quite a bit of time in KC, and Jade seems to love it.
Since Tanner has a steady job in Kansas City, while Jade has a more flexible employment situation being the creator of her own makeup line, it makes sense that she's OK with making the move.
These two are obviously eager to get married, so I am assuming that the move to KC will be happening very soon. I mean, they have already stated that they are very against a long engagement and Chris Harrison doesn't think they will even be able to wait for next season's Bachelor In Paradise premiere to get hitched.
The only thing that might make Jade's move a little difficult is her completely perfect best friendship with fellow BiP alum, Carly Waddell, who also lives with Jade in Nashville. Leaving a bestie is never easy, but Jade has a seriously amazing adventure ahead of her in Kansas City, and Carly supports her every step of the way — so I am watching out for the moving vans any second.
Images: Rick Rowell/ABC