Only '90s Kids Will Remember These Celebs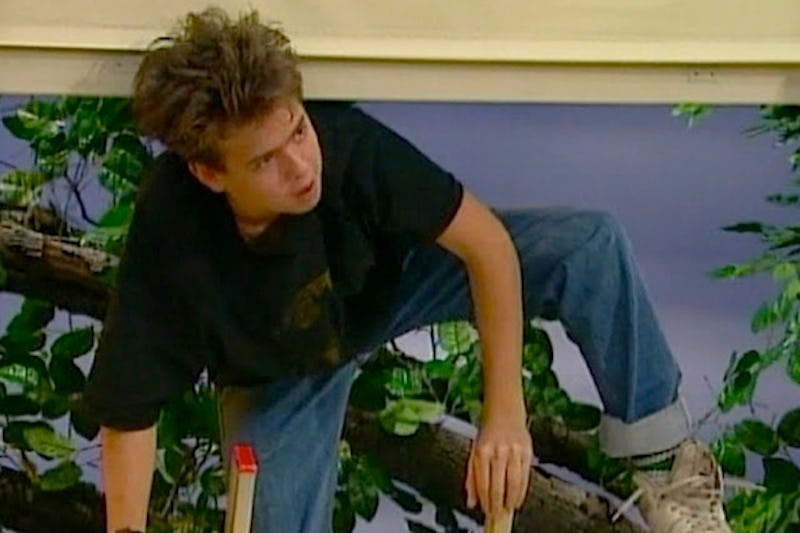 Revisiting old favorites from the '90s often ends in me fruitlessly Googling a former actor I once had a major crush on who has since vanished into obscurity. For every Ryan Gosling out there, there is an actor — like Sam from Clarissa Explains It All — who went from heartthrob to regular person. Then there are the curious cases like Cara DeLizia, who had her own cult show in So Weird, but who has only been seen in the rare TV movie since. Suffice to say, there are just a whole bunch of celebs only true '90s kids will remember. They were your childhood faves — and even if pop culture history has moved on without them, you remember clipping their pictures out of YM magazine for not at all creepy wall collages.
It's hard to say why these celebs never made it big, but they are stars where it counts: in the hearts and minds of nostalgic '90s kids everywhere.
Ready to prove your '90s celebrity knowledge? Then check out the actors on this list and prepare to be hit with all the nostalgia as you remember long forgotten favorites from years gone by. Chances are they don't have a new project coming out for you to watch, but you'll always have the '90s.
1. Jonathan Taylor-Thomas
OK, so if you actually came of age in the '90s, Jonathan Taylor-Thomas (or JTT as he was known in every teen magazine across the land) isn't that obscure. It you aren't a '90s kid, though, there is just no way you know that JTT was at one time one of the most beloved actors on the planet — he voiced Simba! — and a locker door staple throughout the decade thanks to Tim Allen's Home Improvement. Aside from the occasional guest appearance, though, JTT has traded acting in for academics: As he told the Huffington Post, he left acting to attend Harvard and Columbia Universities.
2. Jason David Frank
Mighty Morphin Power Rangers was huge back in the day, and everyone was obsessed with the Green Ranger Tommy. Sometimes, James David Frank's Tommy was good, sometimes he was evil — in other words, he was the morally ambiguous Ranger of everyone's dreams. Now he's... still Tommy. No, I'm not kidding, check out Frank's IMDB page. The guy is a career Power Ranger.
3. Mara Wilson
Wilson was total #goals for me as a child. She played precocious child after precocious child in a string of movies that are still classics today: Matilda, Mrs. Doubtfire, and Miracle on 34th Street (and You Wish). These days, though, Wilson spends more time writing than acting — and she even voiced a character in the popular podcast/story Welcome To Night Vale. She also has quite the Twitter, if you want to reacquaint yourself with Wilson's inherent cool factor.
4. Sean O'Neal
I feel sorry for the generations of kids who will not grow up watching Sean O'Neal's Sam be Clarissa Darling's best friend on Clarissa Explains It All. O'Neal pretty much disappeared from the public eye after that series ended — but '90s kids everywhere still remember swooning over Sam climbing into Clarissa's bedroom window.
5. Marla Sokoloff
Sokoloff is still working steadily, but mostly '90s kids know her by name. While most people probably consider Sokoloff as "that girl," your average '90s kids knows she was Gia of Full House fame and enemy of The Babysitter's Club, Cokie, before she went on to star in The Practice and The Fosters.
6. Cara DeLizia
So Weird was Supernatural before Supernatural existed, and it was crazy good. The Disney show starred DeLizia who was an amazing young actress — and who has done almost nothing else since. As a '90s fan who was totally obsessed with So Weird, I will never forget DeLizia's amazing performance as Fiona, though.
7. Austin O'Brien
How is O'Brien not still famous? In the '90s he was Nick in My Girl 2, Logan in The Babysitter's Club, and the best reason to watch Promised Land. Basically, he was all of your fictional boyfriends.
8. Kimberly J. Brown
Brown was the queen of Disney movies in the '90s. You definitely know her from the Halloweentown movies, and you probably remember her from the underrated Quints as well. She is still acting (recently she was in AMC's swiftly cancelled Low Winter Sun), but let's be real: how can anything ever live up to Halloweentown?
9. Omri Katz
If you don't remember Katz, then I'm going to need you to turn in your '90s kid card immediately. Not only did Katz play Hocus Pocus' Sam, he was also the star of one of the '90s' most underrated shows, Eerie, Indiana. Without Katz, '90s kids would have missed out on two great pieces of pop culture spookiness.
Did you remember all of these obscure '90s celebs? Even though they aren't in the limelight anymore, they helped make the greatest decade of them all a whole lot more entertaining.
Image: Nickelodeon