These Rainbow Doritos Are For A Great Cause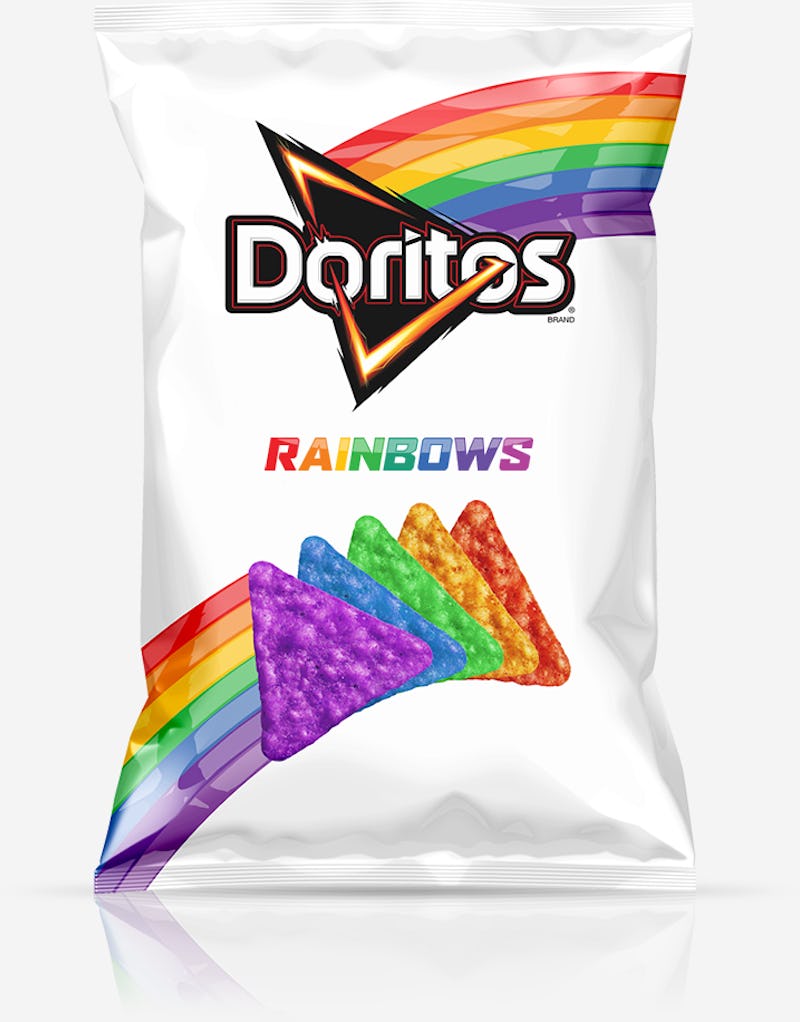 I'm going to cut right to the chase here: The It Gets Better Project and Doritos are teaming up to launch Doritos Rainbows, rainbow-colored chips that look freakin' awesome. Seriously, they're like Doritos for unicorns. And the best part? The proceeds from these babies go to help fight homophobia. I want some right now.
That's right — Doritos is raising money for the homophobia-fighting It Gets Better project by sending you rainbow chips in exchange for a $10 donation. I know I can't be the only one with an unstoppable craving for gay-friendly rainbow Doritos right now.
The Doritos won't be available in any store — you'll have to go online to snag a bag (which you'll want to do — think of how jealous you'll be when all your friends are Instagramming pictures of their rainbow food). The bags are only available "while supplies last," so get on it!
In case you're not aware, the It Gets Better project, started by sex columnist Dan Savage in 2010, provides support systems for gay youth through means such as international pride festivals, social media outreach, speakers at youth events, and free legal representation. It also is what started the famous and powerful series of It Gets Better videos, in which adult gay men and women (as well as straight allies) assure gay teens that the bullying and harassment they may experience now is only temporary.
Not into cheese chips? Number one, how dare you, and number two, the good thing is that Doritos is far from the first company to support It Gets Better and other gay-friendly orgs. Here are some other products you can buy that will go to the excellent cause of promoting gay rights around the world:
Through the end of the summer, Ben & Jerry's renamed their Chocolate Chip Cookie Dough flavor to "I Dough, I Dough," with all of its sales going to the pro-gay rights organization Human Rights Campaign. Scoop it with your rainbow Doritos for a salty-sweet treat (or don't — suit yourself).
You can always use more tote bags, so why not get one that helps a good cause?
At first glance, this awesome tee shirt legitimately looks like merch from a rock concert.
Proceeds from this unisex, sultry fragrance go to gay rights charities like the Human Rights Campaign and The Matthew Shepard Foundation.
Start stocking up for next year's pride parade with these pasties. Proceeds go to various gay rights organizations. Plus, sparkly lightning bolts!
Images: Doritos; Ben and Jerry's; Loveandpride.com; It Gets Better; Human Rights Campaign