Ben And Jerry's Marriage Equality Support Is Tasty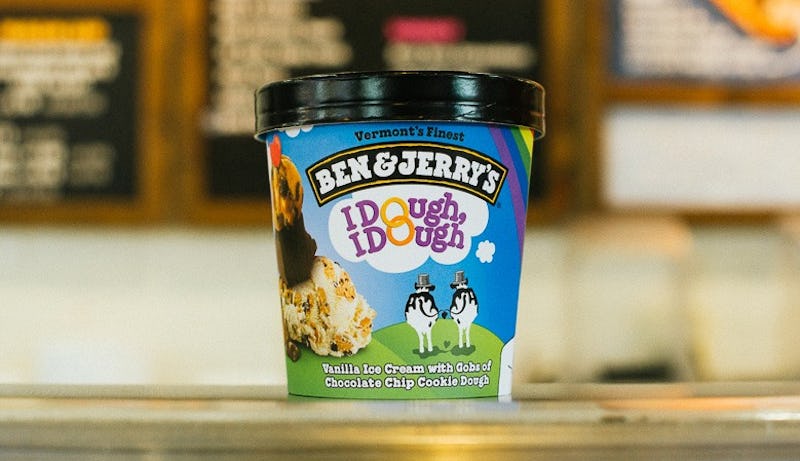 The Supreme Court has spoken and marriage equality is officially the law of the land! And what better way to celebrate than with some ice cream — especially Ben and Jerry's "I Dough, I Dough" ice cream, renamed to celebrate the Supreme Court ruling in Obergefell vs Hodges. Because "Chocolate Chip Cookie Dough" was just not festive enough.
"Ben and Jerry's is proud of the Supreme Court's landmark decision against discrimination as it boldly stands up for equality for same sex couples everywhere," Jostein Solheim, the CEO of Ben & Jerry's, said in a press release. And indeed, the company has a been a longtime supporter of marriage equality: They were one of the first major companies to provide benefits to same sex partners. In 1999, they backed a civil union bill in their home state of Vermont, and 10 years later when marriage equality passed in the state in 2009, they renamed the "Chubby Hubby" flavor "Hubby Hubby" for a limited time. They also introduced new flavor names after both the UK and Ireland passed marriage equality, Apple-y Ever After and EngageMint, respectively. Plus, they signed an amicus brief urging the Supreme Court to hear a case on marriage equality in the first place last year.
And while some businesses have been proudly declaring their refusal to cater LGBT weddings, Ben and Jerry's hosted a same sex wedding at a shop in DC.
Basically, Ben and Jerry's is pretty down for the cause, which makes their decision to rename "Chocolate Chip Cookie Dough" as "I Dough, I Dough" all the better. The "I Dough, I Dough" pints will be available for the summer in Ben and Jerry's stores nationwide. Dig in!
And you can also check out a video Ben and Jerry's made supporting the Supreme Court decision entitled "Love is Love."
Image: Ben and Jerry's