Will Anything Change In The Cosby Allegations?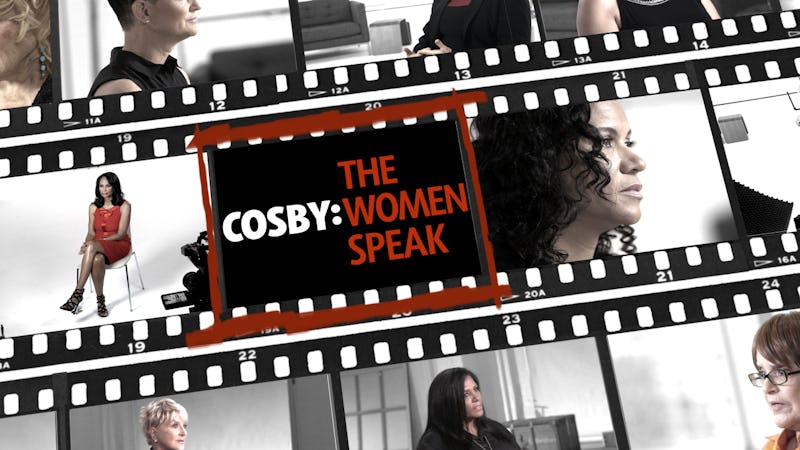 The number of women accusing Bill Cosby of sexual assault has now passed 50, and new stories attempting to dissect the controversy are constantly coming out. The latest entry to the conversation contrasts the wild success of Cosby's decades-long career with repeated sexual assault allegations, but will anything change after A&E's Cosby: The Women Speak ? Cosby, who has been accused of using drugs to assault women since the 1960s, vehemently denies any wrongdoing. Thus far, the actor and comedian has not been charged with any crimes.
For the accusers, there appears to be a troubling stalemate. Their stories have been told, and all of America is paying attention — yet justice seems to be out of their reach. A&E's documentary featured two of the newest accusers, Charlotte Fox and a woman named "Elizabeth," who is avoiding using her real name in public. According to Fox, "[Cosby] had sex with me. I was not a participant and it was not consensual." These new accounts add further reinforcement to dozens of accusations made against Cosby, many of which frighteningly echo each other — manipulation of trust, unknown use of drugs, and forced oral sex.
One could say these women coming forward ensures that Cosby's reputation will never be repaired, but he's been through this once before and came out the other side relatively unscathed. The statute of limitations for reporting sexual assault has run out for the majority of accusers. So what can be done?
Possibly more than we may think. The accusers may not have the ability to file reports against Cosby, but their efforts may open the door for other victims of sexual assault. In Nevada alone, the accusers have already helped change laws. In May, the governor signed a bill into law that would extend the state's statute of limitations on sexual assault from four years to 20 years.
The new law won't help Lise-Lotte Lublin, one of Cosby's accusers, but she was still vocal in pushing for it to be enacted. "I am furious and I have decided to fight for my rights and the rights of every man, woman and child who have been victims of a sexual crime," Lublin said while championing the bill.
Similar efforts are underway in Colorado, where earlier this week Rep. Rhonda Fields met with Colorado-based alleged victims in an effort to discuss extending or removing Colorado's statute of limitations for reporting assault, which is currently three years. "This is not about Bill Cosby," said accuser Heidi Thomas. "This is about sex assault."
And at least one Cosby accuser may be able to bring some closure to the scandals that have been following the comedian for years. Cosby has been ordered to give a deposition in October for a civil suit brought against him by Judy Huth, who claims she was 15 when Cosby assaulted her at the Playboy Mansion. Huth can't file for criminal charges due to the statute of limitations, but the civil suit may shed new information on the case.
According to Cosby and his lawyers, Huth's suit is "extortion." But past court documents have revealed crucial details about Cosby that vindicate his accusers — such as his confession of obtaining drugs for the purpose of having sex with women. Further details may come out in Huth's case that could prove crucial for those accusers who do have the ability to seek legal recourse.
A&E's documentary is unlikely to enact sweeping change. But the documentary, like New York Magazine's striking profile on the accusers, works to give aid to a larger issue. As Thomas says, the issue goes beyond Cosby. The overwhelming number of accusers may reverberate with other victims of sexual assault, who may be willing to come forward. Having substantial media coverage of women brave enough to step forward may inspire other women scared to name their attackers.
There may never be closure with Cosby, and America may never know the truth. But A&E's documentary provided a crucial service to victims of sexual assault, by providing them a platform to speak freely and by believing them.
Image: A&E