Try These Karaoke Songs (If You Dare)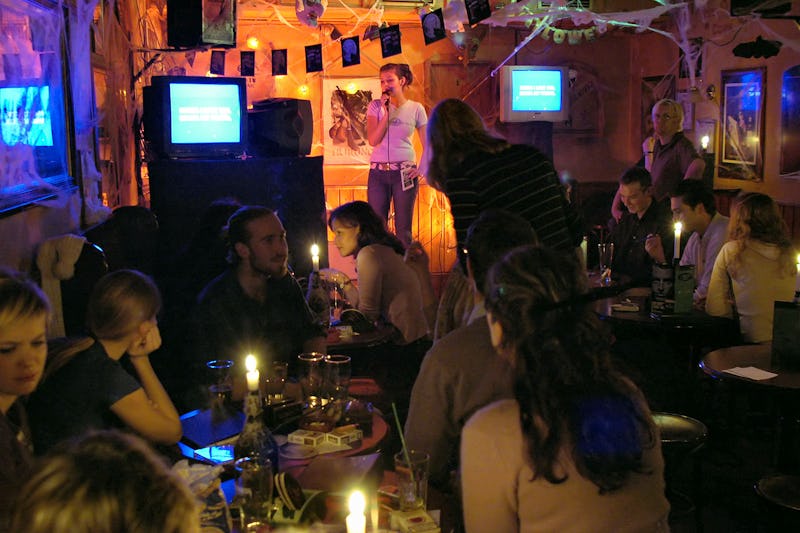 Because it's the end of the year and lists are a fun thing to do, YouTube released the top karaoke songs of 2013. Well, they released a list of most popular songs on the karaoke-only KaraokeOnVEVO channel. I don't know where these songs rank IRL karaoke bars, but on the Internet, they're the bee's knees. And the Internet is everything. So, here are the top ten karaoke songs (according to YouTube/VEVO):
"Just Give Me A Reason" by P!nk feat. Nate Ruess
"Listen" by Beyoncé
"Love On Top" by Beyoncé
"Counting Stars" by OneRepublic
"Everything Has Changed" by Taylor Swift feat. Ed Sheeran
"Blurred Lines" by Robin Thicke feat. T.I. and Pharrell
"Don't Take The Girl" by Tim McGraw
"Iris" by Goo Goo Dolls
"Over The Rainbow" by Judy Garland
"Say My Name" by Destiny's Child
Neat-o. I'd love to watch a random person go for those key changes in "Love On Top." Very daring. As neat-o as this list may be, perhaps we should steer clear of these songs. Because if there is one thing karaoke attendees hate, it's hearing the same songs over and over. Actually, I don't know if that's true for all karaoke attendees. I suppose I can only speak for myself.
So if you're going to go do some karaokeing during the holiday season (or ever. Because karaoke is a year-round sport), it could be cool to think outside of the box. Be unpredictable. And by "unpredictable" I mean "choose a horrendous karaoke song." A song that's so crappy for 'aoke, it just might work (it probably won't work). "Why would I do that?" you ask. "Because it'd be a funny mess," I respond. "Why wouldn't I pick a song from that YouTube/VEVO list?" you ask. "Because it wouldn't be a funny mess." "You're an awesome debater," you respond. "I know. I did debate in high school."
No, I'm not saying the six following songs are bad songs (well, some of them do suck). I'm saying they'd be a bust at the karaoke bar. And that's where the magic begins! Let's push the envelope. Break the mold. Defy expectations. Because that's what karaoke bars are for, right? Warning: You might be booed off the stage. Or you might get a standing ovation for your bravery. Ah, the risks we take for art!
"Freak On a Leash" by KoRn
This requires a lot of yell-singing, which rarely goes well in a karaoke setting. Let us not forget the gibberish grunting part in the middle of the song. And then, there's that crazy growl-scream part after that. All of it would really get the attention of the bar patrons.
"Everybody's Free (to Wear Sunscreen)" by Baz Luhrmann
This is a spoken-word track that ended up on Now That's What I Call Music! 2. Who recites an essay at a karaoke bar? An edgy character, that's who.
"Young Folks" by Peter Bjorn & John
You HAVE to do the whistling. Directly into the microphone. Don't wuss out. The whistling is key.
"Mmm Mmm Mmm" by Crash Test Dummies
Sing this in your lowest register. Go for it.
"Bread and Butter" by The Newbeats
I saw someone sing this at karaoke. Not a duet. One guy. Singing all of the parts. Doing different voices. And SCREAMING into the mic. I've never forgotten that performance.
"The Christmas Shoes" by NewSong
I don't care what time of year it is, this song would piss off every single person in a karaoke bar. It's such a garbage song. And that's why no one will ever sing it. AND THAT'S WHY YOU SHOULD DO IT. Be adventurous. Be wild. Sing "The Christmas Shoes."
Image: WikiCommons