You Might Not Want To Get Wendy Davis' Pink Sneakers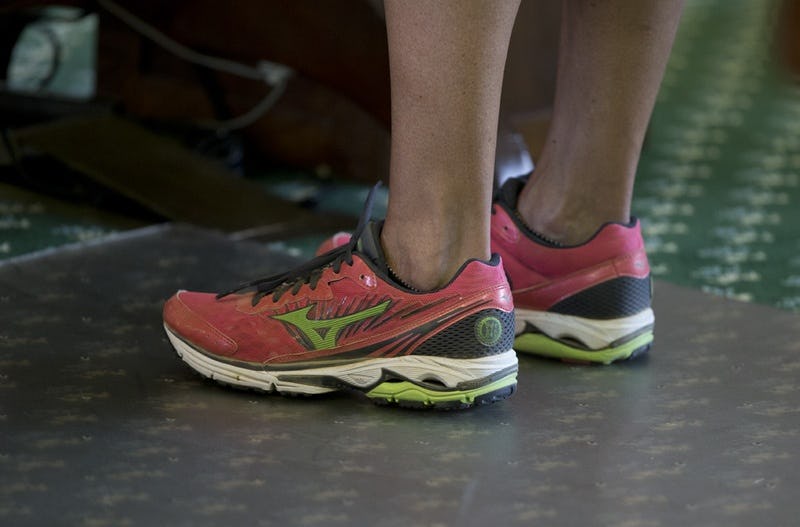 Ever since Wendy Davis wore Mizuno's Wave Rider 16 sneakers during her 11-hour filibuster on Monday, supporters of her actions have been eager to get a sip of the pink Kool-Aid. A rep from Mizuno tells WWD that the brand's website received nearly double its regular traffic, with most visitors looking for the Wave Rider 16.
Mizuno doesn't appear to be sharing the excitement of consumers, however. Unlike Erdem, who designed the dress Davis wore and tweeted their support, the footwear company seems to have no interest in supporting the politician. That's fine, but Fashionista reports that Mizuno President Robert Puccini has donated at least twice to the Republican National Committee and voted for Mitt Romney in 2012, which could explain their radio silence.
If you have your heart set on pink sneakers, but are looking for a more progressive company than Mizuno, there are other options. Brooks Running has a long history of supporting women, helping college athletes train beyond their college years, including Desiree Davila, who epresented the United States of America as part of the U.S. Women's Marathon team at the 2012 London Olympic Games. Oh, and they've got a pretty great pink sneaker for $150.
What Davis was wearing on her feet is, of course, far less important than her actions. Still, it's important for consumers to be aware of who they're supporting. One Amazon commenter wrote that the Wave Rider 16 is "guaranteed to outrun patriarchy on race day." Clever, but you can't outrun patriarchy if you're supporting it.