Nickelodeon's 'All That' Knew What's Up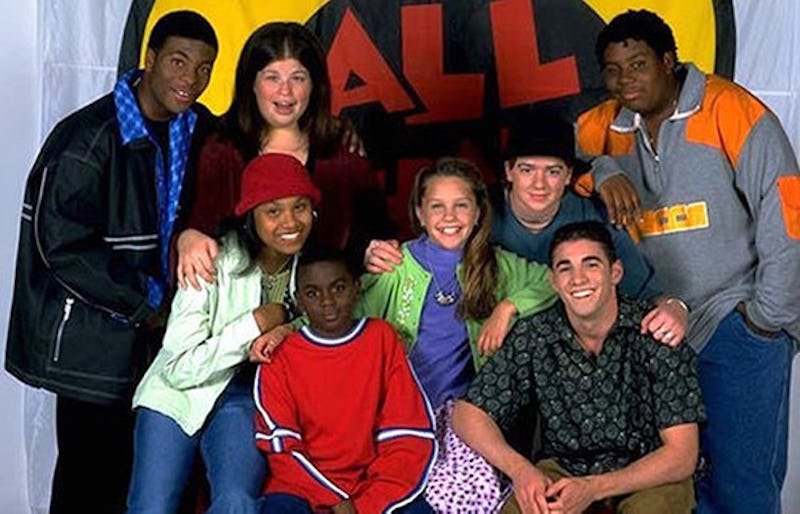 As a kid, I probably spent 75 percent of my indoor time in front of the TV, watching Nickelodeon. SNICK was my favorite part of the week, with most of the best shows the network had to offer being scrunched into the primetime block. At the very top of that list — and in the forefront of my memories — was All That , the live-action sketch comedy series that brought us the likes of Amanda Bynes, Keenan Thompson, and Nick Cannon (at least in its original 1994-2000 run). It was pretty much the funniest thing I'd ever seen at that point in my life, and the best part is that a lot of the sketches still hold up to this day.
The reason All That worked is because the humor, while mainly written by adults, was geared toward kids and even allowed the cast members to ad lib and improvise their own ideas. Since it was on Nickelodeon and made for an adolescent audience, the comedy had to keep it relatively clean, and therefore relied on pop culture parodies and downright silliness to get the laughs. Needless to say, it totally worked, and I credit All That with helping to develop my sense of humor (Saturday Night Live gets the rest of the credit).
Here are seven sketches that will still crack you up, even in 2015.
Everyday French With Pierre Escargot
Don't get me started on how much I loved this sketch growing up. It's so ridiculous and nonsensical, and that's what's so wonderful about it. Plus, look how little Keenan was!
Good Burger
This recurring sketch was so popular that it even got its own spinoff movie (which was a disaster, but no matter). Again, this was a very basic premise — a rather dozy fast food worker named Ed who basically embarrasses himself and messes stuff up all the time. Golden!
Vital Information
Lori Beth Denberg was an unsung hero and one of the highlights of All That. I don't know where she came from or what she's done since, but "Vital Information" used to have me in stitches.
The Loud Librarian
Another genius sketch based on the premise of a librarian attempting to enforce a policy of silence in the library... while being the loudest person on the planet. She screamed, she crunched chips, took phone calls, she used an air horn... all in the name of keeping the volume down.
Ask Ashley
This sketch was my first introduction to Amanda Bynes, and I'm so glad it exists. It featured a young and adorable "Ashley" answering viewer questions by screaming and berating them in the most intense way. Basically, it was the best.
Island Girls
I don't know who thought of the idea for this sketch, but two women stuck on a remote island with only coconuts to keep them company is a true recipe for hilarity, so I'll go with it.
Sugar & Coffee
A fake talk show with two hyperactive hosts that are hopped up on sugar and coffee nonstop? Genius! Needless to say, things got a little crazy on air. I feel like I'm watching the Kathie Lee & Hoda hour of TODAY. Zing!
Know Your Stars
I'm a big fan of things getting all meta, so I loved "Know Your Stars," a segment that focused on sharing untrue facts and trivia about the cast members and guest stars of the show. So stupid, but so perfect.
This Amazing Spice Girls Sketch
This wasn't recurring, but it did feature the Spice Girls, so it's an automatic inclusion on this list. God, I miss the '90s.
Image: Nickelodeon