13 Things To Make This Weekend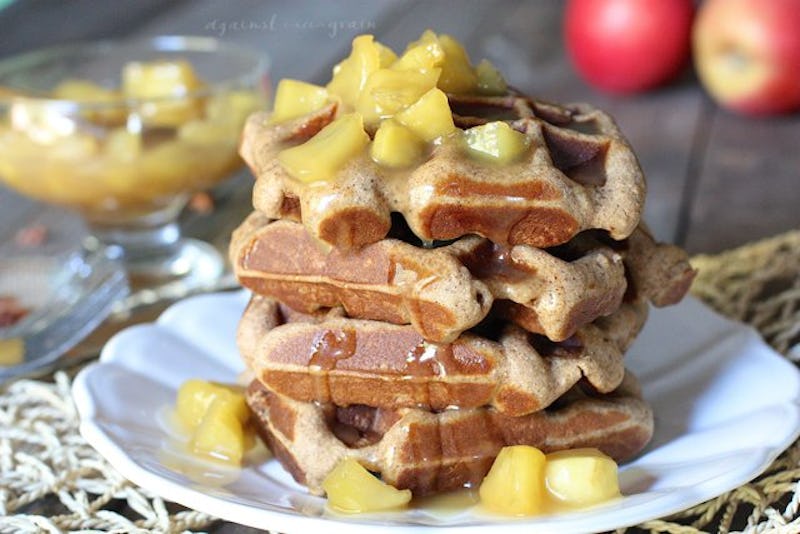 No plans this weekend? No problem. Sometimes, weekends are meant to be spent catching up on sleep, binge-watching television, and just lying in bed doing nothing. I often spend these weekends making baked goods — cookies, cakes, pies, and other treats that I'd ordinarily never have the time or energy to make. There are plenty of things to bake on the weekend, especially when you have no plans.
Learning new skill sets, particularly in the kitchen, is a welcome respite. There's only so much television I can watch in one weekend without my brain turning into mush. And as the days grow shorter and cooler, the more of a hermit I become, choosing to forgo a night at the bar for baking cookies. I am also secretly a 70-year-old woman with the face of a 25-year-old, but I digress.
Learning how to make pie dough, flaky croissants, and yeast breads can be intimidating for novice and experienced bakers alike. But you don't have to be the next Julia Child to get the recipe down. Often times, you'll just need a little bit of time and patience. And your rewards? Sinking your teeth into a buttery and flaky croissant, or polishing off a slice of warm pie you made yourself.
Below are 13 baked good recipes — including dairy-free and gluten-free options — to make on your next free weekend.
1. Bourbon Pecan Pie With Dark Chocolate
Chocolate, pecans, and most importantly, bourbon — this pecan pie recipe by Joy the Baker has everything. Consider taking this pie to your next Thanksgiving potluck. No one will be missing the pumpkin pie.
2. Croissants
Unless you're buying croissants from a bakery renowned for making these flaky and buttery pastries, try and make them yourself. This croissant recipe by Adventures in Cooking shows you how to make them three ways.
3. Nutella Espresso Rolls
Coffee and chocolate are two flavors that pair great together. These rolls by A Pastry Affair are filled with Nutella and espresso, making them an extra-special treat worth your time.
4. Caramel Apple Spice Gluten-Free Waffles
This fall-inspired waffle recipe is made with coconut flour, macadamia nuts, and pecans, instead of all-purpose flour. Topping it off is a rich caramel apple syrup made with coconut milk and honey. Regardless of your stance on gluten, these caramel apple spice waffles by Against All Grain are for anyone with a sweet tooth.
5. Lemon Meringue French Toast
Pie for breakfast? Yes, please! This lemon meringue French toast recipe by I Am A Food Blog will satisfy all dessert and breakfast cravings.
6. Peanut Butter French Silk Tart With A Ritz Cracker Crust
This peanut butter French silk pie by Cooking For Keeps has everything you would ever want in a sweet and salty combo: silky chocolate pudding, a salty, buttery Ritz Cracker crust, and rich peanut butter.
7. Thin Mint Chunky Chocolate Brownies (Gluten-Free)
If Thin Mints are your favorite Girl Scouts cookie, try making this Thin Mint chunky chocolate brownie by Gluten-Free Canteen, with mini chocolate chips, marshmallows, and York Peppermint Patties. Did I mention this recipe is gluten-free?
8. Tres Leches Cake Doughnuts
If you haven't had a tres leches cake, stop reading, and go to your nearest panaderia to try this three milk cake made with sweetened condensed milk, evaporated milk, and heavy cream. This tres leches cake doughnut recipe by How Sweet It Is is just as delicious.
9. Caramel Bacon Pull Apart Bread
Bacon and caramel. Caramel and bacon. Did I have you at bacon? This pull-apart caramel and bacon bread by House of Yumm is filled with cinnamon and bacon, and topped with a pecan caramel sauce and more bacon.
10. Vegan Carrot Cake With Macadamia Frosting
Dairy-free and egg-free, this vegan carrot cake with macadamia frosting by Love and Lemons is an updated take on a classic recipe.
11. Meyer Lemon Scones
Celebrate the art of tea time with these Meyer lemon scones by Jelly Toast Blog. Meyer lemons are in season between November and March, and are sweeter and less acidic than other lemons.
12. Homemade Vanilla Marshmallows
Hot chocolate and s'mores season is almost here. Learn how to make your own marshmallows with this vanilla marshmallow recipe by My Baking Addiction.
13. Gluten- And Dairy-Free Spiced Pear And Almond Cake
You won't miss flour one bit in this spiced pear and almond cake by My Baking Addiction, made with brown rice flour, almond meal, ginger, cinnamon, pears, and olive oil.
Looking for more great food ideas? Check out Bustle on YouTube.
Images: Joy the Baker; Adventures in Cooking; A Pastry Affair; Against All Grain; i am a food blog; Cooking for Keeps; Gluten Free Canteen; How Sweet Eats; House of Yumm; Jelly Toast Blog; Love & Lemons; My Baking Addiction; My Darling Lemon Thyme