Alek & Lindsay Won't Be A 'DWTS' Showmance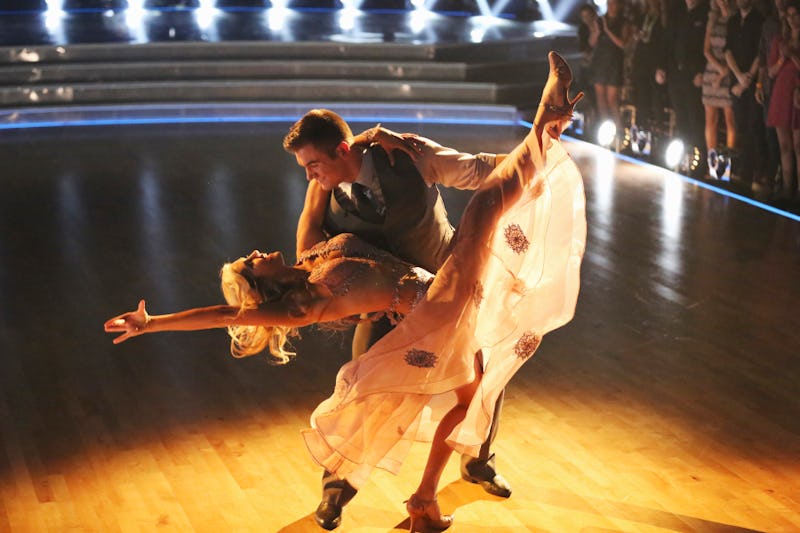 Among all of the actors, musicians, athletes, and TV personalities currently competing, there's one Dancing With The Stars contestant who stands out: Alek Skarlatos, who is — get this — a literal hero. In August, along with his childhood friends, Spencer Stone and Anthony Sadler, Alek overpowered a gunman toting an AK-47 on a Paris-bound train — and now, just one month after saving dozens (perhaps hundreds) of lives, he's already pulling accolades from the judging panel on Season 21 of DWTS. In the premiere, Carrie Ann Inaba dubbed his and partner Lindsay Arnold's first dance "one of the best dances of the night," as she complimented both student and teacher. Suffice it to say, his recent acts of heroism combined with his on point dancing skills (and all around charming adorableness) make him a pretty darn eligible bachelor. So, is there any chance Alek is dating his DWTS partner Lindsay?
Well, there's no denying the fact that the duo has some serious chemistry (not to mention an amazing working relationship)... could there be more going on? It would hardly be the show's first romance — after all, Season 20 competitors Robert Herjavec and Kym Johnson recently publicly confirmed their relationship (heck, at this point, they're even fielding pregnancy rumors) — so are these newcomers an actual item, too? I mean, they should be, seeing as they look ridiculously adorable together:
But, alas, it's not in the cards (unless some serious, soap opera-worthy shenanigans are afoot) — turns out that Lindsay is happily (not to mention, recently) married: She walked down the aisle with Sam Cusick three months ago, and the newlyweds are pretty darn adorable. I mean:
Even if there's no room for romance with Lindsay, what about other dancers and stars from the show? Alas, a lot of people are already paired off (Witney Carson is dating Carson McAllister, Peta Murgatroyd is back with Maks Chmerkovskiy, fellow contestants Alex and Carlos PenaVega are married... to each other — you get the picture), but hey: I'm sure Mr. Skarlatos will have absolutely no problems in the romance department, after wowing us all on (and most especially off) the dance floor.
Image: Adam Taylor/ABC