'Modern Family' Has A Great Guest Star Line-Up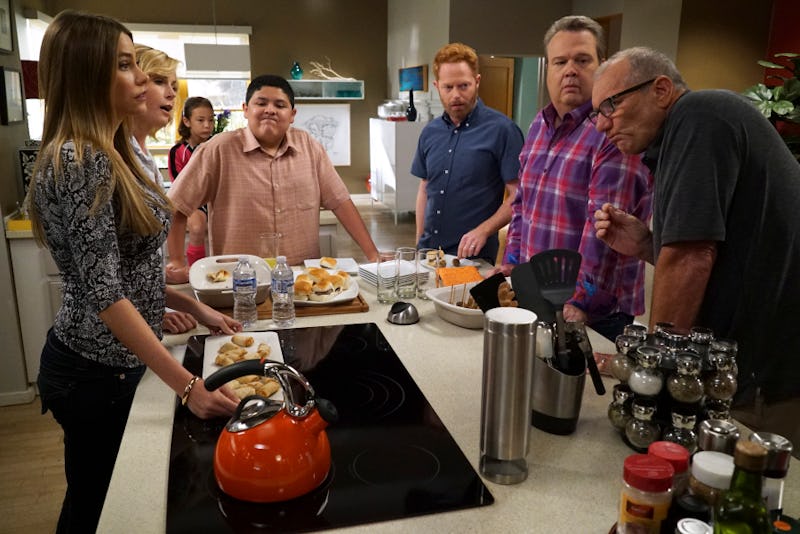 Modern Family has known how to keep an audience giggling from the moment it premiered. Switching up the normal sitcom format in favor of a mockumentary style a la, The Office; it keeps the comedy interesting and fresh. A lot of family based sitcoms just don't stand the test of time or end up becoming too gimmicky in their desperation to stay relevant. But, Modern Family never fell into these traps. Part of their success story has been adding fun celebrity guest stars to the Modern Family lineup. Characters that are completely lovable, yet deeply flawed at the same time, which keeps them relatable and relevant. Now that Season 7 of the show is upon us, we get to see everyone's favorite family transition into even more shenanigans with Alex attending college and a possible new baby on the way. And, adding to that chaos are even more celebs. So, who will guest star on this season of Modern Family?
The Showrunners are being pretty tight lipped about the season as a whole, but sources have released information about the first couple of episodes, including who will be guest starring. Some new people are joining, and some familiar faces will return as well for Season 7. Let's take a look at some of the newcomers and also remember our favorite guest stars.
1. Chloe Csengery
You may recognize Alex's new college roommate as young Katie from Paranormal Activity 3.
2. Kendall Ryan Sanders
Luke's new friend, Will, played by Sanders may be familiar to you as Rod Best in The Odd Life Of Timothy Green.
3. Nathan Lane
Nathan Lane is a legend all day, everyday. As Pepper, Cam and Mitchell's hilarious friend and party planner, Lane is everything that is right with the world. Entertainment Weekly reports he will be returning to play Pepper this season and I couldn't be more excited for his over the top ridiculousness in my life again.
4. Elizabeth Banks
Who doesn't love Elizabeth Banks? You know her as every awesome female character ever, and, according to EW, she will be back this season to reprise her role as Cam and Mitchell's out of control party girlfriend, Sal. Luckily, her character has a chance to really grow since last time we saw her. Seeing Sal take on motherhood is reason enough to tune in every week this season.
5. Adam DeVine
I absolutely adore Adam DeVine, and his role as Jay and Gloria's health nut "manny" is legitimate perfection. Since he and Haley seem to be finally realizing that they are star-crossed lovers and destined for greatness as a couple, his return this season should be delightfully juicy.
The seventh season of Modern Family promises to deliver its unique brand of comedy with some amazing guest stars peppered (Ha! get it?) in, along the way. Tune in on Wednesday, Sept. 23 for the premiere!
Images: Eric McCandless (4), Peter "Hopper" Stone, Mitchell Haaseth/ABC