How To Get Your Hands On More 'Empire' Music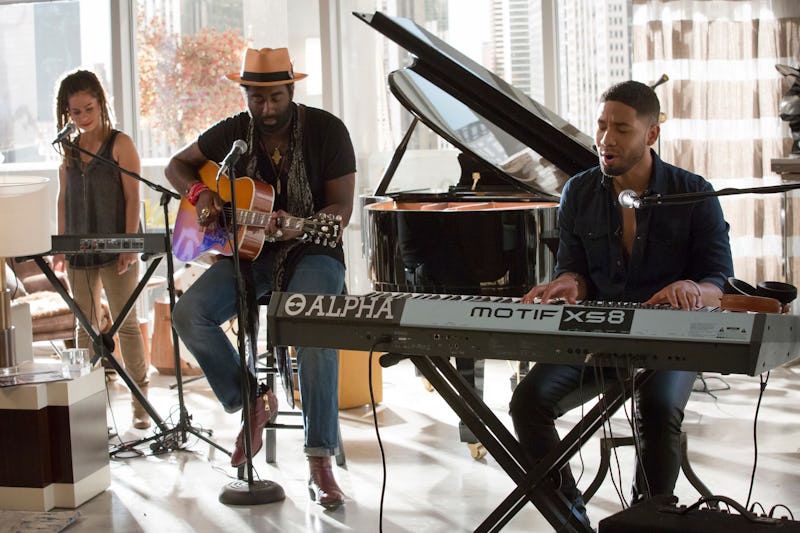 Not that I ever plan on ever being sick of "Drip Drop," "Money For Nothing," or "You're So Beautiful," but can I tell you how ready I am for a whole season of new Empire music? The show's soundtrack is a massive part of its appeal and what has the primetime soap opera hitting hard in two artistic industries. Like Nashville did in its development a few seasons before, Empire made its music a priority, hiring super-producer Timbaland and other innovative minds with good ears to make sure that the sound the series delivers lives up to the Lyon hype. The music world has responded to Empire's musical authenticity, and the second season is dialing the guest star quotient and artist cameos way up. So, when can fans expect to hear the Empire Season 2 soundtrack in full?
The Empire team has already released three new songs in advance of the Sept. 23 season premiere. "No Doubt About It" is a party track that teams cast member Jussie Smollett, who plays middle Lyon son Jamal, with club king Pitbull. "Ain't About The Money" proves again that the Empire cast doesn't need big names to move bodies; this one is an old-school Jamal/Hakeem (Yazz the Greatest) collaboration and sets the dramatic tone for some of the Season 2 promos. Then there's "Born To Lose," which features Sean Cross and Swizz Beatz and draws a parallel between Lucious' arrest and ongoing real-life issues of police brutality and racial profiling.
Season 1 of Empire aired its first-run of 12 episodes on FOX between Jan. 7 and March 18 this year. The complete Season 1 soundtrack wasn't released until March 9. With the runaway success of the first crop of episodes in mind, FOX asked for even more Empire this time around. To refresh your memory on what happened during those first 12 episodes, check out the drunk recap below.
Season 2 has 18 episodes, which not only means six more hours of backstabbing, lavish parties, and Cookie ensembles, but also six more hours worth of songs. Could Season 2's soundtrack be more than one volume? It might have to be to accommodate all the tracks. And I'm already sure I'll need to own them all.
So it's likely that Empire fans will have to wait until early 2016 and the end of Season 2 to be able to purchase the full Season 2 soundtrack. But Empire knows what you want and when you want it (now, please!), and has been consistent in providing music to fans on an immediate track-by-track basis. Last season, singles were released for download as they were heard on the show. So if you simply can't wait for the compilation to be released, get yourself to iTunes, Spotify, or Amazon to stream or download the latest from Jamal, Hakeem, and rest of the Empire stable of artists. The show's Vevo channel is also a great source; it hosts high quality Empire singles, plus behind-the-scenes clips, trailers, and other awesome content.
Warm up those earbuds, Empire fans. A whole new season of music is coming your way.
Images: Chuck Hodes/Fox; Giphy