5 'Grey's Anatomy' Couples That Survived Season 11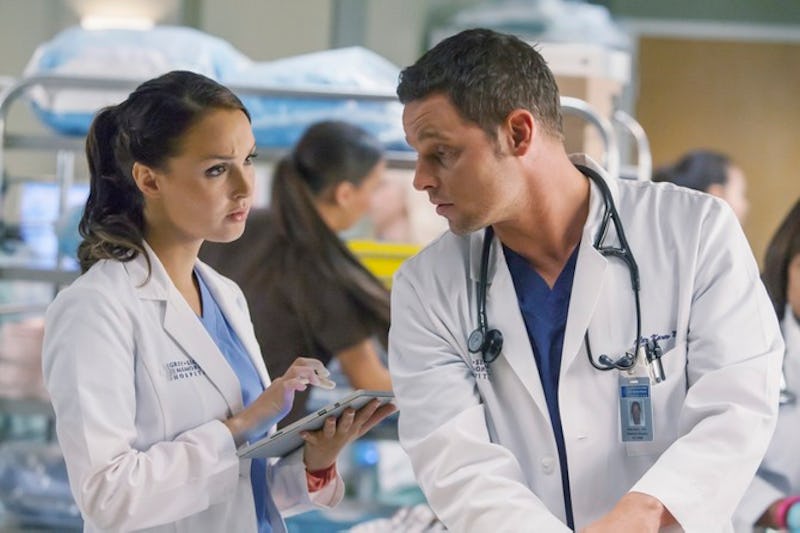 When Grey's Anatomy killed off Mark Sloan and Lexie Grey, I was heartbroken. Heartbroken, but it made great TV, so I found it in my heart to forgiven. Then, Arizona cheated on Callie, and I was bummed once again. And then? Derek Shepherd was killed by a team of incompetent surgeons, effectively ending his fairytale marriage to Meredith forever, and I was done for. I would love to say I have some kind of three-strike policy when it comes to relationship drama on TV, but after dedicating more of a decade of my life to this show, I'm still clinging onto the good ship Shondaland for dear life, which means I'm here for Grey's Anatomy Season 12 this fall, even though I know it's only going to hurt me. And, even after all of the recent death, drama, and relationship destruction, there actually are couples who are still together on Grey's Anatomy .
OK, so there aren't many of them, but they're there. After watching Derek die and seeing Meredith try to move on with her life without him, it's hard to remember seeing any kind of happiness for anyone during the Season 11 finale last spring, but it's there. And, in case you've forgotten in the long months between then and now, don't worry — this will bring you up to speed before Thursday's Grey's Anatomy premiere.
Here are all the couples who are still together — for the most part.
1. Catherine & Richard
After going back and forth between proposals and turning them down, these two actually did end up getting engaged (and then married) in the Season 11 finale. They're definitely not a central couple by any means, but it's good to see Richard find happiness after Adele's death.
2. Alex & Jo
Now that death has torn Meredith and Derek apart, Alex and Jo are now my favorite Grey's couple. And, when we last saw them, they were beginning the next chapter of their relationship: Living together in a place that was actually just theirs. OK, so it's a crappy loft, but I strongly believe that any couple should live together in a terrible apartment at some point or another, and I'm sure they'll find a way to make it feel like home. My fingers are crossed that there will be a wedding for them this season, and that it won't involve anything terrible like death or cancer or someone leaving someone else at the altar.
3. April & Jackson
They're still together in the most basic sense of the word, but they're not very stable at all. After April left to work with the military after they lost their baby, Samuel, Jackson was done waiting for her to come back — not that I blame him. He left her with an ultimatum: Go overseas and lose him, or stay home and keep him. We don't know what April's decision is yet, but I really hope that, no matter what happens, they end up staying together. I can't take another breakup!
4. Bailey & Ben
Because duh. They're perfect, low-key, and I never have to worry about either of them dying in a plane crash. (I hope.)
5. Amelia & Owen
Amelia and Owen are still as together as they've ever been — you know, casually hooking up, then getting too emotionally involved with each other for something that's supposed to be casual, and then keeping the lines as blurry as possible between friends and more than friends. I have a feeling this season will have them becoming a real couple... maybe even the central couple of the show.
Shonda Rhimes, for the love of all that is holy, no relationship drama for awhile, OK? My little heart can't take it.
Images: Ron Batzdorrf/ABC, Giphy (5)