11 Scary Books To Read Before Halloween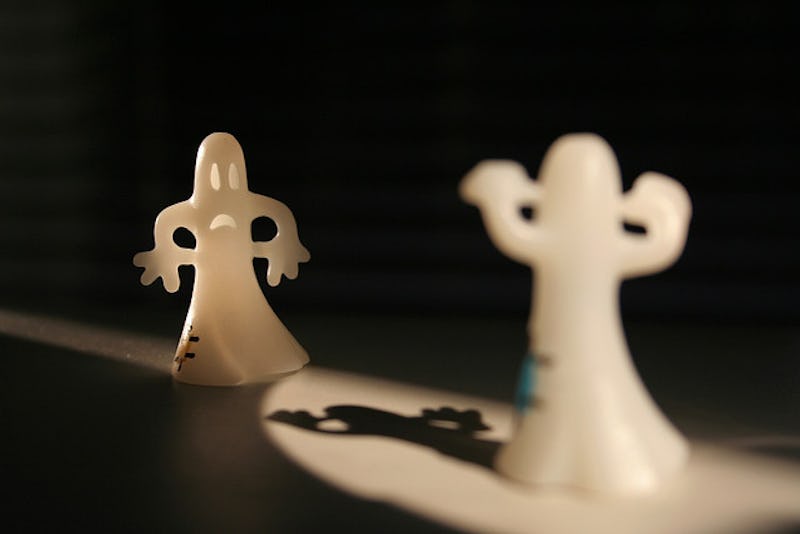 Halloween is, hands down, my favorite holiday. Sure, you get a big dinner on Thanksgiving and presents on Christmas, but on Halloween you get something even better: an entire night dedicated to mischief, frights, and, most of all, candy. There's something about getting dressed up, getting scared, and getting sugar high (OK, or drunk, whatever, we're all adults here) all at once that makes Halloween the perfect holiday.
Though the days of trick or treating might be behind you, there are plenty of ways you can still get in the spirit of the holiday. You can carve pumpkins, decorate your apartment with fake spiderwebs, or stock your cubicle with candy, but no Halloween is really complete unless you get the crap scared out of you, right? You can curl up on the couch on a dark and windy night and watch your favorite old horror movies, or you can see how quickly you can give yourself the heebie jeebies with the help of a terrifying book, because there is nothing that gets you in the Halloween mood better than a good scary story.
From terrifying tales about vampires and monsters to spine-tingling ghost stories, here are 11 scary books to read before Halloween:
Broken Monsters by Lauren Beukes
Part crime story, part supernatural thriller, Lauren Beukes's Broken Monsters is the graphic, twisted tale of Gabriella Versado, the lead detective on a violent case where the body of a young dead African American boy was found fused to the body of a deer. What's worse than the case itself is the dramatic involvement it has in Gabriella's life. Disturbing yet utterly engrossing, Broken Monsters is just the thing to give you the chills, right in time for Halloween.
Broken Monsters by Lauren Beukes , $10, Amazon
The Haunting of Hill House by Shirley Jackson
Four people experience the most terrifying night of their lives in Shirley Jackson's classic horror novel, The Haunting of Hill House. An unsettling and completely mesmerizing ghost story of supernatural spooks and psychological torment, you'll never want to sleep in a new place again after reading this one.
The Haunting of Hill House by Shirley Jackson, $10, Amazon
The Amityville Horror by Jay Anson
Sometimes, the scariest stories are the true ones. The Amityville Horror is the real-life account of the gruesome murders and subsequent terror that the residents of one particular home in Amityville, New York, experienced in the 1970s. Complete with evil spirits and devilish conspiracies, The Amityville Horror is a spooky, bloody, and (what is scariest) a true horror story.
The Amityville Horror by Jay Anson, $18, Amazon
Prince Lestat by Anne Rice
From Dracula to Twilight, there are more vampire books than I can count, but when it comes to blood-sucking night-walkers, Anne Rice knows best. The eleventh book in The Vampire Chronicles series, Prince Lestat has as much blood and as many thrills as the previous installments. Featuring some of your old favorite characters, including Louis de Pointe du Lac, Prince Lestat will keep you up reading into the night — and then keep you from sleeping from fear.
Prince Lestat by Anne Rice, $10, Amazon
Horrorstör by Grady Hendrix
Ever wonder what the inside of a furniture store is like at night? In Grady Hendrix's Horrorstör, it's completely freaking eerie — funny and ridiculous, yes, but eerie. Unique in format and original in story, Horrorstör is a quirky kind of horror story, one to help you find your Halloween spirit without making you pee your pants completely.
Horrorstör by Grady Hendrix, $10, Amazon
Ghost Story by Peter Straub
Forget stories of vampires, witches, and zombies, because the true kings of All Hallow's Eve are ghost stories, and Peter Straub's simply named novel is the best of the best. Four old men are quite literally haunted by their past in this creepy and full-blown frightening novel about murder, guilt, and revenge. This ghost story is the kind that will keep your pulse racing until the very last page.
Ghost Story by Peter Straub, $10, Amazon
White is for Witching by Helen Oyeyemi
Buried within this gothic horror novel are chilling secrets — secrets about the house itself and secrets about the four generations of Silver women who have lived there. Spine tingling and surreal, White is for Whitching may give you goosebumps, and it will certainly get you in the Halloween spirit.
White is for Witching by Helen Oyeyemi, $10, Amazon
And Then There Were None by Agatha Christie
The author of more than 50 mystery novels, Agatha Christie knows a thing or two about suspense. In her classic mystery novel, 10 people are lured to an island mansion, each with a dark secret, and each with a ticking clock on their lives. With everyone dying one by one, you can't help but wonder... who's next?
And Then There Were None by Agatha Christie, $10, Amazon
A Head Full of Ghosts by Paul Tremblay
What happens when you mix schizophrenia, reality television, and a religious exorcism? A brand new kind of nightmare, that's what. A Head Full of Ghosts, Paul Tremblay's recent thriller is a brilliant mix of terror, suspense, and good old fashioned horror. Wholly original, it will shake you to your core.
A Head Full of Ghosts by Paul Tremblay, $9, Amazon
It by Stephen King
Sorry, Clowns of America International, I know you were mad at American Horror Story for making people scared of you, but the truth is, Stephen King made clowns terrifying years ago with It. The terror in this horror novel is enough to haunt you way past Halloween.
It by Stephen King, $13, Amazon
Scary Stories to Tell in the Dark by Alvin Schwartz
Halloween would not be complete without an evening spent reading the stories — preferably out loud — from this gruesome, terrifying collection that once scared you in your youth but will still completely freak you out. Alvin Schwartz's haunting retelling of scary stories isn't enough to frighten you, then the illustrations certainly will.
Scary Stories to Tell in the Dark by Alvin Schwartz, $15, Amazon
Images: Michael/flickr