Marvel's New 'Jessica Jones' Teaser Is Too Real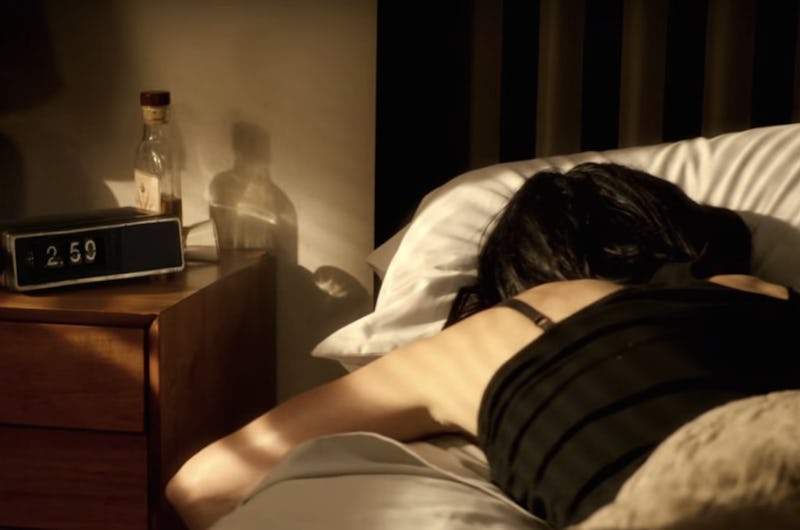 Good news: Get ready to be a whole lot more excited for Netflix's new slate of superhero shows. Marvel's new Jessica Jones teaser trailer is here, and it's another reason to look forward to the project. The show works as a companion to Daredevil and Netflix's other superhero shows, which will eventually make up the Defenders series. This project is, of course, especially exciting because it works to fill the void of female superheroes; Krysten Ritter will play the titular character, a former superhero who's described as "remarkably dry and witty as she is emotional and real," who opens up a detective agency to fight crime. While these are not an unusual traits for modern superheroes, it will be refreshing to see a woman play this role with a sense of humor. Even better: Melissa Rosenberg, who worked on The O.C. and wrote the Step Up movies, is serving as showrunner.
The new teaser displays the darkness and the light. It shows Jones sleeping, surrounded by empty bottles and discarded clothing, waking up at 3:00 p.m. thanks to her alarm clock. Annoyed and attempting to turn the alarm off, she crushes it in her hand with some pretty impressive special effects. This establishes the "just getting by" nature of the lead and pays homage to a classic superhero trope: expressing human frustrations with superhuman strength. In addition to this Jessica Jones teaser, here are other superheroes who didn't know their own strength:
Spider-Man, The Amazing Spider-Man
In The Amazing Spider-Man, Peter Parker also crushes his alarm clock — though in a more abrupt way than Jessica Jones.
Mr. Incredible, The Incredibles
Mr. Incredible is just like any person enraged by his car; he can just lift it up.
The Thing, Fantastic Four
The Thing from Fantastic Four breaks a lot of glassware.
Superman, Superman Returns
While usually in control, when he breaks down emotionally, Superman can occasionally break things, such as when he learns that Lois is a mother in Superman Returns.
Buffy Summers, Buffy The Vampire Slayer
Buffy herself has occasionally let her superhuman slayer strength get the best of her — from cracking a few alarm clocks to occasionally being a little too enthusiastic at cheer practice.
The Powerpuff Girls, The Powerpuff Girls
At the beginning of The Powerpuff Girls movie, the girls play a game of tag that goes awry and gets them in trouble.
This trope has been repeated in many more superhero films, and it's a great way to introduce us to the tone of Jessica Jones; any superhero fan would agree that it's good to pay homage to the classics.
Image: Netflix/YouTube