See New Photos Of Tom Hiddleston As Hank Williams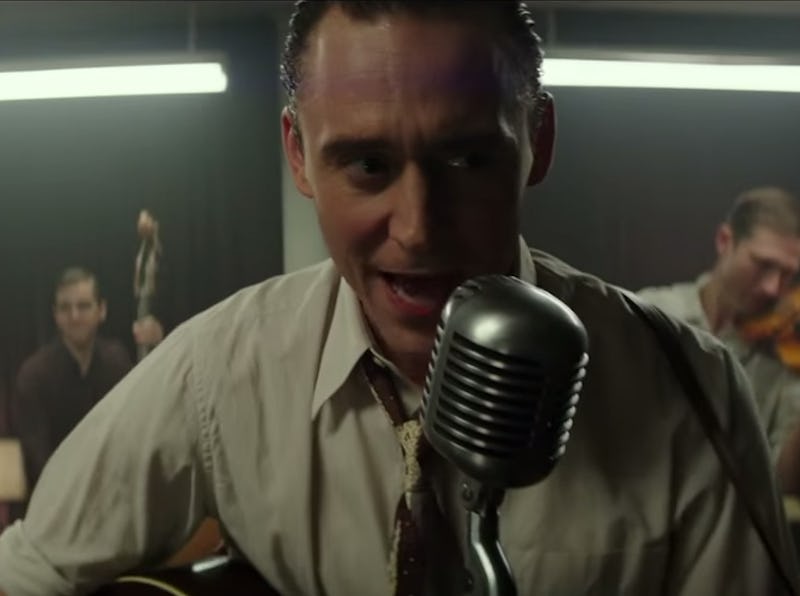 Tom Hiddleston fans, we've been waiting for this! The actor's new movie, I Saw the Light , doesn't hit theaters until Nov. 27, but new photos showing Hiddleston as Hank Williams just hit the internet. If you thought the clip of Hiddleston singing was good, just wait until you see these images.
I Saw the Light, which premiered at the Toronto International Film Festival in September, stars Hiddleston as the iconic country singer. Tragically, Williams died at the age of 29, from heart failure due to alcoholism and prescription drug abuse. The movie also stars Elizabeth Olsen, Hiddleston's rumored girlfriend.
Earlier this year, Hiddleston spoke to E! News about the role, saying, "Everything about it was challenging. I'm obviously not from the American South, not born in [1923] and I'm not a country singer. But it was thrilling. It was a really thrilling role to play … I think it's completely different from anything I've ever done."
You can check out some of the new photos below. Spoiler: They show Hiddleston's transformation, which makes us love him even more. It's apparent how committed to the role he was, even in these stills. It makes me all the more excited to see I Saw the Light.
1. Hiddleston Performing
He looks so at ease in front of the crowd, making this role even more believable.
2. Hiddleston In The Studio
This is an intimate look at Williams' artistic process, but it also sets the 1940s scene for viewers.
3. Hiddleston And Olsen
Casting couples sounds like tricky business, but Olsen and Hiddleston's chemistry jumps out of the photos.
4. More Glimpses At Hiddleston Performing
These images also capture the era of Williams' career. It's amazing how Hiddleston so seamlessly transitions into the 1940s.
5. Hiddleston And Olsen Singing Together
This illustrates another dimension of Williams' relationship with his wife. (And, frankly, it makes me so excited to hear Elizabeth Olsen sing as well.)
You can catch I Saw the Light when it hits theaters on Nov. 27.
Image: Sony Pictures (screenshot)