Why Didn't More 'Voice' Coaches Turn For Jeffery?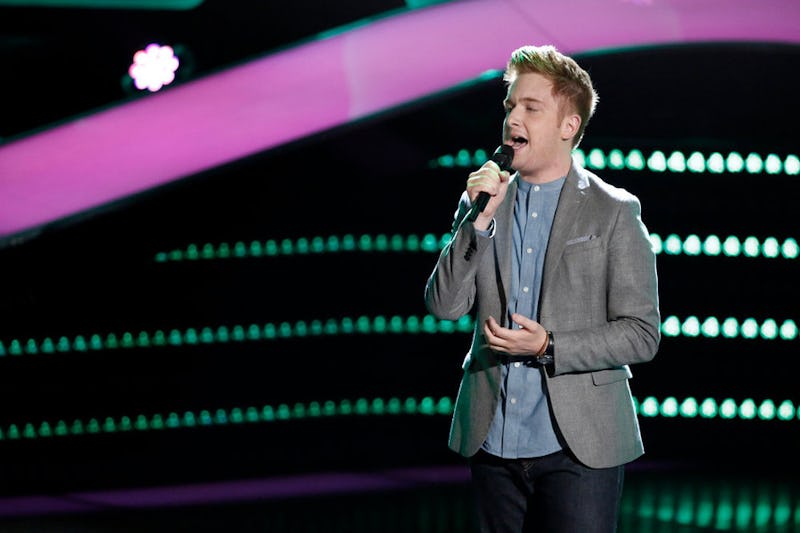 The Voice coaches seem to be handing out four chair turns left and right this season, but never when it really counts. New Yorker Jeffery Austin took The Voice stage with Sam Smith's "Lay Me Down" and absolutely slayed it — honestly, he had the most professional, mature sounding audition of the season so far. But the coaches didn't seem to agree. Austin only managed to get one chair to turn — that of Gwen Stefani. There's no doubt (no pun intended) that Austin and Stefani will make an amazing team, but why wasn't he given more options? It may be that he was too good.
It seems impossible that an artist could get penalized for having too great of a voice on this show, but this wouldn't be the first time it happened. Austin's performance was strong, solid and emotional. It reminded me very much of a Josh Groban performance. But that's exactly the problem. While the performance was strong, it was more theatrical than this show is ready for. The Voice isn't looking for an artist with a classical, theatrical sound. The coaches are looking for artists with raw talent and quirky personalities, and Austin just doesn't fit that bill.
Austin's pure, classical talent will be a disadvantage on this show, but also a major advantage. It's a disadvantage that he's more theatrical than the average contestant, but an advantage that he has so much room to grow. Stefani will definitely push Austin out of his comfort zone by working to add new elements of his personality into his already strong vocal base. Adding a pop/rock style to his performances will give Austin's voice a new life and really win over the audience and the other coaches. Austin is right for the show and certainly deserves a successful career in music. It's up to him now to work with Stefani to bring his already amazing voice to the next level — and I can't hear what he has for us next.
Image: Tyler Golden/NBC