Callie & Arizona's Future Is Bright On 'Grey's'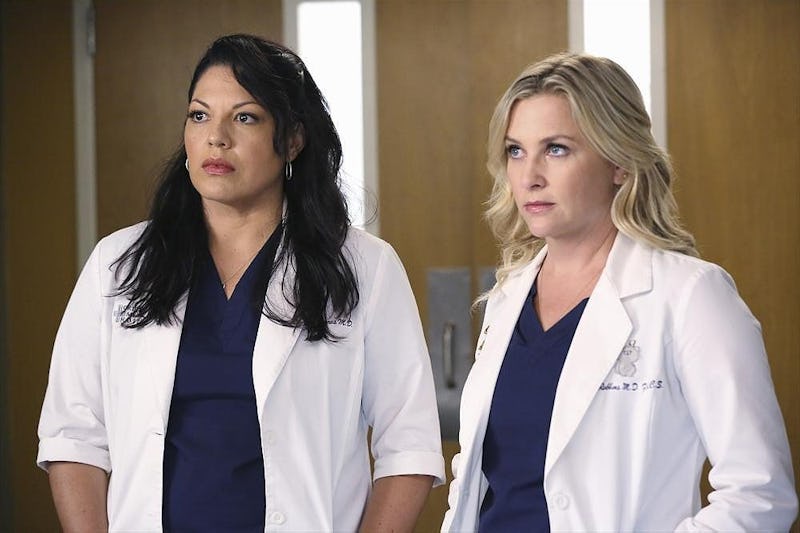 No one is safe in Shondaland — even the most established couples on Grey's Anatomy are split up, broken down, and sold for parts. During Season 11 of Grey's Anatomy, Derek and Meredith were separated by Derek's untimely death, and my favorite couple, Callie and Arizona, decided that it was time for them to try things separately for a while. So, now that we're in Season 12 of Grey's Anatomy, are Callie and Arizona back together? Things were really dicey there for a while, so it's no surprise that this cute couple isn't exactly in the honeymoon phase anymore.
Let's recap: I would say that a lot of Arizona and Callie's problems (and trust issues) started when Arizona had her leg amputated after the plane crash. Now, I know that Arizona did ultimately cheat on Callie with Peyton Sawyer — I mean fellow surgeon Lauren Boswell — but this was after Arizona lost her leg and the groundwork for cheating was already laid. You see, for a long time Arizona assumed that Callie was the one who told the other surgeons to remove Arizona's leg, and Arizona, feeling vulnerable and that her agency was disrespected, never really forgot it or forgave Callie.
After the cheating, Callie began to talk about having another baby, and Arizona instead aimed to throw herself into an amazing (and amazingly difficult) fellowship in fetal surgery. As Arizona dug into this new project, she and Callie drifted apart even further.
Obviously, these two were on completely different pages, and they went to marriage therapy. They had to stay separated for a month — a month in which they both sort of saw other people — before they could make the decision to stay or go, and ultimately, Callie and Arizona opted to break up. They would be kind to each other for the sake of their beautiful daughter, but other than that, they would dissolve their relationship as they (and as we viewers) knew it.
So, where do Callie and Arizona stand now? No one seems to be leaving the show — TV Line recently revealed that Jessica Capshaw, who plays Arizona, renewed her contract for Grey's Anatomy for another three years, so she is here to stay. Though Arizona and Callie are still not together in Season 12, Capshaw told TV Line that Arizona and Callie are headed for a "peaceful coexistence… moving toward a place where they can actually broach subjects that are tough for ex-wives." I mean, that sounds pretty promising, doesn't it? Friends is better than nothing!
In an interview with After Ellen, Grey's Anatomy show runner Shonda Rimes confirmed that Callie and Arizona will be dating other people this season, but never to say never when it came to their recoupling. Rimes admitted she's a "giant Calzona fan," so how could these two crazy kids not get back together? (Fingers crossed!)
But, for now, Arizona and Callie need to focus on being ex-wives and co-parenting their daughter. There's time for romance later on in Season 12.
Images: ABC; Giphy (3)