Twitter Is Rosy For #PinkOut Day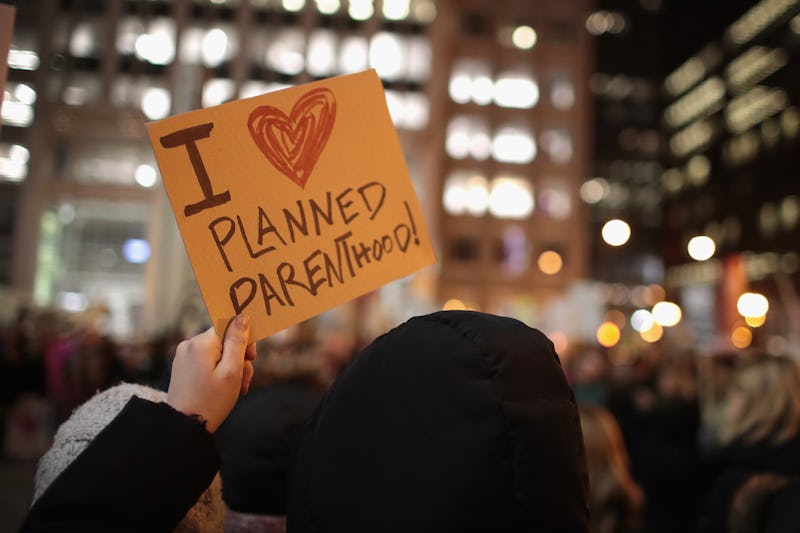 Scott Olson/Getty Images News/Getty Images
Do things on your social media dash seem a little rosier this morning?If they do, it's not because we made it through another Monday, or because of that viral baby lion video, or because it's finally PSL season. Today, people across the country are standing with Planned Parenthood as the women's health organization faces attacks aimed at cutting funding and preventing women nationwide from accessing the healthcare services they need. It's #PinkOut Day on Twitter and in real life, and social media is lighting up.
By now, most of you have probably heard at least something about the ongoing struggles Planned Parenthood is facing. Here are the basics: Planned Parenthood provides health services to women, including mammograms, STD and STI testing, pap smears, and birth control. Planned Parenthood receives $500 million in government funding in order to provide these services at a low cost, which is essential for a huge number of Americans women who might not otherwise be able to afford necessary healthcare. Planned Parenthood also provides abortions, though they are barred from using taxpayer dollars to fund this service except in extreme circumstances (when a woman is a victim of rape or incest or her life is in danger). The House of Representatives voted two weeks ago to freeze the organization's funding for a year, though the vote failed to pass in the Senate.
Today, Cecile Richards, the president of Planned Parenthood, is testifying in front of Congress regarding allegations that Planned Parenthood profits from abortions, the basis for which comes from a heavily edited series of videos released by anti-choice group The Center for Medical Progress. The hearing almost immediately turned to how Planned Parenthood uses its funding. Because, ugh, pap smears and family planning services are just the worst. Who needs em?
But despite the fact that there is a movement to #BlackOut the #PinkOut, and despite the fact so many are dead set against allowing women to choose what happens to their own bodies, Twitter is becoming a crimson wave. Er, a magenta wave. Take a look or check out #PinkOut and #IStandWithPP to see for yourself, and find out more about how you can take part in Pink Out Day here.
Individuals Across the Country Are Voicing Their Support of Planned Parenthood:
And So Are Entire Organizations:
Politicians Are Adding Their Voices To The Mix:
As Are Some Pretty Awesome Celebrities:
Images: Scott Olson/Getty Images; Giphy