#StandWithPP Supporters Share Their Thoughts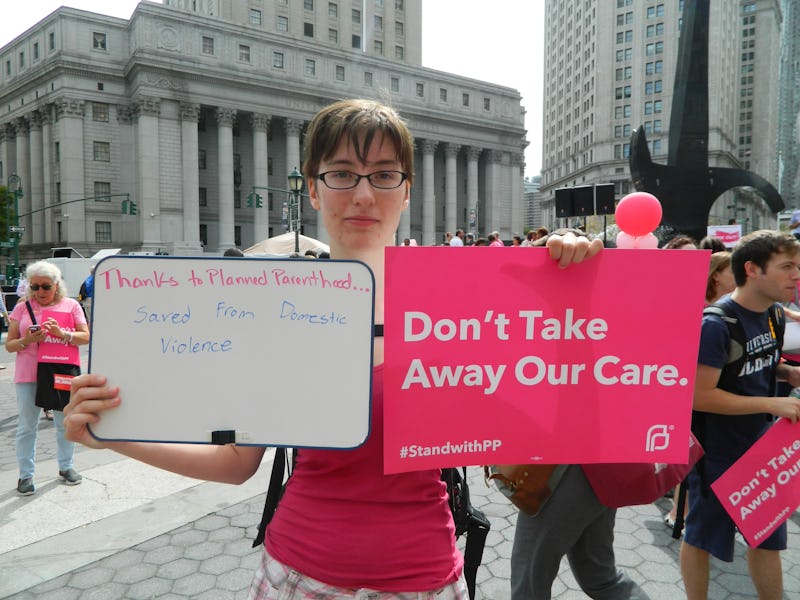 Thanks to Planned Parenthood, reproductive healthcare is just "healthcare." That's the idea that the organization was trying to get across with its National Pink Out Day, which the organization celebrated in almost 90 cities across the U.S. Tuesday. Throughout the day, Planned Parenthood offered free screenings for sexually transmitted diseases, and sex education workshops to help show that it does so much more than provide abortions. As the rallies were taking place, Planned Parenthood President Cecile Richards testified before Congress, calling accusations by Republicans that the organization was profiting from the sale of fetal tissue "offensive and categorically untrue." Pink Out Day drew support from millions of men and women across the country, who were thankful for its services and have pledged to stand up against attacks on women's access to reproductive healthcare.
Planned Parenthood has been in a funding battle with Congress since an anti-abortion group released sting videos that purported to show that the organization was illegally profiting from the sale of fetal tissue for scientific research. Since the videos were released, states across the country have investigated their local Planned Parenthood chapters, and none of them have found that the organization did anything illegal. Still, Republicans want to strip the organization of its federal funding, even though federal law prohibits the organization from using funds for abortions that aren't the result of rape, incest, or the mother's life being in danger. Sansara Taylor, a writer for Revolution newspaper and a Stop Patriarchy activist, told Bustle:
The fight over abortion is always portrayed as if it's about babies ... but, actually, the fight over abortion has always been a fight to control women.
But what Congress doesn't understand, she said, is that Planned Parenthood helps more than just women. The organization's services are vital for millions of men and women across the country, as was made clear by the 2.4 million signatures on a petition in favor of funding the organization that it presented to Congress on Tuesday.
At the Pink Out rally in New York City, 17 men and women finished the phrase "Thanks to Planned Parenthood ..." for Bustle. Their statements ranged from the practical to the heartbreaking, but each made it clear that people appreciate and need the care that Planned Parenthood provides.
Annie Shannon
(Thanks to Planned Parenthood), so everyone can choose when and if they become a mom.
Jenny Oh
(Thanks to Planned Parenthood) I've been able to receive support for women's healthcare.
Susan Elizabeth Davis
(Thanks to Planned Parenthood) for standing up for human rights for millions of poor women.
Andrea Vocos
(Thanks to Planned Parenthood) I have a voice.
Stacey Ann Chin
(Thanks to Planned Parenthood) for making my body my right and reproductive freedom central to the human rights conversation and because of Donald Chump!
Niahja Van Dyke
Thanks to Planned Parenthood, Niahja Van Dyke said she received a comprehensive sex education. Van Dyke, who grew up in a Pentecostal family, said that her parents never discussed sexual health with her. She said that she didn't know what sex was when she was younger, and that she actually learned about it from watching Law & Order: Special Victims Unit. As a result of the way sex was described in SVU, combined with the way her mother made it sound like a "dirty" act, Van Dyke said that she equated all sex to rape or "your purity basically being stolen from you." She said that all of these "hangups" have led to her remaining a virgin throughout college. Van Dyke said that she got her first real sex education from a Planned Parenthood website.
Planned Parenthood, the website, was really what told me everything about sex. I didn't know what a condom was until I was 14. Honestly, I never even held a boy's hand because, once again, I thought it was unclean. Planned Parenthood was the first place to provide me a comprehensive education that let me know, 'Hey, these are the facts. You can do this, and you can do that. Be safe about it. And, if you're not, this is what happens and these are the choices you have.' I feel like I really needed to support (the organization) for other young girls out there who feel unclean for having certain feelings. It's important that we have outside sources, because if it weren't for this (organization), I would still think that (all) STDs could be transmitted through kissing.
Rebecca Migdal
(Thanks to Planned Parenthood), I live in a world where women have access to safe, respectful healthcare.
Anna Stromberg
(Thanks to Planned Parenthood for) oral contraceptives.
Ian Bunce
(Thanks to Planned Parenthood), I can get myself tested.
Ellen Cohen
(Thanks to Planned Parenthood) for caring for millions of uninsured women.
Alex Hedley
(Thanks to Planned Parenthood) [I was] saved from domestic violence.
Adrienne Zhou
Adrienne Zhou, one of the NYC Pink Out rally's speakers and a Brooklyn College student, said that thanks to Planned Parenthood, "I am empowered, pink and proud, and more myself." Zhou said that she got involved in Planned Parenthood because it is more than a women's healthcare organization. She said that the fight to defund Planned Parenthood is misguided because abortion comprises a mere three percent of the services that the organization provides nationally. That means that any attempts to strip Planned Parenthood of funding are more likely to hurt the people who go there for STD screenings, breast exams, or LGBTQ or domestic violence counseling than women who go there for abortions.
There are so many issues that intersect and connect with reproductive justice and Planned Parenthood fights them on all fronts. LGBTQ rights, campus sexual assault, mass incarceration, immigration — all of these things are all related to reproductive justice and Planned Parenthood fully supports that and welcomes everyone.
Lily Jordahl
(Thanks to Planned Parenthood) for my IUD!
Annie Zegers
(Thanks to Planned Parenthood) for standing up for women.
Maria Dizzia
(Thanks to Planned Parenthood) I had my first pap.
Sansara Taylor
Taylor said that, thanks to Planned Parenthood, she had safe sex her first time. She said that too often, sex is described as an immoral act. But in her opinion, it's immoral to force an 11-year-old girl to have her stepfather's baby after he allegedly raped her, which happened in Paraguay in August. Former Arkansas Gov. Mike Huckabee did an interview with CNN in which he supported Paraguay's strict anti-abortion laws, and Taylor said that his position was treated as a "legitimate, if distasteful, moral position":
What's immoral is shaming women about their sex lives and their reproductive choices. What's immoral is to make women feel that they're doing something selfish or wrong if they choose not to have a child at any given time or at all. Being a parent can be beautiful ... but being forced to have a child against your will, being shamed, being coerced, or just physically not being allowed to access abortion — that is a form of enslavement. It forecloses women's lives. They get trapped in abusive marriages and relationships, they get forced to drop out of school, they get driven into poverty or deeper into poverty ... This is about the enslavement or the liberation of half of humanity.
Amanda Matos
(Thanks to Planned Parenthood) people can receive healthcare regardless of income!
Though the Congressional hearing on Planned Parenthood's funding was full of emotion and name-calling, Planned Parenthood Executive Vice President Dawn Laguens said that the organization will not stop fighting. In a statement, she said the entire debate about the healthcare organization is leaving out something crucial:
We were proud to help bring the voice of the millions of women, men, and young people who rely on Planned Parenthood for basic health care into the halls of Congress today — voices that have not been heard enough in the debate over the essential health care provided by Planned Parenthood's non-profit health centers.
Images: Josephine Yurcaba