The 'Below Deck' Crew Needs To Get It Together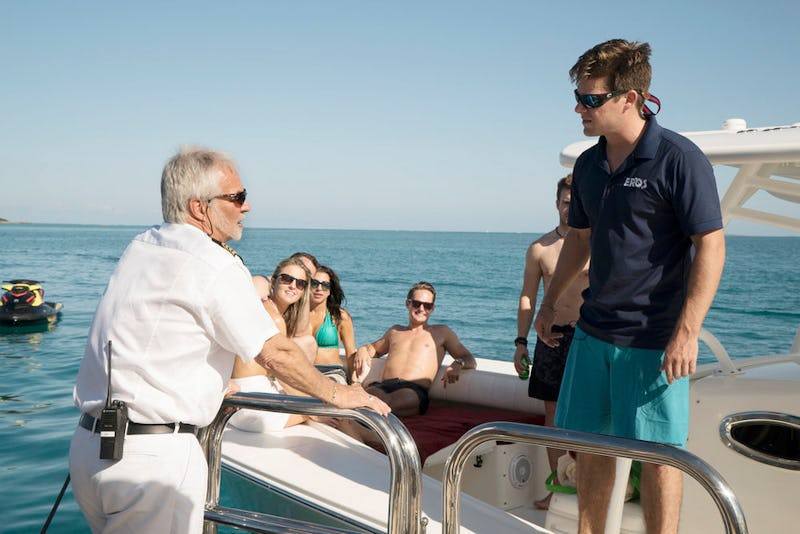 Ugh. Below Deck is rough to watch these days, isn't it? That's because the deckhands are just making some awfully stupid mistakes that really shouldn't be happening. Unfortunately for them but lucky for us, we have Captain Lee and Eddie on Below Deck to restore some order.
The green crew coupled with Eddie's lack of focus due to having a bunch of problems with his girlfriend back home have made for a deadly combination this season of Below Deck. We saw that play out during Tuesday night's episode when Emile and Dane were in charge of the jet skis to entertain the sorority of charter guests on board.
First off, Dane hopped on a jet ski to show one of the charter guests how to operate it, but he forgot that he had his waterproof unit still on him, so that was really embarrassing for Eddie. Then, Tweedledee and Tweedledum, a.k.a. Emile and Dane, forgot to tie up the jet ski to the yacht after the charter guests took it out for a spin. This was just too absent-minded of a mistake for Captain Lee to tolerate, so he sternly told Eddie to have one of the deckhands take care of it.
Emile had to swim out and get the jet ski back sans shirt, but it wasn't a total loss. At least the charter guests had some nice eye candy to gawk at.
After that show, Captain Lee called in Emile, Dane, and Eddie mid-charter to tell them to get their heads in the game. Captain Lee doesn't usually have a meeting like this while a charter is going on, at least what's shown on Below Deck, so you know this is a serious situation. Captain Lee said the crew needs to listen to him and Eddie better or risk getting a plane ticket home. Unfortunately, all of this meant the scene that we saw teased at the end of last week's episode that made it look like someone was getting sent home was really just a warning from Captain Lee.
Knowing that the deckhands' behavior reflects on him, Eddie later drilled the same message into their heads. However, Eddie is part of the problem. As I touched on earlier, Eddie hasn't been as focused this season. Connie also said that Eddie has been very MIA when he should be supervising the crew so that these mistakes don't happen.
Whether his mind is at home thinking about his issues with his girlfriend or on something else, Eddie's lack of precision is a major part of why the crew keeps dropping the ball. Except for Connie. You're rocking it, girl. Keep it up!
Image: Virginia Sherwood/Bravo