Rocky & Emile Mess Up Big Time On 'Below Deck'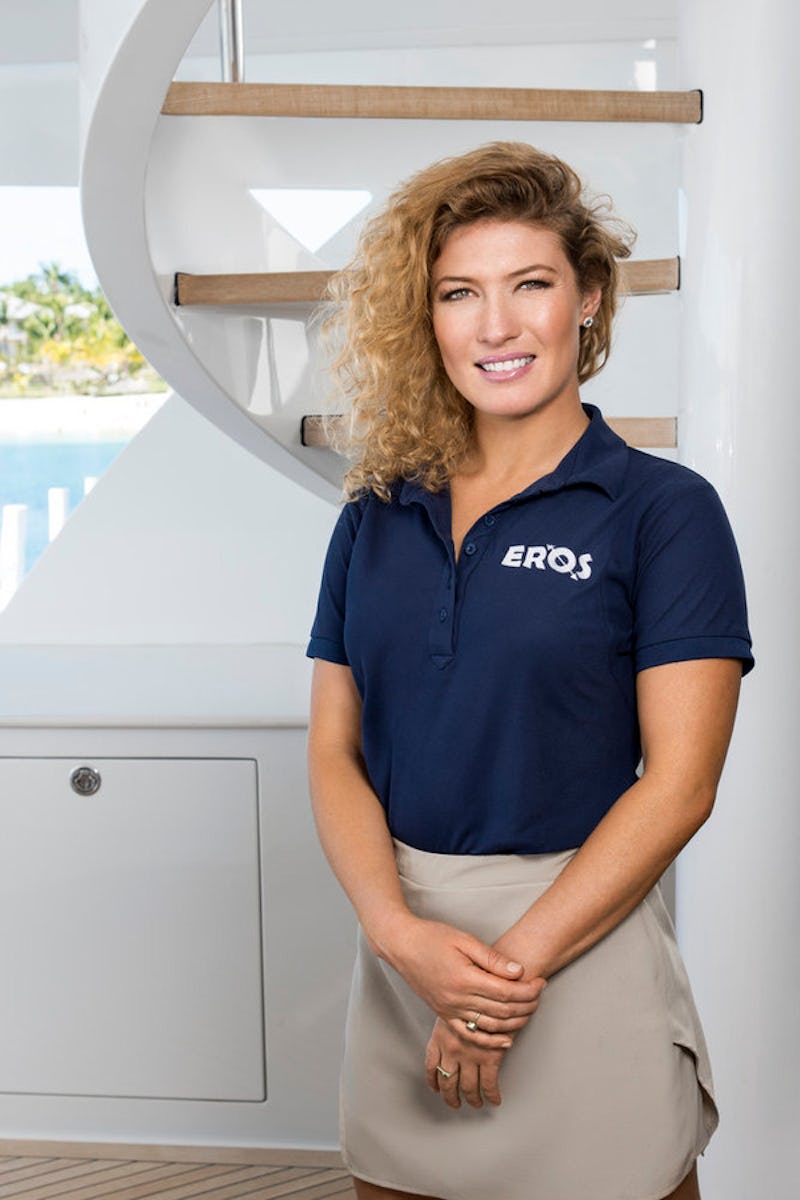 If you've seen any promotional materials leading up to the Season 3 premiere of Below Deck Tuesday night, you probably already know that new crew members Raquel "Rocky" Dakota and Emile Kotze are likely to be the troublemakers of the yacht Eros this season. In many of the video clips of the season, Rocky and Emile are shown flirting, partying, and generally causing a lot of mischief for themselves the rest of the Below Deck crew. Don't believe me? Just watch the Season 3 premiere of Below Deck, and see the huge mistake these two made right at the tail-end of the episode.
After a hard night of foam partying, the crew members awoke to swab the deck of the Eros yacht as they usually do. Though the crew had only been out on its first charter, Rocky is like a plant and needs sunshine and water constantly throughout the day. As one of the stews on the ship, she was getting restless and cranky being cooped up below deck cleaning up the interior. So she decided to snap some Instagram-worthy pics atop the yacht, which she shouldn't have been doing anyway since she was working, but she went even further than that.
Rocky climbed up to the mast on top of the yacht with the radars swinging around furiously. Emile followed her up there because what else does he have to do? After taking some photos, someone busted the pair, and Captain Lee Rosbach told them to get the heck off of there.
And then the show cut to the typical preview you get of the whole season that usually pops up at the end of any reality TV show season premiere. Below Deck left us with one big fat cliffhanger, as it usually does.
Now this was a very, very stupid thing Rocky and Emile did because, as the ship's bosun Eddie Lucas explained, being up on the mast is way rockier than the deck of the boat, so there's a greater risk of falling off the ship and, you know, dying. Needless to say, there was no reason for Rocky and Emile to have been up there.
So will both of them just get a slap on the wrist since they're new to Below Deck, or will Captain Lee hand them each a plane ticket home? That is, assuming they get down from the mast OK when next week's episode of Below Deck begins.
Considering the fact that both Rocky and Emile have popped up in other clips previewing this season, I think it's safe to say that they won't be sent home just yet. However, the horrified reactions from their fellow crew members makes me think Captain Lee is definitely going to give them a stern talking to, which may come with something of a probation period for both of them. And they should really get some sort of punishment because they really put themselves and the rest of the crew in danger by doing something they weren't supposed to be doing. I hate to be such a stickler, but it's true. Not cool, guys. Not cool.
However, the Season 3 preview seemed to show someone getting a plane ticket home, which Eddie and Kate Chastain also confirmed to Bustle. If that does indeed happen, I think we have a good idea of who may be having an early exit this season.
Image: Virginia Sherwood/Bravo