Ludacris Joins 'Empire' As Officer McKnight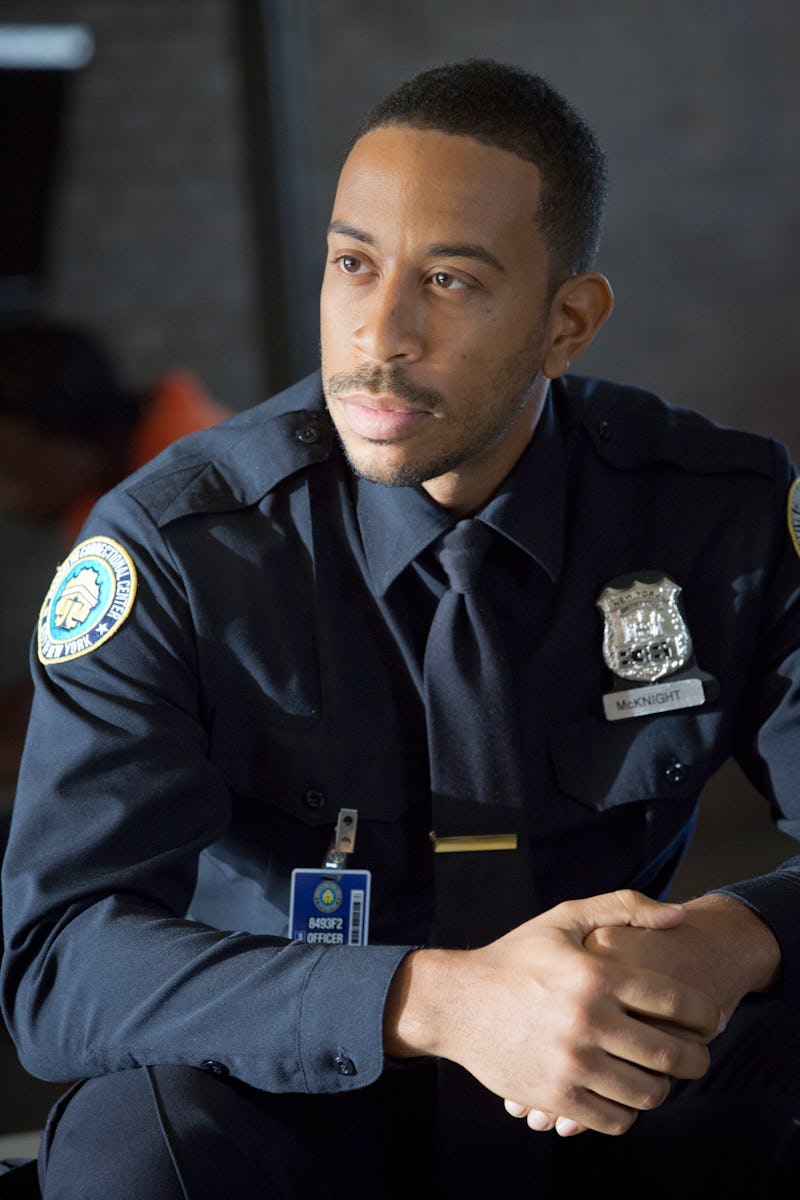 Lucious Lyon started off Empire Season 2 right where the first season left him — behind bars. But I have to wonder how long he'll stay there, especially since it seems like some of the music industry is coming to him in prison this week in the form of a famous guest star. So who is Officer McKnight, played on Empire by Ludacris? Even though a rapper is playing him, McKnight doesn't appear to have an interest in music — he's a corrections officer in the prison where Lucious (Terrence Howard) is being held and, based on publicity stills from the episode, it doesn't look like the officer is best pals with the media mogul.
But Ludacris — whose real name is Chris Bridges — looks like he's happy to be appearing on the hit FOX series. He announced his Empire guest role in an Instagram photo of him and Howard on the set in July. The Fast & Furious star captioned the photo: "This could get interesting." Luda has stayed mum on the details about his character, how long he'll be on the show, what McKnight's agenda is, and whether or not he'll be getting to a mic on the show, so I guess we'll have to tune and watch — or I can also speculate, because that's what imaginations are for, right?
Here's what I think McKnight could be up to on Empire.
He Secretly Wants To Be A Musician
I mean, this is a show about the music industry. What if McKnight wants to fufill his dream of becoming a musician and decides to slip Lucious his demo tape? I know this happens in a scene from Howard's film Hustle & Flow (above), but humor me here. Who knows? Maybe McKnight and Lucious decide to record a secret track together from inside the jail.
He Actually Hates Music
Or it could go the other way and McKnight hates everything that music stands for.
He's Power Hungry Like Pornstache On Orange Is The New Black
As viewers learned from Officer Mendez on OITNB, some officers are just the worst. Then again, some are sweet like Officer Bennett. I wonder where on the spectrum McKnight will fall when it comes to his dynamic with Lucious.
He Wants To Help Lucious Escape
Maybe McKnight has had it with this job and now he's rebelling — he wants to help Lucious escape. With Lucious' ruthlessness and McKnight's knowledge of the jail, they just might be able to pull it off.
He's Conspiring With Someone On The Outside
And it could be so many different someones that McKnight could be working with: Cookie, Anika, Mimi Whiteman, Andre, Jamal — this is what happens when you've got a lot of power and a lot of enemies.
He Just Doesn't Like Lucious
Sometimes you just get a bad vibe about some people and don't want be around them. Perhaps that's what McKnight is feeling about Lucious — he does have a lot of enemies — and the corrections officer wants nothing more than to see Lucious get out of his sight.
All I know is, I can't wait to see what kind of drama McKnight and Ludacris will bring to Empire this season. And to catch up on what happened in Season 1, check out the drunk recap video below.
Images: Chuck Hodes/Fox (3); Giphy (3)