This Is Every Fashion Lover's New Favorite Insta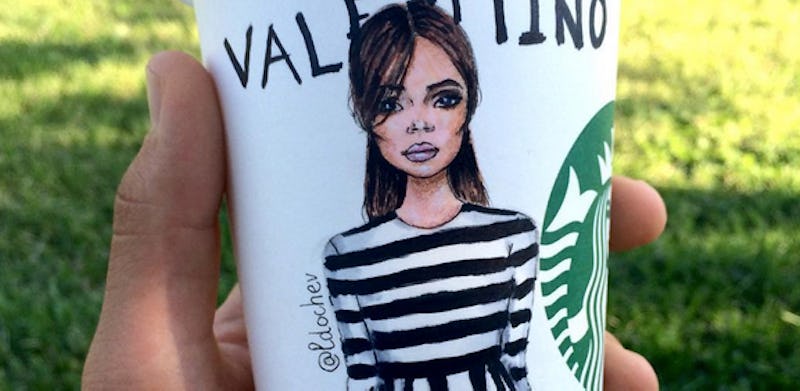 There are two things that most fashion lovers are obsessed with — models and coffee! One artist has combined them with stunning results. Lyubomir Dochev's celebrity coffee cup art has attracted the attention of stars like Gigi Hadid, Rihanna, and Kylie Jenner, and for a good reason. If you love caffeine and a good runway look, then this is going to be your new favorite Instagram account.
What began as one man's love for drawing celebrity art soon turned into something greater."My first cup was made for Cara Delevingne. I really love to draw her so a few months ago I decided to try sketching her on Starbucks cup," Dochev tells me over email. "People respond positively on my art and then I started drink more Starbucks lattes and illustrate different celebrities on the cups [sic]."
It might sound simple, but one look at his artwork makes it clear that he has a serious gift. His work is so good that celebrities have liked and re-grammed his shots as well. He's gotten Insta shout outs from Valentino, Rihanna, and Princess Pia Mia Perez.
"I want my cups to look lively, positive, and stylish, so I find inspiration in celebrities and fashion brands that posses unique style, creative ideas, and make you stare at them and wondering how can look so stunning [sic]," Dochev says.
Dochev has captured some of the best runway and celebrity moments and made them timeless. If you thought latte foam art was good, be prepared to take a look at the next best thing.
1. Bella Hadid
The artist captured the colorful Tommy Hilfiger look from the designer's fashion show.
2. Gigi Hadid
He also illustrated her sister's Jeremy Scott runway look.
3. Pia Mia Perez
Dochev received a regram from the star for this rendering of her iconic Terry Richardson shot.
4. Valentino
Dochev also got another regram after recreating this image from the designer's runway show.
5. British Vogue
He captured Delevingne, Suki Waterhouse, and Georgia May Jagger looking stunning on the cover of British Vogue.
6. Cara Delevingne
This was Dochev's first ever Starbucks illustration.
7. The Kardashians
No coffee cup art would be complete without this high-fashion family drawn on the side.
You'll never see a paper cup the same way again!
Want more fashion? Check out the video below, and be sure to subscribe to Bustle's YouTube page for hacks and tricks!