How To Rock 6 Trends In A Body Confident Way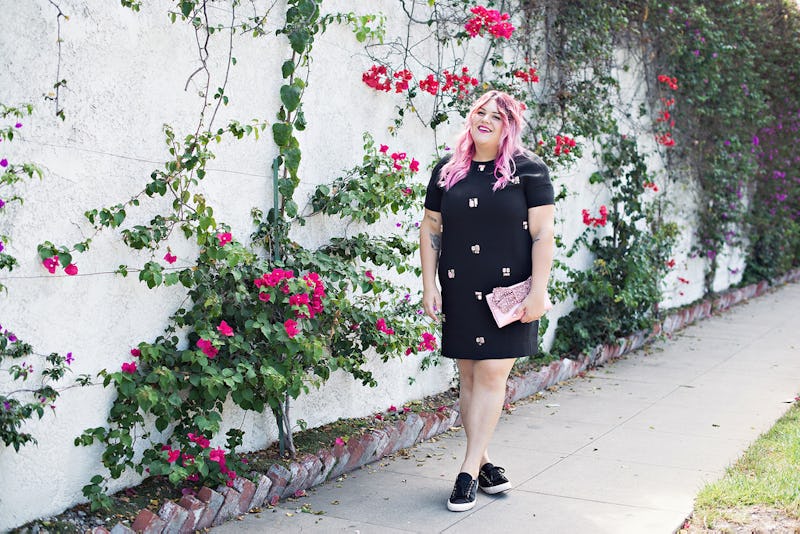 I don't know about you guys, but this girl is officially ready for fall. Bring on the changing leaves, cider doughnuts, and of course, the fall fashion. As you replenish your autumn wardrobe with the most brand spankin'-new styles, we're here to bring you the most body positive trends for fall. Why? Because every body is a pumpkin spice latte body!
Seriously though. Many people look forward to fall shopping like kids anxiously awaiting Christmas morning. In fact, I schedule my whole year around it. (Don't judge me.) On top of the giddy promises of new stuff, each shopping trip is another opportunity for you to love the skin you're in. As you embark on another season that calls for you to totally re-stock your wardrobe, this is something to keep in mind. Luckily, this autumn is brimming with plenty of trends that can help make you feel a little more body positive every day. From sweater dresses, to shrunken jackets, to fitted styles, fall 2015 is the season of flaunting your body.
With that in mind, Bustle has teamed up with Nordstrom to bring you a list of the most body positive trends for this season. Always remember the golden rule of dressing for your body: You can wear anything you want.
1. Bodycon Dresses Are Cut For Every Body
Of all the things people like to say plus-sized ladies can't wear, the bodycon dress is up there. However, bodacious babes like Essie Golden of Golden Kaleidoscope prove that the curve-clinging styles and bold prints look amazing on plus-sized bods, too.
Vince Camuto Long Sleeve Current Medley Dress, $109 at Nordstrom
Try this leopard-print midi dress to recreate Essie's va-va-voom look. Throw on a leather jacket over top, some Chelsea boots, and some statement jewelry, and you're ready to turn some heads.
2. Fitted Leather Jackets Are Always A Great Idea
A fitted leather jacket is an essential in any fashionista's closet, and every cool girl has one this season. As goddess Callie Thorpe demonstrates, adds some funky edge to any outfit. Not to mention, the slim cut of the jacket lets you flaunt your shape, and feels like a second skin.
Bernardo Drape Front Leather & Suede Jacket , $498 at Nordstrom
Put a twist on your traditional leather jacket with a cute, dusty rose option like the one above. The flyaway style, zipper detailing, and contrasting panels are just icing on the cake.
3. Fit & Flare Dresses Have You FeeIing Flirty All The Time
Summer is popularly thought to be flirty little minidress season. However, there's no reason that your fit-and-flare dresses shouldn't carry over to fall. They're the perfect balance of formal and casual, and they help showcase your curves. Take a page out of Girl With Curves' Tanesha Awasthi's book, and rock a fall-esque fit & flare with a crossbody bag and some booties.
City Chic 'Romantic Rosa' Fit & Flare Dress, $149 at Nordstrom
If you're looking for a cute fit and flare, this Cobalt blue Nordstrom dress is a great option. Class it up with some heels, or tone it down with a cardigan depending on your mood and the occasion.
4. Flyaway Sweaters Make You Feel Comfy And Thus, Confident
Nothing makes you feel more confident in your outfit than comfort, and when it comes to comfort, the flyaway sweater is unbeatable. Pairing her own flyaway coat with a long, cotton dress and a pair of sleek sneakers, Callie Thorpe of From The Corners Of The Curve shows us how to streamline this cozy staple like a boss.
Melissa McCarthy "Snowflake" Flyaway Cardigan , $118 at Nordstrom
A Norwegian-inspired flyaway sweater like the one above will quickly become your favorite layering piece. From mini dresses to jeans, to boots and leggings, you can pair it with literally anything.
5. Embellished Sheath Dresses Make You Feel Like A Million Bucks
Another way to flaunt your shape is to wear a dress that makes you sparkle. A cheeky little jewel-embellished sheath dress like the one that Nicolette Mason wears in the picture above is a perfect example. An attention grabbing, sequin-covered dress like this screens, "I know I look hot," and that's one of the most important things you can think in your journey to body acceptance.
Adrianna Papell Beaded Sheath Dress, $290 at Nordstrom
If you're looking to go more Deco and less Mod, opt for a Chrysler Building-inspired shift dress like the one above. Wear this to a cocktail party or just to work, and you're sure to light up the room.
6. Capes Are Always The Best
There's no time like fall to embrace all the comfiest things, and remember, comfortable = confident in your outfit. Capes fall solidly into the comfy category. For instance, Allison Teng of Curvy Girl Chic looks extra cozy in the plaid cape she's wearing above. Not gonna lie. I kinda want to be her right now.
Sejour Check Poncho Cape , $169 at Nordstrom
A tartan cape like the one above is just begging to be rocked to every single Harvest Festival you attend this year. Imagine all the apples you'll pick in this! So many apples!
This post was sponsored by Nordstrom.
Image: Nicolette Mason; Essie Golden, Callie Thorpe, Classy Curves, Tanesha Awasthi, Allison Teng, Nicolette Mason/ Instagram; Nordstrom (6)