All About Meryl Streep's Devastating New Film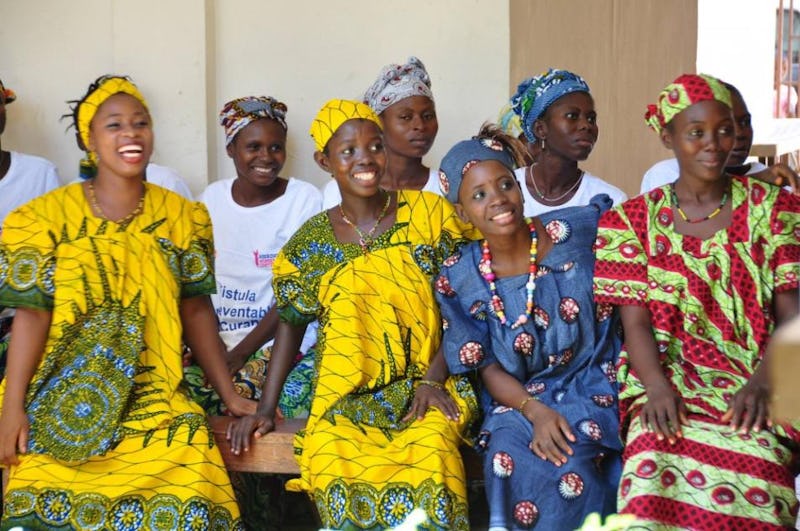 When Adam Friedman first heard that Meryl Streep might be interested in narrating his movie, he nearly didn't believe it. He was the director of a little documentary about African women's health called Shout Gladi Gladi , and she was, well, Meryl Streep. It wasn't that the idea of getting the actress on-board the film never crossed his mind; Streep, he tells Bustle, was "the very first human being" that the filmmaking team wanted as narrator. But to think it could actually happen? It just didn't seem possible — and for awhile, it almost wasn't.
"We were told it probably wasn't gonna happen," says Friedman. "But my sister had met with a woman at the Public Theater who said, 'just send her the movie. She'll watch it. if she likes it, she'll narrate it."
Friedman, an Emmy-winning filmmaker, thought there was "no way" that getting Streep to narrate would be that simple, but he followed the woman's advice and sent the actress the film, along with a note telling her why she'd be great as narrator. A week later, he got a call from Streep's office saying that the actress "loved" the movie, and the next thing he knew, he was standing in an L.A. recording studio the day before the Oscars, watching Streep read lines off the film's 25-page script.
"It was unbelievable," Friedman says. "We'd booked about eight hours, and I said, 'man, I don't know how she's gonna do it'... she was out of there in 54 minutes. She read like 80 percent in one take!"
Meryl Streep, an overachiever? Who would've guessed. Unsurprisingly, Friedman says that the actress, who's previously narrated several films and audiobooks, had narrating talents not limited to efficiency.
"The most beautiful thing was that she was so magnificent and yet she allowed me to work with her," he says. "I got to direct her, you know? I wasn't the passenger on that – she was on the ship that I was running."
But what led Streep, an actress who clearly could have her pick of films, to want to be a part of Friedman's documentary? Friedman says that on the call, he was told that she felt Gladi was "a very powerful movie," and as a result, felt the need to be involved. Streep — as so many viewers will be — was drawn to the movie's powerful tale of fistula-stricken women in Africa, and the doctors, leaders, and philanthropists working to eradicate the problem. Run in collaboration with Scottish businesswoman Ann Gloag's Freedom From Fistula Foundation, the film — named for the ceremony celebrating a former patient's release from the hospital — focuses on the millions of women suffering from obstetric fistula, a painful, debilitating, and all-too-common condition that results from obstructed labor and causes a lack of control over one's bowels.
"I didn't even know what fistula was," Friedman says, recalling the early stages of the film's production. "I thought it was a martial arts thing or something."
That quickly changed when he met the philanthropist, a prominent businesswoman who founded her organization in 2008, set on helping women and girls "injured and left incontinent" after prolonged childbirth by providing free surgeries and maternity care, according to the Freedom From Fistula website. Before long, Friedman was something of an expert on the subject, and started the process of making a movie that would educate viewers, who, like him, might be unfamiliar with fistula and the heartbreak it causes.
"It's one of those things we take it for granted, you know?" Friedman says. "[We think that] if there's a problem delivering a child, there's gonna be a C-section. But what if... you were unable to perform a C-section? Holy moly, then what happens? Now we know — the baby dies in the womb, and it's a horror story."
So over the course of several months, Friedman, along with co-director Iain Kennedy and Gloag, got to work on making Shout Gladi Gladi, out now, a reality. The team traveled to several African countries including Malawi and Sierra Leone, meeting with doctors, health officials, and community caregivers familiar with fistula — and, of course, the women and girls so horribly affected by it. From Mary, an 11-year-old girl ostracized by her friends for her condition, to Isatu, a woman wrapped in rags and barely alive when clinicians found her, the female patients make up the movie's emotional center. Friedman says the filmmakers worked to ensure that the movie revolved around their stories, not solely those of the European philanthropists and American supporters.
"I didn't want it to be like, this white woman goes to Africa to save the poor black folk," Friedman says. "We've seen that 100 times, and that's not what I wanted to say."
Yet as the filmmakers quickly discovered, telling the stories of the movie's subjects was often easier said than done. For one thing, there was the threat of violence; one memorable scene in the film shows the Gladi team, including Gloag, nearly being trampled by a huge crowd of people while attempting to hand out T-shirts, a "terrible moment" that Friedman says "could've gotten completely out of control." And then there was lack of time; Friedman says that while the filmmakers were "blessed" to encounter "so many interesting patients" during their time in each country, they couldn't meet with everyone, and so had to make difficult decisions about which women's stories to highlight. Then there was what ended up being the biggest issue of all: the ebola crisis, which at the time of Gladi's filming, was just beginning to ravage Sierra Leone.
"We were the last crew shooting in Sierra Leone as the ebola crisis hit," Friedman says. "We were ushered out of there with great haste."
Yet despite the setbacks, the Gladi team succeeded in making a powerful, affecting film that sheds much-needed light on a crisis far too ignored by the public. According to the United Nations Population Fund, two million women in the developing world suffer from obstetric fistula, with 50,000 to 100,000 new cases developing each year. And yet so many people have no idea of the issue's severity, or even, like Friedman early on, what fistula actually is. Hopefully, Gladi, and the incredible women it showcases, can lead the charge in spreading awareness and making serious change.
"We, my gender, have f*cked the world totally," says Friedman, bluntly. "I'm hoping that women can de-f*ck it."
Friedman hopes that Gladi's viewers take away the main message of the film, that it's crucial to take real action on issues like fistula, not just observe. One way viewers can get involved? By donating to the Freedom From Fistula organization and educating themselves on the reality of maternal healthcare in developing countries. As Gloag says in the film, it's not enough just to be aware — "it's time to stop talking about it, and start doing something about it."
Image: Vertical Ascent (3)