How To Channel 'Mockingjay' Katniss This Halloween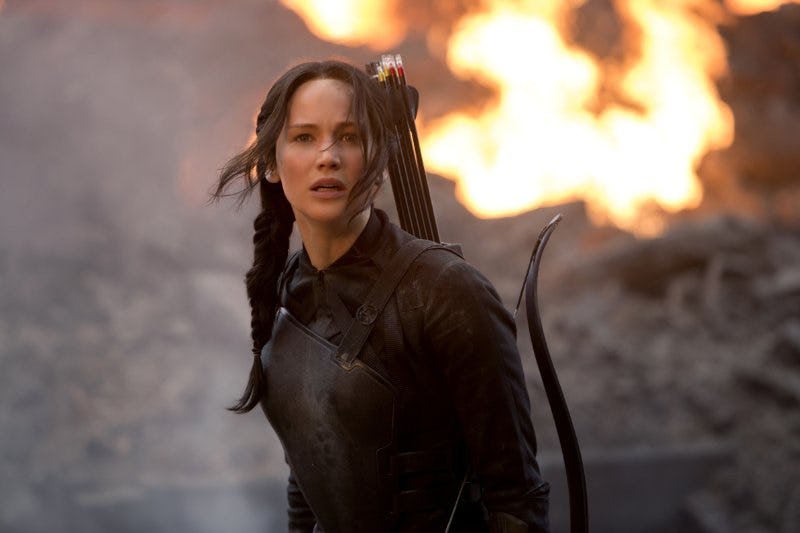 There are a whole lot of Katnisses in The Hunger Games trilogy — it's not for nothing that her ever-present fishtail braid has become one of her most readily identifiable trademarks. There's Reaping Katniss, enrobed in a simple periwinkle dress; Hunting Katniss, armed with bow and arrow and black field jacket; Hunger Games Katniss, with her utilitarian black bodysuit; and my favorite, Haughty Flaming Katniss with her dress that bursts into an inferno when she first enters the champion's ring. But even among an arsenal of great looks, Mockingjay Katniss stands out — the outfit is at once rebellious and recognizable, and a Mockingjay- inspired Katniss Halloween costume should be at the top of Halloween costuming lists.
In Mockingjay, with the districts in open rebellion against the Capitol, Katniss puts her fighting skills to use for the revolution. Her uniform is a more armored take on her black bodysuit she wore throughout the Hunger Games, better suited to open combat than stealth mode. It consists of head-to-toe black: black shirt and weatherproof pants, shin guards and body armor, archery glove and black arrows in her quiver. (The bow and arrow, like the braid, is the most essential part of a Katniss costume). The costume is quite understated, yet immediately placed in The Hunger Games context, so here's a breakdown of how to get the look this Halloween, in equal parts store-bought supplies and do-it-yourself ingenuity.
The Basics
For the first layer of the costume, you might be able to find the basics already in your closet — black pants, black button-down shirt done all the way up to the collar. Better yet, Patagonia's Sidesend Pants (above) are a dead ringer for the ones Katniss sports in Mockingjay, but they'll run you 99 bucks, so plain black pants work too. Zara's Epaulette top (above, $69) might not quite be of the look, but it has the right military aesthetic with the added benefit of being easily incorporated into any wardrobe after Halloween.
The Armor
Katniss gears up to head into the fray with chic asymmetrical body armor (this is a fantasy world, after all, so she's allowed to look cool and functional simultaneously). Protective padding doesn't tend to look quite so good in the real world, but you can upgrade to your own Halloween fantasy world armed with some average old shin guards and a can of black spray paint (which should run you around $5 and with which, you should be super careful — fumes are a real thing, people!). Try the above asymmetrical Nike pads from Amazon for about 20 bucks.
The Accessories
With the leftover spray paint from the shin pads, you can elevate your arsenal of arrows from art-store dowels and feathers to lethal weapons. Take your standard 18-inch dowels, available at any craft or home improvement store for a few bucks, some craft glue (six bucks for a mid-sized bottle), and a few stiff black feathers, like this pack from a seller on Etsy ($3.99). Cut the feathers in half with an exacto knife (if pressed for supplies, scissors will do). Paste three feather-halves at one end of the dowel and, once dry, spray paint the whole thing inky black. If you're really going for it, the tips of the feathers are slightly lighter; achieve this look with a touch of nail polish or acrylic paint.
Completing The Look
Here's the fun part — no Katniss look would be complete without her iconic fishtail braid and dark, kohl-rimmed eyes. Sephora makes this bluish eyeshadow trio that would definitely help you get the Katniss look ($19) and work for a regular night out too. And while fishtails aren't the easiest to master, never fear: You can get the rundown from Lo Bosworth's YouTube tutorial.
The Mockingjay battle-ready Katniss costume has few enough moving parts that it's a viable last-minute option, but it has just enough do-it-yourself elements that it looks original and inventive. What's more, it's timely (Mockingjay — Part Two is slated for a Nov. 20 release date) and incredibly flattering (all that black!).
Images: Lionsgate (4); Patagonia; Zara; Amazon; Crafts For Less; Michaels; Etsy; Lo Bosworth/Youtube; Sephora; Giphy