How To Dress For Windy Cold Weather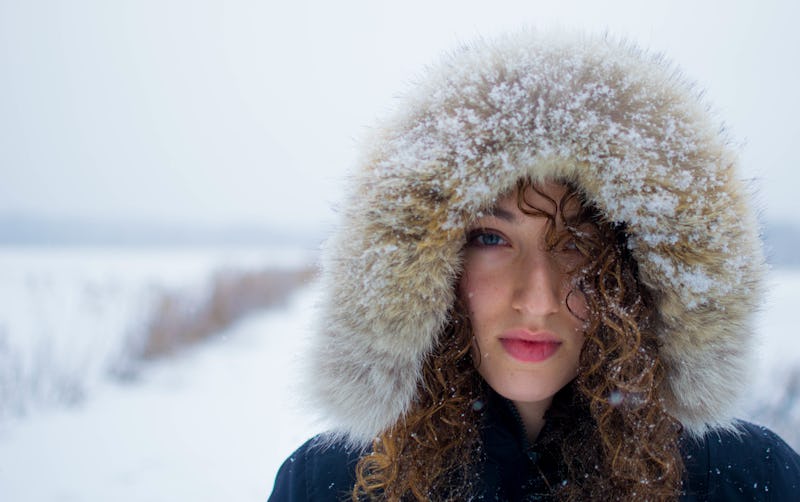 Walking to work on a freezing, windy day may be worse than slogging through puddles after a rainstorm. While neither are fun, there's something particularly brutal about the stinging of frigid air hitting your face. That's why figuring out how to dress for a windy cold weather is particularly important for the upcoming season. While wearing a ski mask isn't going to be your most stylish option, there are ways to protect your entire body from the icy blasts that aren't going to require smudging all your foundation and contour away. Because let's be honest, despite the cold, everyone still wants to look stylish.
There are several ways to combat frigid winter temperatures. Fashion bloggers and the everyday fashion girl are full of tips on what to wear when you're forced to head outdoors. While we'd all love to stay indoors, drink hot chocolate, and choose a new show to binge watch, there comes a point when the music has to be faced. Whether its layering tights under jeans, rocking a white button-down under a gorgeous sweater, or finding a coat with a hood to protect your ears, lots of fashionable tricks exist to let you still see the light of day despite the cold. So what items will you need?
HUE Microfiber Luxe Opaque Tights, $12, Amazon
Tights are the answer to quite a few of your windy weather woes. If you're wearing trousers or jeans out, slip a pair on underneath, and no one will be any the wiser. If you're going with a skirt, tights are a great way to protect your legs during the cold.
Polo Ralph Lauren Wool Skinny Pants, $225, Macy's
These wool skinnies are perfect for every day or the office. The best part is that they're super warm, especially if you rock those tights underneath.
Striped Wrinkle Resistant Shirt, $70, The Limited
A button-down is the perfect layering option. Whether you're dressing it down with an oversized sweater or using a more tailored option over the top, they're ideal for keeping warm but not overheating you under your other layers.
Stripe Boat Neck Sweater, $70, GAP
A sweater is the answer to all of winter's questions. Whether you're needing a lighter one for those days when it's not bitingly cold or a thick, chunky piece to keep warm, these pieces are essential for winter. For those windy day, layering them over button downs is perfect because it gives you extra warmth but once inside, you could take the piece off.
Tommy Hilfiger Plus Size Wool Blend Walker Coat, $240, Macy's
Wool coats are perfect for cold days, and this midi coat offers a bit more protection from the cold wind.
Asos Oversized Scarf, $14, ASOS
No one wants to rock a mask walking into the wind, and that's why an oversized scarf is ideal. It gives enough volume to protect your face and your ears.
Enzo Angiolini, $110, Shoe Buy
Boots and booties are the perfect cold, windy day footwear. Add a great pair of socks with your boots, and your toes will be perfectly toasty.
Images: Unsplash; Courtesy of brands