9 Tartan & Plaid Pieces To Cherish This Fall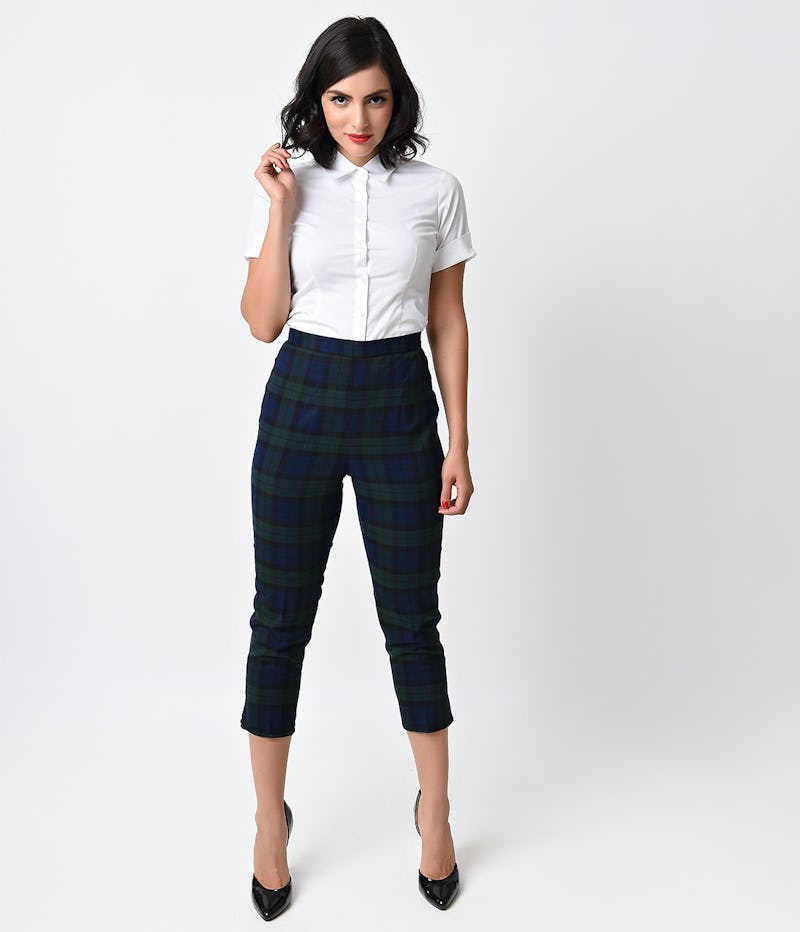 Regardless of any given year's current "trends," the fall season always brings with it imagery of beautiful leaves and an abundance of charming tartan and plaid fashion items. From traditionally inspired skirts (hello kilts) and shawls to casual tunics and detailed footwear, tartans and plaids never fail to pop up as the temperature drops.
Wondering what the difference is between tartan and plaid, though? What we commonly refer to in the United States as a plaid pattern is actually tartan. According to House Beautiful, tartan is essentially the pattern itself, while plaid is a kind of garment that can be made with a tartan pattern. Technicalities aside, tartan is an evergreen, classic pattern with many variations that can be both semi-formal and casual.
Another part of the overall allure and charm of tartan patterns is arguably their versatility in terms of color. Tartans range from muted, neutral colors to vibrant reds, blues, and greens. Plus, the often bold tartan pattern works well as a single statement piece to dress up or add visual intrigue to your fallback basics.
So how can you add a splash of tartan to your wardrobe this autumn? Here are nine beautiful tartan and plaid pieces that will brighten your fall ensembles and allow you to achieve a stunning, classic look, no matter what your personal style is.
1. Tartan Cigarette Trousers
Hell Bunny 1950s Green Tartan Reggie Cigarette Trousers, $58, unique-vintage.com
A unique, retro spin on a classic tartan print, these cigarette trousers would add just the right amount of funky to your at-work wardrobe. Plus, the tartan is subtle, so if understated is your style, this look is a great way to go.
2. Beach House Brunch Jacket
Beach House Brunch Jacket in Burgundy Plaid, $49.99, modcloth.com
For a quiet plaid with soft colors and a mellow but lovely vibe, this shawl-shaped jacket is a beautiful option. Pair it with jeans or leggings and your casual outfit will be instantly uplifted.
3. Medium Format Memories
Medium format Memory Tunic in Black Plaid, $44.99, modcloth.com
Folks who don't like to stray far from the comfort of their mostly black wardrobe will appreciate this gorgeous tunic. Not only does it drape stunningly, but the black, red, and white color theme of the plaid is sure to add just enough accent to your standard black skinny jeans and jacket combo.
4. Looking Scholarly
Scholar ID Skirt in Green, $49.99, modcloth.com
Are you headed back to school this fall? Or looking for a new semi-formal office favorite? Featuring a lovely back slit and great clean lines, you can pair this skirt with a simple T-shirt or a sweater for a warmer, more sophisticated look.
5. Elegant And Intelligent
Elegant and Intelligent Skirt in Tartan, $69.99, modcloth.com
Speaking of skirts, here is an adorable piece that visually seems to play on the tartan's more traditional kilt roots. Both flounce and fall ready, this skirt makes for a lovely transitional piece between late summer and fall, as it's still vibrant and playful in its color theme.
6. Plaid Pumps
Plaid Single Sole Pointed Toe Pumps, $20, charlotterusse.com
Let's talk shoes for a moment, shall we? If you'd like to play with plaid but want to sneak it in under the radar, a pair of statement pumps could be just right. In combination with black leggings, skinny jeans, or a black skirt, these heels would be superb.
7. Back To Boots
Hike Through Hollywood Bootie in Grey Plaid, $49.99, modcloth.com
Yes, boot season is finally back, and what better way to celebrate than with these adorable plaid booties? Toasty and stylish? Yes, please!
8. Classy Capelet
Talk of the Uptown Capelet, $69.99, modcloth.com
Of course, it's tough to talk about boot season without considering the inevitable chill in the air. What better way to cover up than with a sweet, classic red plaid capelet?
9. Chill Scarf
Chillin' Haute Scarf in Red, $24.99, modcloth.com
If capelets aren't really your thing, then perhaps a more traditional layer in the form of this gorgeous acrylic and wool blend scarf will do the trick. Feeling cozy yet?
Whatever your personal style might be, there are plenty of lovely tartan and plaid options out there. So, go be free to frolic in fantastic patterned glory. Enjoy the multitude of color combinations, intersecting lines, and cozy knit and flannel fabrics that await you this autumn.
Images: Courtesy Brands