Pizza Pouch Necklace Is The Answer To Your Prayers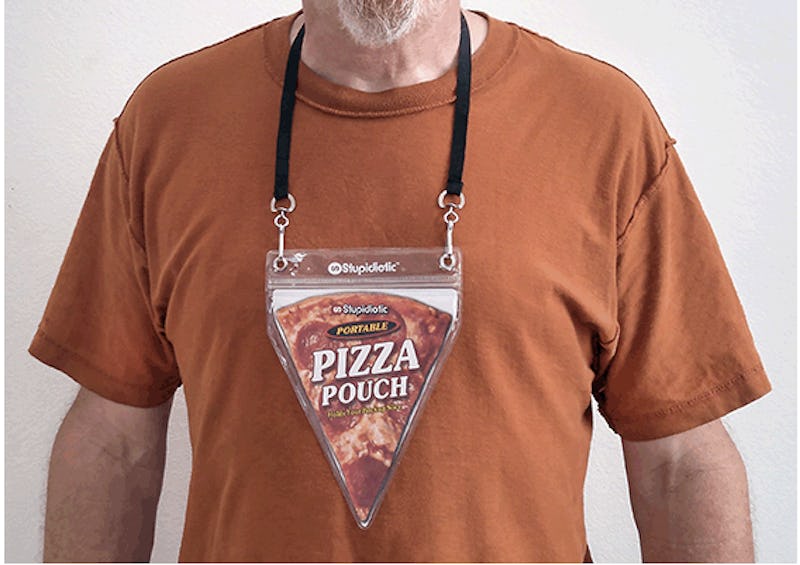 Every once in a while, an innovation emerges that not only changes the way we live our lives, but the lives of generations to come. Cue Stupididiotic's portable pizza pouch, the innovation worthy of Nobel Prizes, TedTalks, and stardom. Outstanding innovations like this are a special blend of demand, creativity and unknown necessity. The American people didn't know they needed the pizza pouch until it was already available to them. That type of ingenuity and intuition is what makes Stupididiotic stand out as a game-changing brand.
In the year 2015, pizza is the MVP. Pizza is king. Pizza is boss. Pizza is on fleek. On fire. Running for president. And now, thanks to the folks at Stupididotic, our coveted pizza is protected. Gone are the days unaccompanied by pizza. With the portable pizza pouch, you'll never have to go anywhere without a slice. The state of the art zip-lock technology will keep your slice fresh and safe, while the chic, black neck strap will hold your slice over your heart, where it belongs. Show your pizza respect by keeping it close and showing it the world.
And while this invention serves a significant physical purpose, customers should not be surprised if their pizza necklace scores them some extra attention. In fact, customers might be advised to avoid crowded places for safety reasons. Walking around with a slice of holy pizza around your neck is not dissimilar to walking into an animal shelter with a medallion of filet mignon around your neck.
Kid tested, Pee-Wee Herman approved. Buy one here for $8.
Images: Stupididiotic.com