6 Tips For Removing Stubborn Halloween Makeup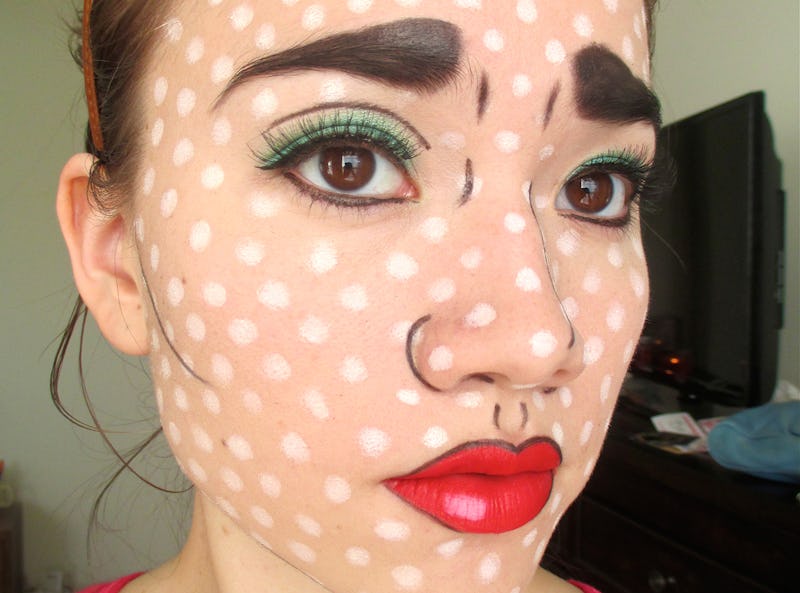 Getting dolled up for Halloween (whether literally or figuratively) can be so much fun. It's the removal of all the makeup and special effects that can be a total pain. Thankfully, there are ways to make removing Halloween makeup a little less horrifying. Compared to our everyday makeup, Halloween makeup can entail some pretty intense ingredients. So one of the most important things to pay attention to, before you even buy or apply your makeup, is what it's made of.
Water and cream or grease-based paints will all apply differently to the skin, and so they require different means to remove them. And if you go for effects like fake blood or prosthetics, you might need something else to remove these substances as well. As someone who tends to go all out on Oct. 31, I can tell you that for the general Halloween-makeup enthusiast's removal kit, you'll at least want to have on hand a foaming cleanser, a makeup remover you trust (whether it's wipes or a bi-phase liquid), and an oil (coconut or baby should do the trick). And whether you prefer to keep your makeup relatively tame, or go pretty hard, it's always nice to end the night with a clean face. So you can do just that, here are six tips to help you remove every last trace of Halloween makeup, even if you drenched yourself in fake blood.
1. Adhesive Removal
Spirit Gum and Remover Pack, $6, Part City
If you used Spirit Gum to apply any prosthetics, make sure to use an adhesive remover to properly rid yourself of any residue. If you used another type of body or lash glue, try holding an oil-soaked cotton pad against the areas where the glue was applied (make sure to close your eyes if you use this to remove false lashes) to help loosen the glue before you pull off whatever you attached to your face or body.
2. Water-Based Makeup Removal
CeraVe Foaming Facial Cleanser, $12, Amazon
If you primarily used water-based makeup (including Liquid Latex!), start by washing your face as you normally might with a foaming facial cleanser. If there is still residue after you've washed your face, use a makeup-removing wipe or bi-phase liquid before washing your face again.
3. Cream-Based Makeup Removal
Pond's Cold Cream Cleanser, $8, Target
For more stubborn cream or grease paints, try a cold cream or oil to break down the product. Because oils mix with oils, these removers, instead of soap and water, will do a better job at cleaning the majority of your face paint. Just massage the cold cream or oil of your choice into your skin before wiping it away with a warm washcloth (preferably an older one you don't care about in case the paints stain it). If you still have residue, try going in with a traditional makeup remover before washing your face.
4. The Nooks & Crannies
Lanc ô me Bi-Facil Double-Action Eye Makeup Remover, $29, Lancome; Q-tips Precision Tips, $3, Target
Make sure every trace of makeup is gone from harder-to-reach areas like around the eyes, nose, and ears with precision Q-tips soaked in your favorite makeup remover.
5. Other Options
Johnson's Baby Lotion, $3, Target
In addition to traditional cleansers and oils, there are some other options for removing tough makeup. Two such are baby lotion and petroleum jelly. Both of these substances can be massaged into stubborn makeup to help break it down. Just make sure to wipe your face with a warm washcloth, and wash away any greasy residue with a facial cleanser when you're done.
6. Stain Removal
Barbasol Original Shave Cream, $5, Amazon
What if you've used all of the oils, wipes, and washes, but your skin still just has a green tinge from that monster makeup? MAC's Fatima Thomas spoke to Refinery 29 and advised using shaving cream. She said that by massaging a thick layer of shaving cream into the skin and then wiping it off with a tissue or washcloth, any Halloween makeup stains should be easily lifted.
So go ahead and cake on the paint, prosthetics, and blood. With these products by your side, Halloween makeup will wash right off.
Images: Miki Hayes (1); Courtesy of Brands (6)