Ellen & North West Have The Cutest Play Date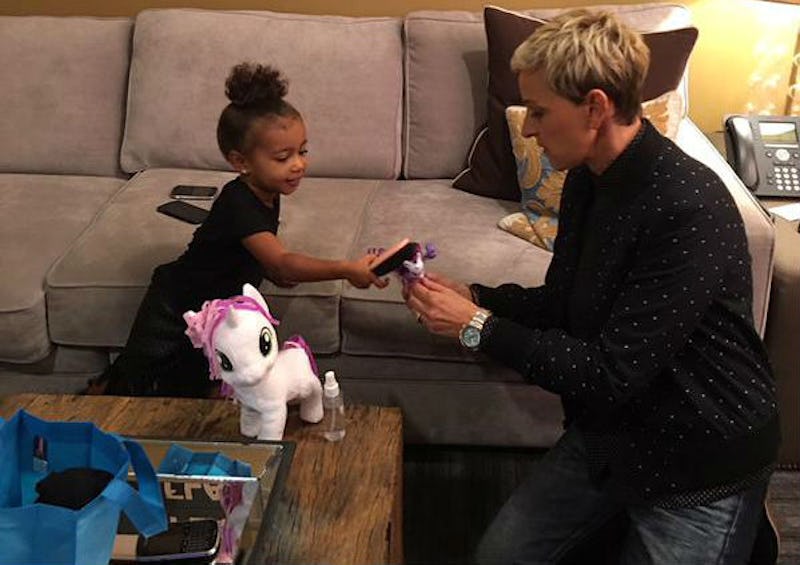 Kim Kardashian and Kanye West's daughter never fails in being beyond adorable. Before appearing on The Ellen DeGeneres Show Tuesday, Kardashian snapped a photo of North West and Ellen DeGeneres playing together. Yep, it's as cute as it sounds. The Keeping Up With the Kardashians star shared the picture on Wednesday via Twitter and wrote, "Who saw @TheEllenShow today? Well this is right before I went on...Northie & Ellen brushing My Little Pony's hair lol."
First, I LOVED My Little Pony growing up. I definitely owned a few My Little Pony dolls myself. Anyone else remember the Magic Message Ponies, where you rubbed a certain spot on the doll and a symbol would appear? Yeah, it was pretty much the best thing ever. Anyways, I'm kind of jealous that DeGeneres and North got to play with her My Little Pony — and brush her hair!
This seriously makes for one adorably sweet play date between the talk show host and reality TV baby. Really any activity they'd partake in would be cute, because it's North West and Ellen DeGeneres. They could make anything into an entertaining and a photographic moment.
Here are a few other activities I'd totally watch them do together, too, because why not?
Selfies
Just like North's mom.
Dancing
DeGeneres could teach North all kinds of dance moves.
Joke Telling
Duh.
Scaring People
I don't know if Kim would appreciate this.
Yeah, they'd have the best play dates.
Images: Kim Kardashian/Twitter; Giphy (3)