Behind The Scenes Of Anne Hathaway's 'The Intern'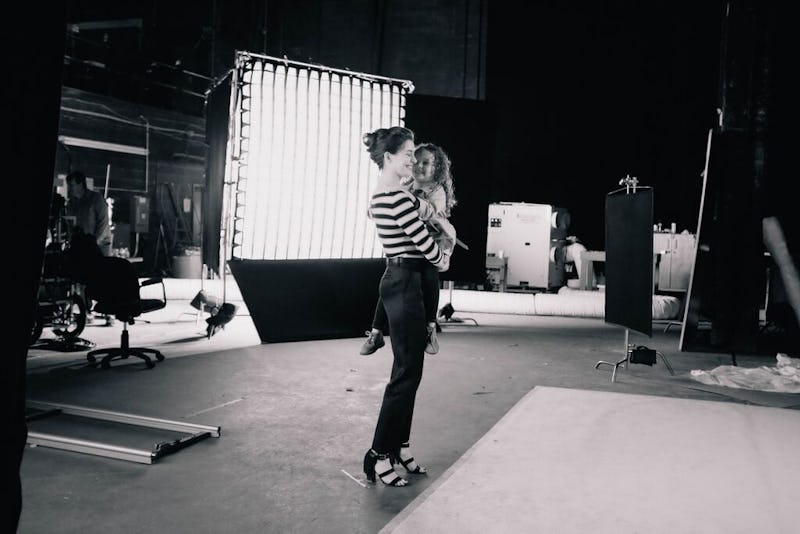 The woman we all once knew as Princess Mia and later, Fantine from Les Miserables, is back and better than ever; Anne Hathaway stars in The Intern , Nancy Meyers' newest film, in a role so charming and likable that she might even outdo Hathaway's breakout Princess Diaries character.
Because not only is Hathaway a joy to watch in the film, it appears that she was loads of fun off-camera, too, according to these great behind-the-scenes photos of the actress and her co-stars on the Intern set. Taken by Christina Scherer, who played Jules' (Hathaway) assistant, Becky, in the film, the candid shots show the cast goofing off on set, readying for scenes, and exploring gorgeous rooms decorated in Meyers' famous interior design. All of the cast and crew look like they're having fun, but no one more so than Hathaway, who has a huge smile on her face in nearly every photo she's in. No wonder: the Intern set looks as entertaining as the movie itself, a statement that Scherer quickly confirms.
"It's really cool to be a part of something that you're proud of and that means something," the 22-year-old actress says. "It was my first movie, and it's kind of a crazy one to be a part of."
Below, some of the best photos from behind-the-scenes of The Intern, in theaters now:
Hathaway Dances It Out
"This picture was taken during one of our screen tests," Scherer says, of the shot of the Oscar-winner dancing with her on-screen daughter, played by JoJo Kushner. "Anne called JoJo out and was like, 'come here!' and they just started dancing." Scherer adds that the seven-year-old Kushner, who made her movie debut in The Intern, is "the absolute cutest human."
Blowing Off Steam Between Takes
From the looks on Hathaway and co-star Andrew Rannells' faces, you'd think this was one very intense game of chess, but Scherer says it was just the actors being "silly." She says that there was constant playing around on set, and plenty of singing; whenever she saw Rannells, especially, she jokes that she had to resist the urge to burst into Book of Mormon showtunes in honor of his former role.
Meyers Taking Charge
"I was really proud to be a part of a movie with a female writer-director," Scherer says. "[Meyers] has such a clear vision, and she doesn't back away from getting what she wants and what she needs... I think that's why her films are so good, because she knows what she wants to have and she sticks to it until she gets it."
Shooting On The New York Streets
The movie was like "the prettiest version of New York," Scherer says, adding with a laugh, "without the trash."
Goofing Off With Hathaway
Despite The Intern being a female-led film, the cast is predominantly male, and Scherer says that the women tended to bond. She and Hathaway, in particular, grew close; a huge fan of the star who'd grown up watching her in films like The Princess Diaries, Scherer says she was intimidated by her co-star at first, but they quickly became friends. "We were really goofy," she says. "We just would just sing and be silly and do weird accents together."
Exploring The Gorgeous Sets
Like any Nancy Meyers movie, The Intern is filled with gorgeous interior design, from About the Fit's all-white office to Jules' gorgeous Brooklyn home. Scherer, shown here in her on-screen office, says the "details were crazy," with every cast member — even extras — having full wardrobes, and every office desk having "a complete story" behind it. "I thought [it was] really cool and specific in a way to understand my character," Scherer says.
You can check out more of Scherer's work on her Twitter (@ImFairyPrincess) and Instagram (Instagram.com/christinatscherer), to see even more proof that making The Intern was nearly as fun as the movie itself.
Images: Christina Scherer (7)