Meet Lifetime's 'Beverly Hills, 90210' Cast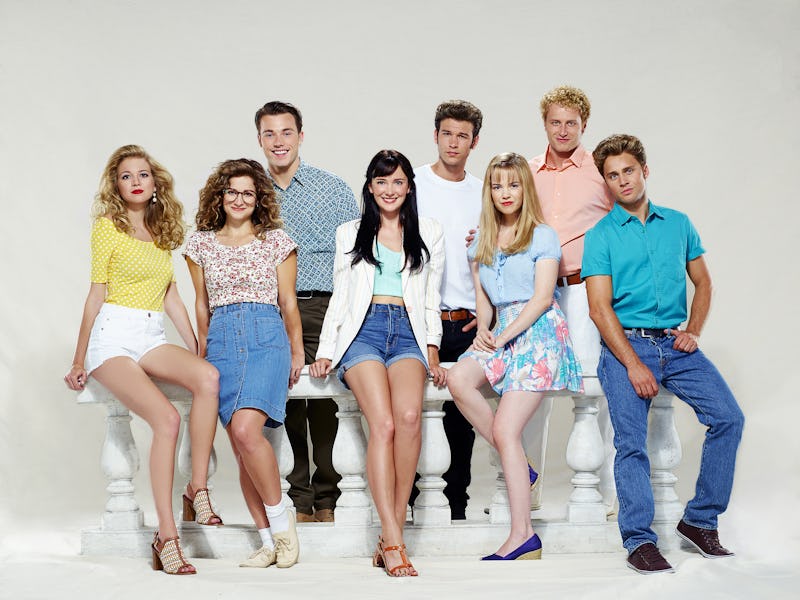 The familiar faces that make up the cast of the hit '90s teen drama Beverly Hills, 90210 are hard-wired in fans' brains. When Lifetime announced it was making a television movie based off of the behind the scenes hijinks that occurred during the series' run, people were impatiently waiting to see who they would cast as the group of famous teenagers. Luckily, based off of what I have seen, it looks like Lifetime has done a pretty great job at filling the cast of The Unauthorized Beverly Hills, 90210 Story with actors who strongly resemble the original cast.
With a mixed bag of relative unknowns and more familiar faces, the cast looks like they perfectly embody the style and attitudes of the group of heartthrobs that '90s audiences came to obsess over. The group shots seem to nail it, but do the individuals live up to the infamous actors/actresses that they are portraying? There are some particularly important casting choices that will stand out if they were not done properly. A perfect example is Shannen Doherty, who made headlines throughout her stint on the real show and should feature prominently in the biopic. Her character in the Unauthorized Beverly Hills, 90210 Story has a lot of responsibility.
Here's what you should know about the actress taking on that crucial role, as well as the rest of Lifetime's cast.
Samantha Munro As Shannon Doherty/Brenda Walsh
You might recognize Samantha from her most notable role as Anya Macpherson on Degrassi: The Next Generation. Evidenced by this still only, it looks like she nails the Brenda attitude and that makes me happy inside.
Max Lloyd-Jones As Jason Priestley/Brandon Walsh
Max (leaning on the car) is adorable, for one. He's also busy! He has been on several episodes of Switched At Birth and When Calls The Heart. He also has made brief appearances on the television series iZombie, Teen Wolf, and Scream, and he is a Lifetime movie veteran, having starred in Restless Virgins and Girl Fight.
Abbie Cobb As Jennie Garth/Kelly Taylor
Abbie is best known for her role as Kimantha on the hit television show, Suburgatory. She also looks stunningly similar to the real life Jennie Garth, so it's a big win for this casting choice.
Jesy McKinney As Luke Perry/Dylan McKay
Jesy (third from the left) is relatively unknown, so props to him for scoring the role of babe Luke Perry.
Abby Ross As Tori Spelling/Donna Martin
Abby has honed her acting chops playing young Emma on Once Upon A Time and now will play the young Tori Spelling.
David Lennon As Ian Ziering/Steve Sanders
David is another relative unknown, but he did have a role alongside fellow 90210-er Max Lloyd-Jones in Restless Virgins.
Michele Goyns As Gabrielle Carteris/Andrea Zuckerman
Michele nails Gabrielle's look. Spitting image. She is actually an actress and a costumer designer and is best known for her role in The Town That Came A-Courtin'.
Ross Linton As Brian Austin Green/David Silver
Linton is a newcomer to the game and looks pretty damn similar to Brian Austin Green. Let's hope he can also rap. Because, obviously.
So who's excited for The Unauthorized Beverly Hills, 90210 Story? We'll get to watch some brand new talent play very recognizable faces when it premieres on Oct. 3 at 9 p.m. and see how they compare to the originals.
Images: Sergei Bachlakov/Lifetime (9)