Here's How To Dress Like Cersei This Halloween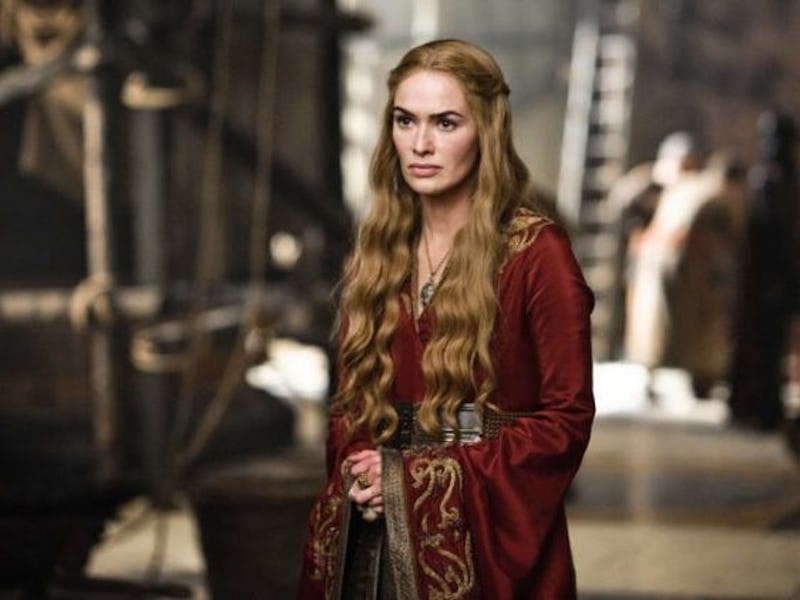 We're all friends here, right? That means I can make a confession and you won't judge me? Cersei Lannister is my favorite character on Game of Thrones . I know she's an incestuous and downright terrible (former) leader; she's conniving, underhanded, and absolutely ruthless... but isn't that why she's so wonderful? Lena Headey's portrayal of Cersei is absolutely delicious and makes her the character I'm always looking for in every episode. Even when things went downhill for the former queen towards the end of Season 5, I was still rooting for her, and I know Cersei's going to rise again and get her revenge come next season. She's too badass not to, which is also why dressing up like Cersei for Halloween is probably the best decision you could make this year.
Not only is Cersei an amazing and recognizable character, she also has an incredible taste in fashion, which means you've got your choice of fine garments when it comes to putting together your own outfit. Her wardrobe is impeccable, so pick your fav and go with it. If you need a jumping off point, however, don't worry — I'm here to help. I'll point you in the right direction and you'll be ascending the Iron Throne in no time.
The Dress
I know this is going to sound crazy, but you have two options: you can get crafty and sew yourself a proper Cersei gown, or you can try to fashion one together yourself with items that will end up looking right together even if they're not official GoT merch (which did seem to exist in some form at one point, funny enough).
Cersei tends to wear a lot of kimono-style dresses, which is very of the time and will make your life a lot easier if you buy one. Many of them are traditional Japanese designs, which won't work for Cersei, but there are some plainer options (or options that are just more elegantly embroidered and could pass for a Cersei gown) if you really have a look. Try eBay and do it soon — it'll take time to get the items coming from outside the US to get here. Since the kimonos are longer length, wear something basic beneath them and try to order a size or two up for maximum wrapping effect.
The Hair
One of Cersei's pride and joys is her hair — or at least it was, until it was cut off as punishment before her Walk of Shame. Let's relive the good old days, however, by grabbing a classic Cersei wig from Amazon, which is absolutely perfect and will need little to no work to be ready to go.
Looks amazing, right?
The accesory
To complete the look, you'll need a necklace as your centerpiece to go with your dress. Why not grab a Lannister lion pendant to spruce things up? It's a necessary Cersei accessory, and you'll be glad you've got it (because seriously, you can wear that even after Halloween).
Get out there and let your inner Cersei out. Happy Halloween!