You Should Be The Peggy Power Walk For Halloween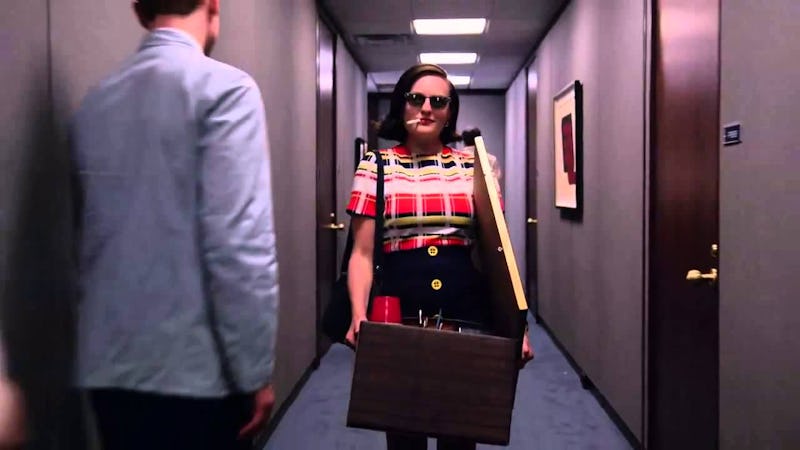 October elicits one of the most important questions you'll face all year long: What are you going to be for Halloween? (I'm being hyperbolic of course, but come on — there's definitely some truth to this statement.) Deciding what costume to don for Halloween can be an exciting time, as well as a daunting task. With so many choices, how do you land on just one? Luckily, I'm here to answer that question for you. Because you, you lucky little costume wearer, should totally be Mad Men's Peggy Olson for Halloween. And not just any Peggy Olson. No. Your Peggy Olson walking down the hallway Halloween costume will be a hit at parties, I promise you.
Besides the fact that this was the most legendary Peggy Olson scene in Mad Men/possibly on TV ever, Peggy Olson's style in this shot has never been more on fleek. It's straight up iconic. Straight up badass. It's a style that says "I'm a woman of the workplace, I'm not afraid to wear sunglasses indoors, and I give approximately zero f*cks!" If I can't be Peggy Olson walking down the hallway in real life (mostly because that box looks pretty heavy), then I'll settle for being her one night out of the year.
So what does a Peggy Olson walking down the hallway costume look like, exactly? Glad you asked. But first, some inspiration:
Yes, this is an almost four and a half minute long loop of Peggy in the hallway. You're welcome.
Step 1: Get Thrifty
As you can't find this costume at your typical Halloween costume store (let's petition to change that though), you're going to have to go retro. Hence, the best place to get Peggy Olson inspired things is at your local thrift shop (and maybe your grandma's closet).
Step 2: Find a Plaid Shirt
Find a non-button up plaid shirt (harder than it sounds), preferably with red, blue, and yellow, or at least one of those colors. This one from Forever 21 ($9.90) gives off Peggy vibes.
Something like this from ModCloth ($39.99) could also work.
Or, get a basic white tee and draw on your own colored squares with fabric markers.
Step 3: Find a Navy Skirt
Get a navy a-line skirt that hits just above your knee. This one from H&M ($39.99) is totally retro.
Step 4: Add Yellow Buttons To It
Sew or hot glue on two big, yellow buttons. You can find them on Etsy, or at your local arts and crafts store.
Step 5: Do You Hair, Peggy Style
Part your hair to the side and straighten it. Then, flip out the edges. Make sure to use an inordinate amount of hairspray to lock it in place.
Step 7: Gather Your Box/Painting
You can get an actual wood grain filing box like these ones from Staples ($27.09 for a pack of four) or you can find a cardboard box, cut off the top flaps, and cut in holes on either side, then paint it with a dark wood finish (you can find finish for about $7 at Home Depot). Fill the box up with styrofoam and place some pens, and red cups strategically on top, just so they are visibly poking out. For the painting, you cold try to recreate the image Peggy's holding and frame it yourself, or just go to the thrift store and find a cheap, medium sized painting to carry around.
Step 6: Put on Your Sunglasses
Peggy's frames have a wayfarer vibe to their shape, with a little bit of a cat eye edge. These ones from boohoo.com ($10) should do the trick.
Step 8: Get Your Cigarette
While I don't suggest lighting it while indoors, it's a necessary part of the attire.
And in case you need another dose of inspiration:
Now go make Peggy proud this Halloween.
Images: Forever21; ModCloth; H&M; Etsy; Staples; Boohoo; eloiseskiffins/YouTube; lizblizz, beenthinking/Tumblr; Giphy