Dress Up Like The 'PLL's Post-Time Jump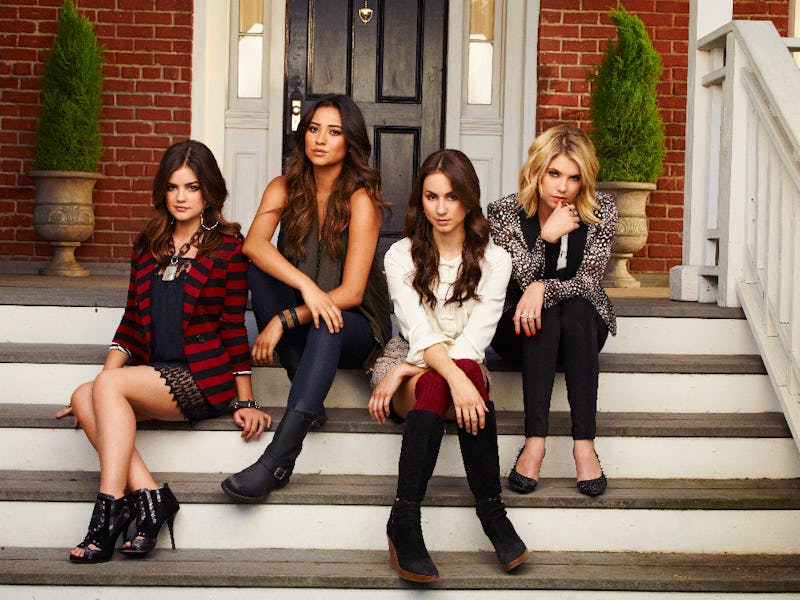 Halloween is right around the corner, which means costume preparation needs to commence. I'm sure my fellow Pretty Little Liars fans are scouring far and wide for their perfect outfit when it comes to dressing like Alison DiLaurentis, Aria Montgomery, Hanna Marin, Spencer Hastings, or Emily Fields. Pretty Little Liars Halloween costumes might be so last season, but now that the show is jumping five years, it means there are new fashions and new styles for the Liars. Not to mention their closets are going to be a bit more mature. So, who wouldn't want to dress like Ali, Aria, Spencer, Emily, or Hanna from after the time jump, especially at Halloween?
If you're someone who does want to channel the Liars from the Season 6B promo, then go no further. Here are a few ideas to help you plan and push you in the right direction when it comes to dressing like your favorite Liar during the one time of year where it is socially acceptable to don a costume without judgment. Now, you don't have to follow these outfits/costumes precisely, nor do you have to use my suggestions. However, this is a guide to help you out if you're in need of finding that perfect blazer to look like Mrs. Rollins, aka Ali; those leather pants Emily looks great in; or the trench coat that is just so Spencer. With that said, here are a few PLL time-jump costume tips.
Alison DiLaurentis
Channel your inner teacher and become Alison by wearing a chic blazer and a blouse. This cute blazer from H&M ($34.99) and this blouse also from H&M ($24.99) that comes in white, black, striped, or yellow are great and have a lot of variety.
Pair with jeans (if you want to dress down) or trousers, like these from Forever 21 ($24.90) and you'll definitely be Alison DiLaurentis.
Aria Montgomery
Aria loves patterns and so does Aria five years into the future. There's doubt her wardrobe is loud, so why not have some fun, like Aria, and wear something like this dress from Target for $48.30?
Hanna Marin
Hanna is definitely channeling her inner classy lady. First, this sleeveless top from Target for no more than $14.98 is needed. It adds that perfect flair Hanna always embodies.
Next, these flowing, yet dressy, pants will capture Hanna's future look. You can get them at Forever 21 for $29.90.
Emily Fields
You won't be needing your swimsuit or comfy clothes this time around for Emily, because based on the promo she is channeling her inner Ross from Friends by wearing leather pants. Most importantly, don't make yourself a pair of paste pants like Ross, but do possibly purchase these great black leather pants from H&M ($15). The great thing about these particular pants is they aren't super tight like most leather pants and will be comfy all night long.
As for the white button-up Emily is wearing, you can go super simple with the top, like this blouse from H&M ($19.99). The best part? It comes in a variety of colors and it is eco-friendly! Remember, you an always dress it up with whatever accessories you like.
Spencer Hastings
The major difference in future Spencer's look? Her hair. If you're really committed to Halloween and pulling off Spencer's look, you could get some bangs. If not, here are a few clothing item suggestions that will be just fine.
This trench coat from Forever 21 ($36.99) is perfect and almost matches Spencer's exact trench coat from the promo.
As you can see, Spencer is sporting an all black ensemble underneath that trench coat, so why not go for this cute black jumpsuit from Target for $8.98? It will definitely pull the look together.
Obviously, you can spice up any of these costumes with whatever accessories you like and your own personality, which is always a must. With any of these costumes, you will surely be the talk of Halloween, not to mention Rosewood.
Images: Andrew Eccles/ABC Family; Forever 21; Target; H&M