The 'Finding Carter' Season 2 Finale Is Too Close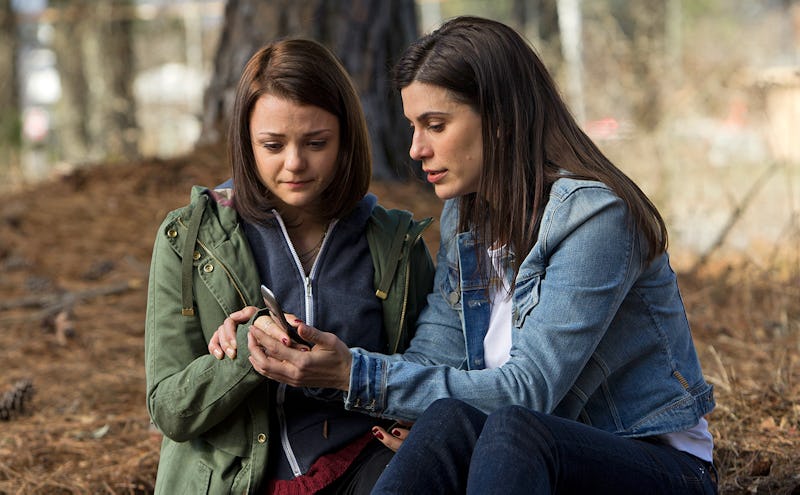 If there's one MTV show that can best be described as an emotional roller coaster ride, it's Finding Carter. It's not surprising that Finding Carter has thrown us for such a loop, considering that throwing fans' emotions up, down, and all around is how this show got us hooked right out of the gate. The series opened with our heroine Carter learning that her mother Lori — the one she respects and adores and eats gummy bear-ladened frozen yogurt with — isn't her actual mother, but the woman who kidnapped her as a child from her real mom, Elizabeth. Then, in Season 2A, we learned that Lori actually was Carter's mother — biologically, anyway. So when will we get a pause on all this madness? New episodes of the MTV series may return on Oct. 6, but sadly, the Season 2 finale of Finding Carter isn't that far away either.
The first season of Finding Carter consisted of only 12 episodes and played straight through the summer of 2014 into early fall. This year, MTV chose to order 12 more episodes of Season 2 than it did for the show's freshman season, putting the count at 24 episodes. Double the episodes, double the drama, right?
The Season 2A finale "I'm Not The Only One" (the episode in which we learned that Carter and Taylor weren't the only secret children of Lori, gasp!) aired on June 16, 2014, which means that Finding Carter fans will have waited nearly four agonizing months for a new episode of the drama. Fortunately, if MTV continues its pattern, fans will have three beautiful months of new Finding Carter episodes to look forward to.
While an official schedule for Finding Carter has not been released yet, Season 2A can give us a clue as to what to expect when Finding Carter returns in the fall. Though there was a significant gap between when Season 1 ended in Sept. of 2014 and when Season 2 began in March of 2015, Season 2A did not take any pauses between episodes: instead, the drama train just kept on rolling, right up to the WTF finale.
If Finding Carter airs consistently every Tuesday from Oct. 6 on, that places the Season 2B finale at Dec. 24. Since that's Christmas Eve (and most shows take a hiatus during major holidays) that may mean that MTV will choose to skip a week or two of Finding Carter in order to push back the finale — and let's be honest, isn't it sort of like a holiday in its own right?
It'll be a bummer to miss Finding Carter for a week or two, but hey, at least MTV is finally relieving us of this drama drought.
Images: MTV (screenshot); Giphy (2)