7 Things To Know Before 'Finding Carter' Returns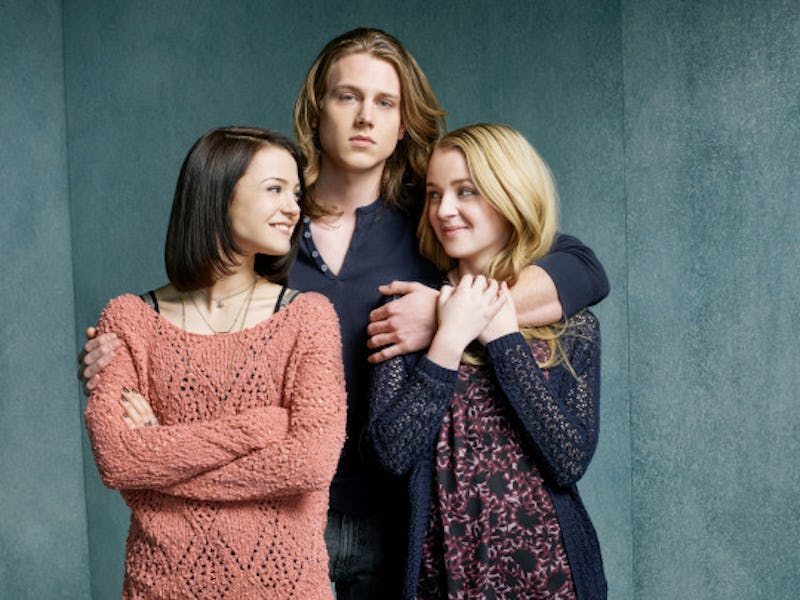 Gird your loins, people. The OMG moments are about to roll in, because MTV's Finding Carter returns this week. Are you emotionally prepared for the plethora of gasp-worthy events that surely await us? This humble writer's answer is: My body is ready.
Last season left us with plenty of bonkers cliffhangers to keep us diligently counting down to the series' return. At Lori's trial, where she stood accused of kidnapping Carter for a second time, we found out that she and David are Benjamin Wallace's parents. We also got to see Lori in some seriously convincing suburban mom-wear. One thing's for sure: If we've come to expect anything from this gang, it's the unexpected, and the latest trailer left us with more questions than ever. Will Lori continue to wedge herself into Carter's life? Will Max and Taylor stay together? What hijinks will Carter get into in her new secret life as a bartender?
Needless to say, if you want to be all caught up for the show's return, we've got your back. Bustle has teamed up with MTV's Finding Carter to give you a refresher course on everything you need to know before you tune in for the new episodes. Make sure to tune into the fall premiere of Finding Carter Tuesday, Oct. 6 at 10 / 9 CST on MTV.
Warning: If you haven't caught up, there are major spoilers ahead.
1. Lori And David Wallace Have A Love Child, Who Is Also Carter's Secret Brother
Last season's biggest shocker was definitely the Ben Wallace reveal. During Lori's big trial, Ben took the stand and claimed to be her biological son. Crazy! Remembering that Lori and David had a brief affair, it's also highly probable that his dad is David, making him the long-lost brother of Carter and Taylor, and the half-brother of Grant. If the trailer is any indicator, it seems like he's gonna be a big presence when the show returns.
2. Lori Is Elizabeth And David's Egg Donor
In addition to kidnapping Carter not once but twice, we found out in the first half of Season 2 that Lori was Elizabeth and David's egg donor. That makes her both Carter and Taylor's biological mother. Though her repeated attempts to kidnap Carter are undoubtedly bonkers, this sort of gives her actions some context.
3. Lori Is Free, And Carter's Secret Brother Is Living With Her
Lori's trial concluded with a "not guilty" verdict, so she's now out of prison and living back at her house. Ben appears to be living with her, meaning that Carter is sure to have a bunch of run-ins with him. After all, the chances of Lori staying out of Carter's life are slim to none.
4. Kyle Is Dead, And Elizabeth Is Mourning
Our hearts collectively exploded in the most painful way last season when Kyle was killed. Just to refresh your memory, Kyle is Gabe's dad, a detective at the police department, and Elizabeth's former partner (both at work and in ~love~). When Crash's Uncle Shay made an attempt on Elizabeth's life, Kyle literally took the bullet for her. This was just days after she had broken off the relationship. Without a doubt, this is likely to strain Elizabeth and David's relationship even further, and have an untold effect on poor Gabe.
5. Carter's Scholastic Troubles Are Still A Thing
After moving in with the Wilson family, Carter acted out and refused to apply herself in school. As we can see in the season preview, it seems like our girl Carter is continuing on her rebellious streak. While Elizabeth thinks that Carter is participating in a study group to rehabilitate her GPA, she actually took a job at the local bar. If I didn't know any better, I would say it seems like they're setting the stage for some family issues.
6. CarCrash Is Back On
Just in case you forgot, Crash returned from basic training in Season 2 as a seemingly more mature human. Even though he returned at potentially the WORST time ever (immediately after Max and Carter hooked up), and he's still enlisted in the military, he seems pretty committed to making it work. So despite some insanely incestuous hookups, this central couple is still together.
7. Max And Taylor Are On Shaky Ground
It remains to be seen whether the biggest 'ship of the show will run aground or be sailing smoothly. Following Max's decision to forgive Crash for shooting him, Taylor decided to dump him out of pure moral outrage. Then, Max and Carter hooked up, making things even MORE complicated. Though she was able to forgive him for the hookup, things with Maxlor are still pretty tentative. However, we've got our fingers crossed for them. Long live Maxlor!
This post is sponsored by MTV's Finding Carter. Finding Carter returns Tuesday, Oct. 6 at 10/9c on MTV.
Images: MTV (8)